FOR IMMEDIATE RELEASE
Press Release #08-031

Contact:
DOT Installs David Byrne-Designed Bike Racks
Nine new, whimsical designs expected to spark interest in cycling among New Yorkers while adding eye-catching art to the City's streets
New York City Department of Transportation (DOT) Commissioner Janette Sadik-Khan, in conjunction with David Byrne and PaceWildenstein, today announced that DOT has installed nine new bikes racks designed by musician, artist and biking enthusiast Byrne. These clever and innovative racks were created to generate more interest in cycling in New York and also to add attractive, temporary art the City's streets. Increased bicycle use and beautifying the City's streets are shared goals for a greener and more sustainable New York called for in Mayor Bloomberg's PlaNYC and DOT's strategic plan. The bike racks were installed at eight locations in Manhattan and one in Williamsburg, Brooklyn. These additions to New York's streets are eye-catching and original, but are constructed with durable material similar to that used in our current bike racks.
"By bringing attractive yet functional sculptures to our streets, we are elevating the profile of cycling, and we believe that more and more people will begin to think about cycling as a mode of transportation, and not just a mode of recreation," said Commissioner Sadik-Khan. "Regular bike riders have an eagle eye for our current bike racks but these nine installations will capture the attention of all New Yorkers."
The new racks are contextually dependent, drawing their inspiration from New York neighborhoods and activities. The steel dollar-sign design called "Wall Street" is located in the City's commercial heart on Wall Street itself. The guitar design, named "Hipster," is located in the heart of Williamsburg, one of the most vibrant neighborhoods for music, at Bedford Avenue and North 6th Street. The "Jersey," a design of a car's silhouette, is located near the entrance to the Lincoln Tunnel, a gateway to the Garden State. The racks range from two feet to six feet wide, and from around three feet to six feet tall.
"It was important to me that these new racks be the same thickness and material as the existing racks-to help identify them as practical bike racks and not just modern art," Byrne said. "The locations about as perfect as one could imagine-Wall Street for the dollar sign and Bergdorf's for the giant high heel!"
David Byrne's relationship with DOT extends beyond the creation of these racks. He is also a juror on the CityRacks Design Competition, run jointly by DOT and Cooper-Hewitt National Design Museum. The competition seeks to develop attractive and functional sidewalk racks and to generate new concepts for bicycle parking inside commercial and residential buildings.
The nine racks will be removed approximately eleven months after their installation. DOT is also advancing public art under its temporary art program with installations elsewhere in the City, including in DUMBO and Washington Heights.
These new racks will be easy to distinguish from the City's other 5,000 bike racks, but were constructed with steel with a powder coat to resemble the square tubing from which the current racks are made. Additionally, they will bear identifying plaques. DOT is also developing marketing concepts for the racks, including a bike route map to guide cyclists to tour all nine.
The nine designs and locations of DOT's David Byrne-inspired bike racks follow: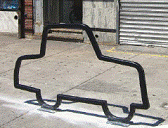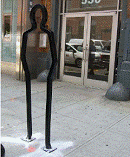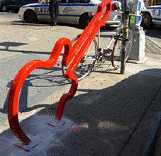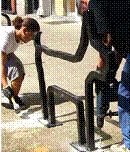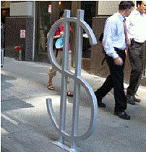 —30—