FOR IMMEDIATE RELEASE
Press Release #07-92


Directional Compass Will Help People Navigate City
Compasses to be placed outside subway stations around Midtown Manhattan
New York City Transportation Commissioner Janette Sadik-Khan, Grand Central Partnership (GCP) President/CEO Fred Cerullo and MTA CEO Lee Sander today announced that temporary directional compass decals have been placed on the sidewalk at four subway exits around Midtown Manhattan. The compasses tell pedestrians what street they are on, and what street lies one block from them in each direction.
Not a single person, native New Yorker or visitor, can truthfully claim that they have not, at least once, been confused as to which direction to walk when emerging from a subway station," said Commissioner Sadik-Khan. "Thanks to the suggestion of a resident, and the work of the Grand Central Partnership, we are pleased to bring these directional compasses to the streets of New York."
GCP is happy to partner with Commissioner Sadik-Khan and her team at DOT to explore this simple yet innovative concept, said Cerullo. We are encouraging passersby who encounter one of the temporary compasses to provide feedback on their experience by visiting our website at www.grandcentralpartnership.org. We will use these comments to evaluate the pilot program as we continue to work to make our Midtown neighborhood and our city a more livable place.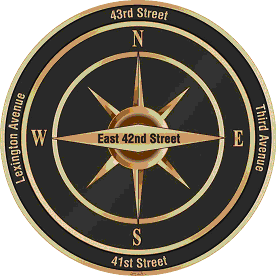 In January 2006, as part of a New York Times article offering residents' advice to Mayor Bloomberg upon his second inauguration, a Manhattan resident recommended that some sort of directional compass be installed around subway stations. Department of Transportation (DOT) officials inquired with GCP to see if they would be interested in experimenting with a directional compass outside of the busy subway stations in their neighborhood. GCP enlisted the services of sculptor Gregg Lefevre to design the temporary decal that has been placed on the sidewalks today. Lefevre has previously worked with GCP when it joined with the New York Public Library in commissioning him to create the artwork for Library Walk, a series of 96 bronze panels set in the sidewalks of East 41st Street.
After a week-long experiment the DOT and GCP will review public comments and determine whether to move forward with a more permanent fixture. If they do so, a design would need to be submitted to the Art Commission before being placed permanently in the sidewalks. If this program is successful, DOT will work with business improvement districts from around the city to expand the program. Thus far all funding for the directional compasses has been provided by GCP.
The locations of the compasses are:
150 East 42nd Street (south side of East 42nd St between Lexington Ave and Third Ave) - Entrance to 42nd Street/Grand Central station
The Grand Hyatt New York, 109 East 42nd Street (west side of Lexington Ave between East 42nd St and East 43rd St) - Entrance to 42nd Street/Grand Central station
570 Lexington Avenue (south side of East 51st St between Lexington Ave and Park Ave) - Entrance to 51st Street/Lexington Avenue station
509 Madison Avenue (south side of East 53rd St between Madison Ave and Park Ave) - Entrance to Fifth Avenue/53rd Street station
—30—