The majority of young New Yorkers walk to and from school, to transit, and around New York City each and every day. The We're Walking Here (WWH) competition encourages students to think about and discuss ways we can change dangerous driver behavior and better protect ourselves in the traffic environment in order to prevent traffic fatalities and injuries.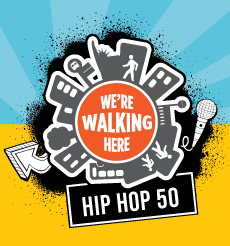 New York City is excited to relaunch the WWH competition. In honor of Hip Hop 50, this year's competition encourages students to use written rap lyrics, videos, or dances to create their own original hip hop inspired public service announcement (PSA).
All New York City schools, K-12, are eligible to participate. The four-week contest begins March 6, 2023 and ends March 31, 2023, when submissions are due.
Curriculum and Activities
During the contest period, students will track the number of blocks they walk over a two-week period and then engage in classroom activities. The students' final project is to create a PSA to convey what they observed during their walks, with a focus on traffic safety. Hip hop inspired PSAs directed at either adult or teen drivers are strongly encouraged.
Teachers may incorporate the Common-Core-aligned lessons into their science, language arts, math, health, and physical education teaching goals. These lessons and activities will help students brainstorm and create their PSA. We strongly recommend that students complete the structured walking activity to reinforce best traffic safety practices.
A WWH Starter Kit with curriculum, student hand-outs, and promotional items will be delivered to the first 100 educators who register. Up to two classes per school are eligible for the kit delivery, but additional classes may register to participate and download the materials. Teacher's Guide Student Tracker Workbook, Grades K to 2 Workbook, Grades 3 to 5 Workbook, Grades 6 to 12
Prizes
The class that wins first place will receive a $1,000 prize, the second place class will receive a $750 prize, and third place class will receive a $500 prize. All prize money is provided by the Safe Streets Fund, a private-public partnership dedicated to promoting safer streets, especially among students.
Previous Winners
Watch previous WHH winners on NYC DOT's YouTube