What is El-Space?
"El-Space" is the area beneath and adjacent to elevated transportation infrastructure, including above-ground subways, bridges, and highways. NYC DOT is studying, evaluating and testing new treatments as well as identifying methods to manage these spaces to improve access, mobility, safety and connectivity.
There are approximately 300 linear miles of El-Space citywide. Some El-Space is characterized by active pedestrian and vehicular corridors. Other areas, however, are dark and underutilized and marked by conditions where pedestrians need to walk around storm water runoff and hear loud train and vehicular noises. As land uses change and the population of New York City increases, demand for these locations also increases. NYC DOT is taking a closer look at El-Space citywide to assess its potential for future growth with enhanced streetscapes and new public space.
In collaboration with the Design Trust for Public Space and in partnership with various community groups and organizations, NYC DOT has been pursuing "pop-up" installations, demonstrations and pilot tests as well as conducting a study and compiling an inventory of El-Space. Through the lessons learned during Phase I and Phase II of the project with the Design Trust for Public Space, the effort will apply enhanced lighting, green infrastructure, reflective paint, and seating in response to the various conditions that exist in El-Space. The furnishings, which will make up the "El-Kit," will enhance the streetscape experience for all users.
El-Space: Experimentation Before Implementation
"Under the Elevated: Experimentation before Implementation"
Video by S/Q Projects. Courtesy of the Design Trust for Public Space
El-Space Toolkit
In February 2020, the Design Trust for Public Space and NYC DOT launched the "El-Space Toolkit" which features 11 case studies across North America. The toolkit covers the lifecycle of developing and implementing El-Space projects, highlighting lessons learned and how to improve El-Space conditions.
Learn more about these and other programs under elevated spaces in the El-Space Toolkit created by NYC DOT and Design Trust for Public Space
El-Kit
NYC DOT has developed designs and is now testing various replicable furnishings and amenities for deployment in El-Space citywide. Among the elements are reflective paint finishes, LED lighting, and green infrastructure installations as well as El-Space prototypes, including:
El-Box: Shipping container modified for concessions or community use
El-Fence: Movable outdoor fencing that features graphics and LED lighting
CityEl: Seating, lighting, and graphics installed around support columns at bus stops
NYC DOT will install and evaluate these El-Kit elements in Manhattan, Brooklyn, Queens and the Bronx before moving forward with a citywide application.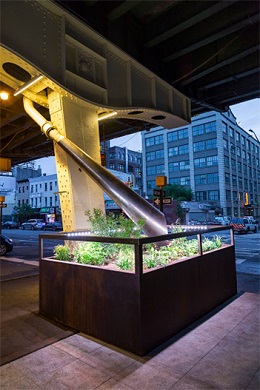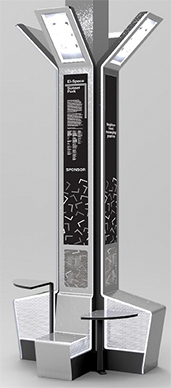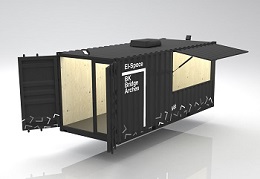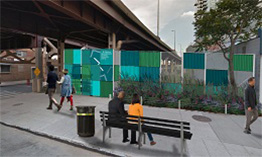 Sunset Park El-Space
Located beneath the Gowanus Expressway at 3rd Avenue and 36th Street in Brooklyn, the Sunset Park El-Space features new LED lighting that illuminates the structural surfaces and the volume of space defined by the columns of the viaduct. CorTen steel planters with low-light plantings capture storm water from the highway above via signature cone-like downspouts. Modular decking and other surface treatments organize the parking spaces while providing pedestrian circulation including a central walkway.
The project partner, Industry City, collaborated on the design, carried out the construction of the project, and is responsible for the maintenance of the amenities. NYC DOT and the Design Trust for Public Space with Industry City are currently working with a consultant team and other City agencies in evaluating the various treatments.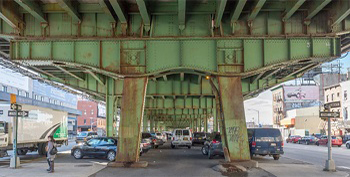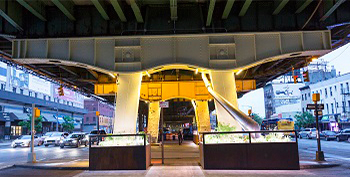 Far Rockaway El-Space
The Far Rockaway El-Space pilot project is located on a property adjacent to the elevated A Train Beach 60th Street station near the Rockaway Freeway in Queens.
Phase 1: The first phase of this green infrastructure initiative included a dune-like planter with perimeter seating and specialized plantings to filtrate storm water runoff from the elevated train structure.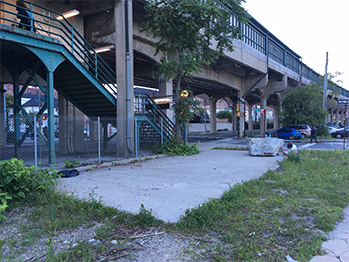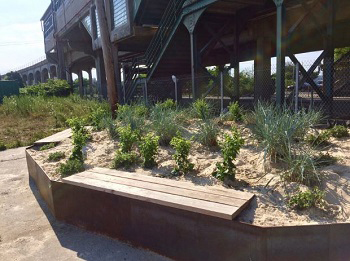 Phase 2: The second phase of the Far Rockaway El-Space pilot reclaims over 8,700 square feet of underused space near the elevated train station, by adding greenery and community programming space. This area features an El-Box, a retrofitted shipping container, which provides covered space for outdoor classroom activities.
NYC DOT and the Design Trust for Public Space partnered with
Rockaway Waterfront Alliance
(RWA) in an effort linked to RWA's
Project Underway
and
Art Under the Elevated
initiatives. With the help of volunteers and partner
Rockaway Initiative for Sustainability and Equity (RISE)
, a local artist painted a colorful mural on the El-Box.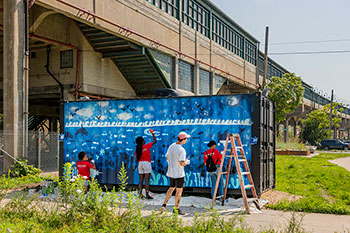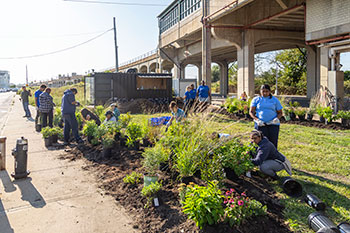 Dutch Kills Street El-Space
Underutilized space between Queens Plaza South roadway and a storage lot under Queensboro Bridge ramps, has been transformed into the Dutch Kills Street El-Space. The project features a new lighting prototype, El-Fence, to illuminate the space with LED lights and bold graphics attached to a fence.
New landscaping, a sidewalk, and additional LED lighting under the ramp enhance the pedestrian space. Two Gabion planters made of steel baskets filled with stones, filter and slow storm water runoff from the highway above while watering new greenery in the planters. NYC DOT and Design Trust for Public Space partnered with Rockrose Development Corporation to design, build, and maintain this location.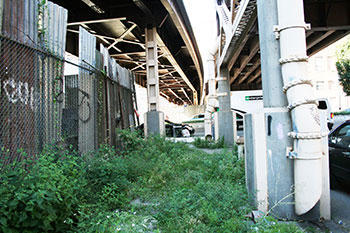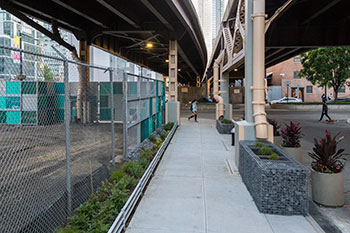 Contact Us
Contact NYC DOT online to learn more about the El-Space program or if have questions about a particular El-Space site.