Sustainable Street Resurfacing
NYC DOT is exploring ways to make our resurfacing process more environmentally friendly.
Recycled Asphalt
NYC DOT is a national leader in the use of recycled asphalt pavement (RAP). By incorporating recycled content, the City saves on new material and the costs associated with transport and landfill fees. With RAP, yesterday's pavement becomes today's streets.
Old paving materials are removed from City streets during the milling process. The milled material is then reprocessed and reconstituted with new materials and used to pave streets.
The Harper Street Asphalt Plant allows NYC DOT to increase its use of RAP from 35% to 50%. By producing more recycled asphalt, the City avoids two million miles of annual truck trips that would be used to carry milled asphalt to landfills – reducing congestion, pollution, and wear and tear on our streets.
Warm Mix Technology
Another green technique we use in our street resurfacing operations is warm mix asphalt technology.
Warm mix asphalt only requires heating to 250 degrees and can be applied at cooler temperatures. As opposed to traditional asphalt, which must be heated above 300 degrees, and then quickly transported to the work site.
Widespread use of warm mix asphalt decreases emissions, fumes, and odors both at asphalt plants and at resurfacing work sites. It also reduces the amount of energy needed for asphalt production. In addition, it allows for consistent use of RAP, and extends our ability to construct high quality pavement during the winter season.
For NYC DOT, a longer paving seasons means better roads, quicker response time for pothole repair, expanded job opportunities, and a general improvement in overall street maintenance.
We are one of the first cities to actively use this technology to reduce our carbon footprint. In recent years, warm mix has become the standard for asphalt production at the two City-owned plants, which together supply 75% of the asphalt used in City operations, much of it recycled.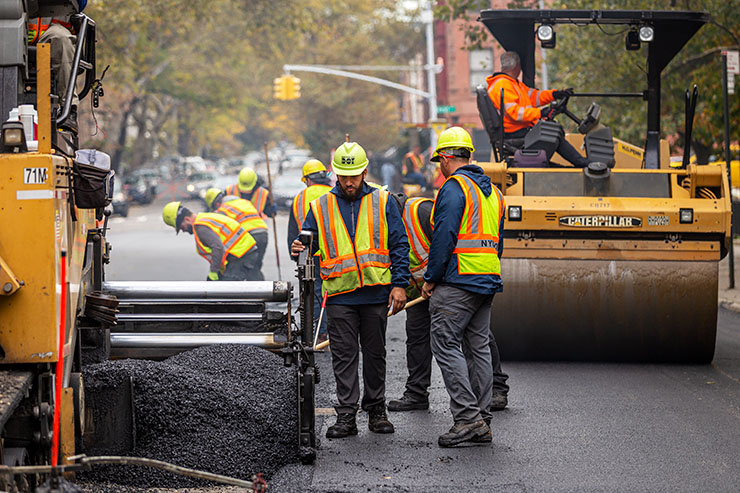 Recycled Rubber Technology
Since 2014, NYC DOT has been piloting the use of reclaimed tire rubber in specialized asphalt mixes for roadways with heavy traffic loads running through residential neighborhoods. Approximately 2,000 used tires go into every paved mile. Rubber modified asphalt:
increases the durability/longevity of the pavement,
reduces traffic noise, and
decreases the amount and severity of pothole formation during the freeze/thaw cycle.
Rubber does not decompose, and it can release chemicals into the air, ground, and water. Recycling old rubber tires is an environmentally responsible approach to reduce the amount of tire ending up in landfills.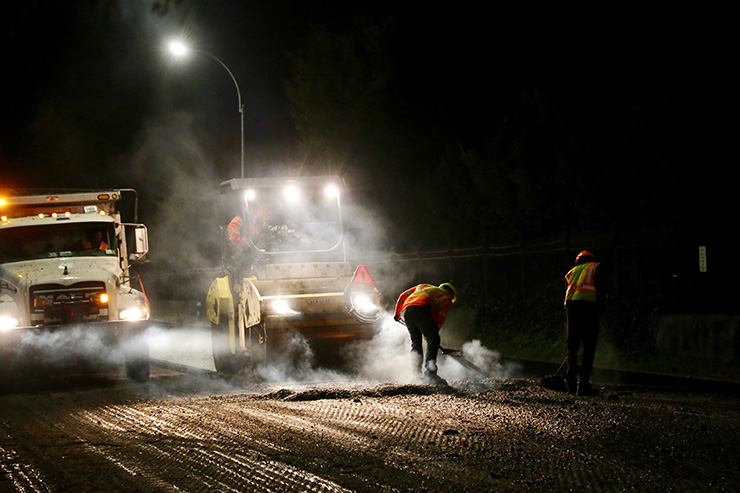 Recycled Plastic Waste Technology
The use of plastic additives derived from plastic waste is a promising emerging technology. It has the potential to solve our growing plastic waste problem while improving the overall performance of conventional hot mix asphalt.
Liquid asphalt cement is the binding agent in conventional mixes. It is a biproduct of the petroleum distillation process and the most expensive component of the mix. We aim to preserve our finite petroleum-based resources by using recycled material.
NYC DOT paved three test strips using various recycled plastic content and 40% of recycled asphalt pavement on Staten Island in 2022. In total, 10,395 pounds of plastic waste were used, that is equivalent to 214,534 plastic bottles that would have gone to a landfill. This project reduced carbon dioxide emissions by 16,128.2 pounds.
NYC DOT is monitoring the performance of this pavement overtime, and if successful, recycled plastic asphalt will be included in our standard asphalt mixes for special applications.