Return to NYC Parkway Signs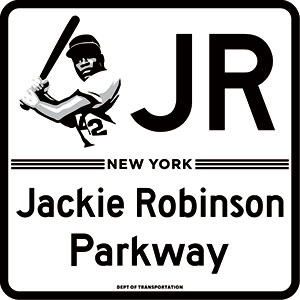 Produced and installed by DOT, the new Jackie Robinson signs represent a true American icon. Robinson (1919-1972) was both the first African-American to play major-league baseball (for the Brooklyn Dodgers, 1947-56) and the first to be inducted into the Baseball Hall of Fame. Following his baseball career, he became a successful businessman and advocate for social justice. Among his many honors, Robinson received the Presidential Medal of Freedom and Congressional Gold Medal.
Opened in 1935, the Jackie Robinson Parkway was originally known as the Interboro Parkway, and serves as a 4.95-mile winding road that connects Brooklyn and Queens. In 1997, on the 50th anniversary of Robinson breaking Major League Baseball's color barrier, New York State officially renamed the road. The first in a series of new clear and attractive signs being installed on City parkways and other roads, the Robinson sign was the result of collaboration among NYC DOT, NYS DOT, and NYC Parks. Graphic design proposals were received and adapted by the agencies in cooperation with the NYC Public Design Commission. New signage installed near and along the Jackie Robinson Parkway includes an image of the Brooklyn Dodger legend himself, styled after an iconic 1954 photo.
Georgia native, Jack Roosevelt Robinson (1919-1972) was the first African American to break the "color barrier" in major league baseball, playing in his first game for the Brooklyn Dodgers on April 15, 1947. He endured racial slurs, prejudice and harassment (in the locker room and on the playing field) in his early career, but his strength of character, human dignity and amazing talent prevailed; indeed, in his debut season he was named Rookie of the Year.
Robinson was a brilliant base runner – he stole home 19 times, a league record – and a feared batter - his hitting prowess was immortalized in the song, "Did You See Jackie Robinson Hit That Ball?" He was an indispensable player helping the Dodgers win several National League pennants and its first World Series in 1955 against arch-rival New York Yankees.
He retired from baseball in 1957 with a career .311 batting average and was inducted into the Baseball Hall of Fame in 1962, another first for an African-American. Ten years later the Dodgers retired his uniform number 42.
In his post-baseball career, Robinson became a successful business man and advocate for social justice. He lobbied for greater integration in sports, served as a board member of the National Association of the Advancement of Colored People and helped establish the first African-American owned bank, Freedom National Bank. Posthumously, Robinson was awarded the Presidential Medal of Freedom (1984) and the Congressional Gold Medal (2003), the highest civilian awards in the United States.
Learn more about him via the Jackie Robinson Foundation and discover the history of the Jackie Robinson Parkway thanks to NYC Parks.
Contact NYC 311 to report an issue with a highway sign.