Street Activity Sensor Pilot
NYC DOT is piloting advanced technology to improve street safety by better measuring transportation uses on New York City streets. The pilot, using technology created by Viva, places street activity sensors at 12 locations around New York City. The technology collects street activity data to generate detailed reports that will allow planners to better understand the uses of city streets and inform future street redesigns.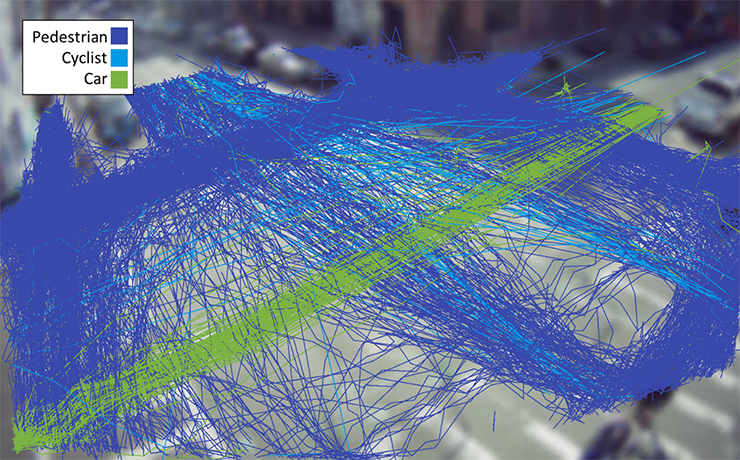 The Purpose
Data collected from a network of new street activity sensors will help NYC DOT better understand how street activity varies throughout the year. The agency will use this type of data to:
Analyze the effectiveness and safety of programs and street designs
Prioritize projects for areas most in need of safety and other street improvements
Better understand how people are using our streets (e.g., how people access bus stops, use loading zones, visit businesses, or where people prefer to cycle)
The goal for this pilot is to evaluate if Viva's devices can collect data in a more accurate, flexible, and lower-cost method than manual counts.
Currently, NYC DOT collects much of its traffic counts manually. A staff member either stands on a street or reviews video of traffic, counting the different modes during a specific timeframe. This process is costly and limited in duration, location, and types of data points collected.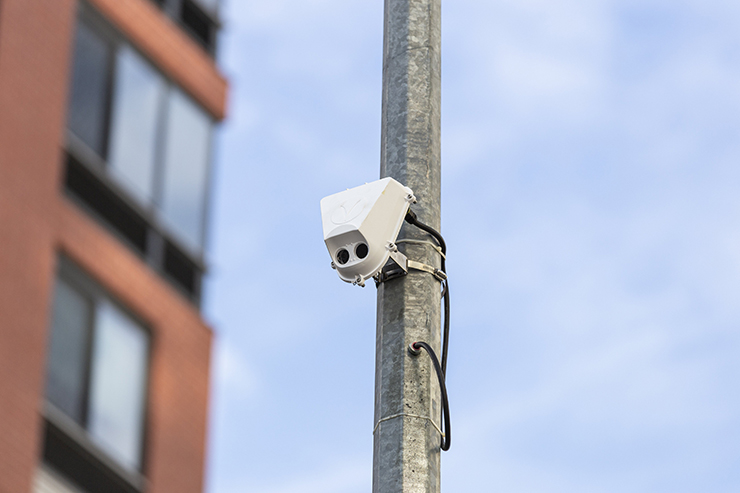 The Technology
Authorized for installation by NYC DOT, street activity sensors are small devices mounted onto street light poles. The device views the street via a camera, then classifies and counts roadway users in real-time. Video frames from the sensors are deleted nearly instantaneously, and only anonymous features are stored.
During the pilot, the devices will:
Identify up to nine different modes of travel, including pedestrians, bicyclists, and standing e-scooters
Count modes of travel in real-time, and witness travel patterns that change with seasonality
Represent path of travel (by mode)
Measure speed of travel
Count turning movements
Detect "near-miss" events between road users
The Data
Data collected by these devices includes counts of different types of road users, paths of travel, and travel speeds. Counts include: cars, trucks, bicycles, scooters, buses, pedestrians, and more. The data does not include identifying information about the roadway's users.
Viva will also provide street activity count data by analyzing video footage from temporarily installed cameras or existing live feeds. The City of New York owns the data collected by these devices and data sets will be available at the end of the pilot via NYC Open Data.
Locations
NYC DOT is installing a total of 12 street activity sensors in a variety of locations around the city. From roads primarily serving vehicles to pedestrian priority areas, the variety of areas will help determine how well the devices work in different types of urban environments.
Pilot Areas Include:
Brooklyn
Schermerhorn Street and Smith Street
Flushing Avenue and Vanderbilt Avenue
Berry Street and North 6th Street
Hoyt Street and Warren Street
Bronx
Willis Avenue and East 135th Street
Manhattan
Central Park West Drive and Columbus Circle
1st Avenue and East 59th Street
Brooklyn Bridge
6th Avenue and West 23rd Street
Queens
34th Avenue and 77th Street
Broadway and Vietor Avenue
11th Street and 44th Drive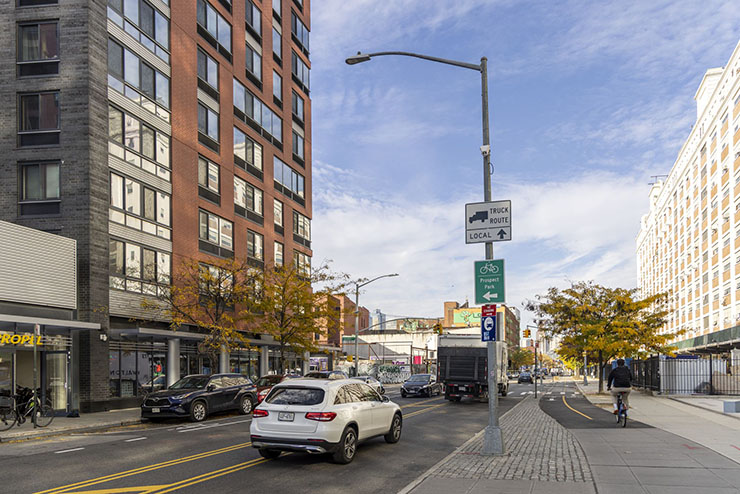 Protecting Privacy
The pilot prioritizes privacy, identifying data-collection methods that protect privacy by removing identifying information of roadway users and discarding video frames after counts are collected on the device.
The Team
The street activity sensor pilot is a partnership among NYC DOT, New York City's Office of Technology and Innovation (OTI), and the City University of New York (CUNY), and was funded primarily by a grant from the New York State Empire State Development Corporation (ESDC), with underlying support from Federal RAISE and Safe Streets For All grants.
Contact Us