Julio Useche, Chief Technology Officer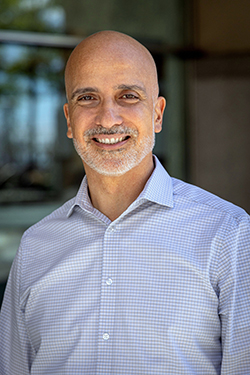 Julio Useche was appointed Chief Technology Officer at NYC DOT in August 2022. In this role Mr. Useche works closely with NYC DOT leadership, directing a team of talented IT professionals in the advancement, promotion, and adoption of technologically innovative and secure solutions that enhance the services the agency provides.
Prior to his role as Chief Technology Officer Mr. Useche served as an IT professional in city government for over 23 years. He started as a consultant at the NYC Office of the Mayor, assisting in the migration of their network and server infrastructure to the latest technology. Immediately after the tragic events of September 11, 2001, he was assigned to the NYC Office of Emergency Management (NYC OEM) to help build the server environment for the temporary NYC OEM offices at Pier 92 and the Victim's Family Assistance Center at Pier 94. Mr. Useche joined NYC DOT as a consultant in November 2001 and accepted a fulltime position in August 2007. In September of 2009, he was appointed Director of Hosting and Network Operations. In this role he supported and securely maintained the agency's IT backbone across a wide range of advanced solutions and technologies.
Mr. Useche's leadership, knowledge and commitment extend beyond his professional life. He serves as an Elder, Assistant Youth Director and Audio/Video Engineer at his church, lends his time to helping those in need and extends his services and technical knowhow to family and friends. As Chief Technology Officer, Julio brings this dedication, leadership, and commitment to NYC DOT, ensuring that IT & Telecom provides the best service possible to the agency.
Mr. Useche holds an AAS degree majoring in Engineering Technology from Queensborough Community College and has attained certifications as a Microsoft Certified Systems Engineer (MCSE), Microsoft Certified Systems Administrator (MCSA), Certified Information Security Manager (CISM), Information Technology Infrastructure Library (ITIL) and GIAC Critical Controls Certification (GCCC).