Rick Rodriguez, Assistant Commissioner of Intergovernmental Affairs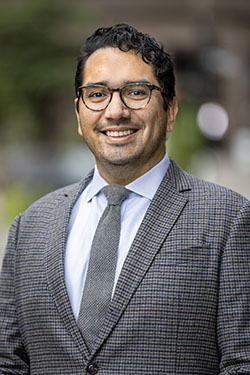 Rick Rodriguez joined NYC DOT in 2021. As Assistant Commissioner of Intergovernmental Affairs, Mr. Rodriguez manages the outreach and cultivation of relationships with over 150 New York City elected officials and community organizations. He also oversees the development and passage of the City, State, and Federal legislative agendas for the agency.
Mr. Rodriguez previously served as Program Manager for Sustainable Mobility in our Policy unit, where he led efforts for freight electrification and acted as point person for all legislation-related discussions for Policy, partnering with and advising the Intergovernmental Affairs team along the way.
Prior to working for NYC DOT, Mr. Rodriguez spent six years working for the NYC Mayor's Office, most recently as the Director of Transportation, Buildings, and the Public Realm and was the City Hall lead on a number of successful initiatives, such as electric vehicle adoption, the launch of emergency Open Restaurants and Open Streets, and the creation of the largest speed camera program in North America. Mr. Rodriguez started his City service with the Mayor's Office of City Legislative Affairs, overseeing transportation, public safety, and open space initiatives.
Before joining the Mayor's Office, Mr. Rodriguez served as an Associate Counsel for the New York State Senate Democratic Conference in Albany, NY.
Mr. Rodriguez holds a law degree from Fordham University School of Law and a Bachelor of Arts in History from the University of California, Los Angeles. He loves to visit the mountains and the beach in equal measure and lives in Brooklyn with his wife, daughter, and pet fish, Flower.