Nick Benson, Chief Communications Officer and Deputy Commissioner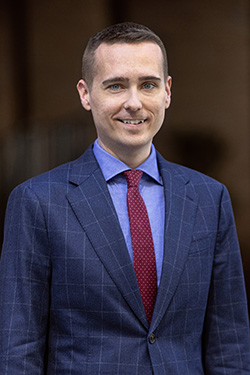 Nick Benson joined NYC DOT as Chief Communications Officer and Deputy Commissioner in 2023, where he oversees all press and communications for the nation's premier transportation agency, including the agency's Press Office, Office of Strategic Communications, Creative Services, the DOT Art Project, and the Customer Service, Language Access, and Correspondence Unit.
Mr. Benson previously served in city government as the Executive Director of Communications and Public Affairs for the NYC Department of Citywide Administrative Services, where he revitalized the Office of Communications for the City of New York's chief administrative agency. He began his work in city government as Press Secretary for the NYC Department of Small Business Services, helping advance the agency's mission to support careers, businesses, and neighborhoods.
Before working for the City, Mr. Benson was Senior Deputy Press Secretary for the New York Attorney General's Office, handling media relations on a wide range of complex legal matters, including criminal enforcement, consumer fraud, and public corruption. He previously managed and worked on political campaigns, including as a Regional Field Director for the Ohio Democratic Party during the successful 2012 re-election campaign for U.S. Senator Sherrod Brown. Mr. Benson began his career working in Ohio government, serving as an aide to Richard Cordray, both during his time as State Treasurer and State Attorney General.
Raised in a working-class family in Appalachian Ohio, Mr. Benson is passionate about public service and how government can advance the cause of social and economic justice. He holds both a Bachelor of Arts degree in Political Science and a Master of Arts degree in City and Regional Planning from The Ohio State University.
Mr. Benson lives in Upper Manhattan with his partner and their two cats, Teddy and Fitzy.