Irena Nedeljkovic, Deputy Commissioner of Roadway Repair & Maintenance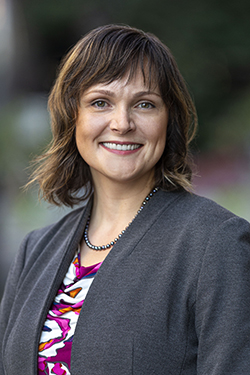 Irena Vorotnikova Nedeljkovic was appointed Deputy Commissioner of Roadway Repair and Maintenance (RRM) at NYC DOT in 2022, after working in the division for nearly ten years in various roles. She is the first woman to ever lead the division.
Ms. Nedeljkovic manages over 1,300 employees who work in all corners of the City. She oversees resurfacing operations, asphalt production, street defect repairs, maintenance of arterial highways, and other programs integral to the division's operation, such as contract milling, technical services and Adopt-A-Highway. Ms. Nedeljkovic sets the strategic vision for RRM. She ensures that the division remains a national leader in the use of innovative paving technologies and has the necessary resources to deliver on its annual targets.
Ms. Nedeljkovic most recently performed the duties of Assistant Commissioner of Arterial Maintenance and Support Services in RRM. In this role, she managed the Resource Management, Milling Contract Management, Technical Services, and Arterial Maintenance units.
She began her career at NYC DOT in 2006 as a graduate intern in the Staten Island Ferry division. Next, she joined the Budget office, where she was an assistant to the Chief Financial Officer, a budget analyst and subsequently, headed the agency's Capital Budget unit.
Ms. Nedeljkovic is an executive sponsor of NYC DOT's Indigenous Peoples' Collective Employee Resource Group. She holds a Bachelor of Arts degree in Political Science from Le Moyne College as well as Master of Arts degrees in Economics and International Relations from Syracuse University.