Benjamin Graham, Assistant Commissioner of Equal Employment Opportunity, and Diversity & Inclusion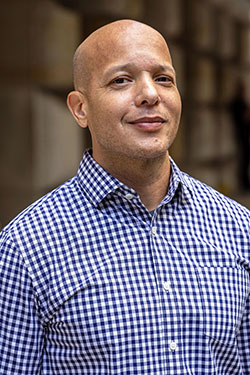 Mr. Graham was appointed Assistant Commissioner of Equal Employment Opportunity, and Diversity & Inclusion (EDI) in July 2022. As Assistant Commissioner of EDI, Mr. Graham is responsible for implementing NYC DOT's Equal Employment Opportunity, Diversity (EEO), Inclusion, and Equity strategy, and ensuring that NYC DOT does not discriminate against any employees or applicants for employment in any manner prohibited by federal, state, and local law. This ensures that all NYC DOT employees and applicants for employment are given an equal opportunity to succeed in the workplace.
In his role, Mr. Graham also works towards promoting EDI's three primary goals:
Workforce Diversity
Workplace Inclusion
Community Understanding
He works closely with all divisions and the NYC Department of Citywide Administrative Services' Office of Citywide Equity and Inclusion to address employee needs related to recruitment, hiring, promotions, training, pay equity and professional development.
Mr. Graham joined NYC DOT in October 2018 as an EEO Investigator and was promoted to Deputy EEO Officer in June 2020, a role he held until his current appointment.
Prior to joining NYC DOT, Mr. Graham worked at the New York City Department of Education (DOE) from September 2013 until September 2016 as an English as a Second Language (ESL) teacher and founding staff member of a middle school in East Brooklyn. From October 2016 to September 2018 Mr. Graham worked as an agency attorney in the DOE's Division of Contracts and Purchasing, Vendor Research Unit where he was responsible for ensuring vendor compliance with contract terms and conditions. Prior to his City employment, Mr. Graham taught English in South Korea and China, and served in the U.S. Army and Louisiana National Guard.
Mr. Graham graduated from Louisiana State University, Baton Rouge, where he received a Bachelor of Science Degree in Psychology. He also holds a Master of Science Degree in Industrial and Organizational Psychology from California State University, San Bernardino, a Master in Teaching English to Speakers of Other Languages from Hunter College, New York, and a Juris Doctorate Degree from the University of Southern California, Gould School of Law.