Captain John Garvey, Deputy Commissioner for Ferries & Chief Operations Officer for the Staten Island Ferry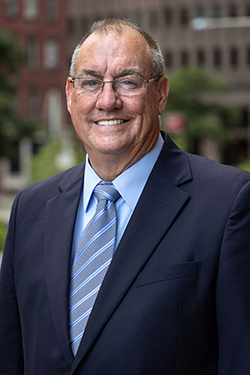 Captain John Garvey is the Deputy Commissioner for Ferries and the Chief Operations Officer for the Staten Island Ferry at NYC DOT. In this role, Captain Garvey provides oversight for all aspects of design, construction, maintenance and repair, operation, and administration of the nation's largest passenger-only ferry system, as well as the City Island Ferry which provides service for the city's burial services on Hart Island. The administration requires interaction with approximately 700 personnel spanned through the fleet and trade, as well as 18 different unions.
During his tenure, Captain Garvey worked with staff to expand the training at the Staten Island Ferry which now includes classroom and full mission bridge simulators that are being used to maintain and improve the skills that the mariners require to safely operate the ferries. He has also been instrumental in developing electronic logbooks that are currently in use aboard the ferries and an electronic bid board to facilitate easier assignment of crews throughout the ferries and terminals. Captain Garvey worked with senior Ferry staff, captains, and chief engineers to ensure that the construction of the Ollis-class ferries included some of the latest in technology and innovation to meet the needs of the crews and passengers riding the Staten Island Ferry. He has also worked with staff and other City agencies to ensure that occupancy in the St. George and Whitehall terminals remains consistent and that those facilities, as well as other NYC DOT facilities at City Island, 34th Street, Pier 11, and Pier 79 are maintained and remain in operational status.
Captain Garvey is a graduate of the United States Merchant Marine Academy having attained his Master's license and First Class pilotage while serving aboard a variety of ships, tugs and ferries before moving into shoreside administration positions. Captain Garvey has been working for NYC DOT since 2006.