Elisabeth Franklin, Associate Commissioner of Budget and Capital Program Management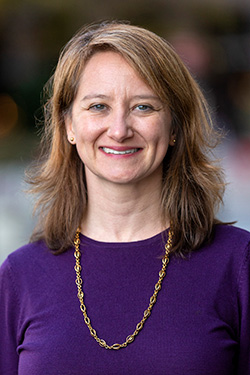 Elisabeth Franklin was appointed Associate Commissioner of Budget and Capital Program Management at NYC DOT in March 2017. In this role, she oversees the agency's $1.4 billion annual operating budget and $33 billion ten-year capital plan. She directs the development of funding requests for new programs and projects, the formulation of potential savings initiatives, and the maximizing of available funds to further NYC DOT's goals and mission.
In addition, she oversees NYC DOT's scoping and coordinating role in the development and implementation of NYC DOT's street reconstruction capital projects, including inter-agency projects to promote resilience and mitigate the effects of climate change.
Prior to her current role, Elisabeth served at NYC DOT for eight years as Executive Director of Financial Management and Analysis. Before joining NYC DOT, she worked at the NYC Office of Management and Budget, overseeing the budget of the Department of Sanitation. She began her City career in 2002 at the NYC Independent Budget Office.
Elisabeth holds a Bachelor of Arts in History from Haverford College and a Master's degree in Public Administration from Columbia University's School of International and Public Affairs.