Margaret Forgione, First Deputy Commissioner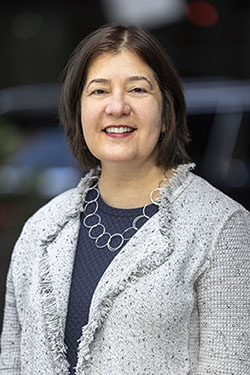 First Deputy Commissioner Margaret Forgione has served at NYC DOT in senior roles since 1994, most recently as Acting Commissioner and previously as Chief Operations Officer, a position she held since June 2016.
As First Deputy Commissioner, she oversees the agency operational divisions, including the Staten Island Ferry, Bridges, Roadway Repair & Maintenance, Sidewalks & Inspection Management, Traffic Operations, Transportation Planning & Management, the Office of Construction Mitigation and Coordination, and the five Borough Commissioner offices.
Prior to serving as Chief Operations Officer, First Deputy Commissioner Forgione worked as NYC DOT's Manhattan Borough Commissioner. As Manhattan Borough Commissioner between 2002 and 2016, she oversaw the pedestrianization of Times Square, the creation of the City's first on-street protected bike lane (along Ninth Avenue) and the rollout of Citi Bike, the nation's largest bike share program.
She has also led NYC DOT's Arterial Maintenance Unit, directed the Adopt-A-Highway program, and served as a Special Assistant to the First Deputy Commissioner. Forgione began her work in New York City government as a Senior Analyst in the Mayor's Office of Operations.
First Deputy Commissioner Forgione was raised in Stamford, Connecticut. She holds a Bachelor of Science degree from the University of Connecticut, and a Master of Public Policy and Administration from Columbia University.