Eric Dorcean, Deputy Commissioner for Fleet Services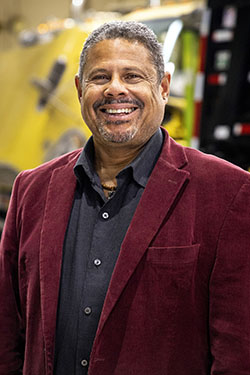 Eric Dorcean was appointed Associate Deputy Commissioner for Fleet Services at the Department of Transportation in August 2017. In this role, Mr. Dorcean oversees the Agency's fleet operations, ensuring efficient operation and providing executive level direction for all functions relating to vehicle maintenance, repair, and resource management. Mr. Dorcean also plans and coordinates policy and program initiatives, spearheads new industry and technology research, and oversees productivity analysis. Just after one year the Department of Transportation was recognized as one of Government Fleet Magazine's Notable Fleets in the leading Fleet Program for 2019.
Mr. Dorcean's first fleet experience was with DHL Airways where he served as a fleet supervisor. He came to Department of Transportation following nearly 25 years at the New York City Police Department where he served in several positions, ever-increasing in supervisory responsibilities. Most recently for the NYPD, he served in the role of Deputy Director, managing fleet maintenance services. He is a graduate of Queensborough Community College, where he obtained an Associate degree in Applied Science.