Ydanis Rodriguez, Commissioner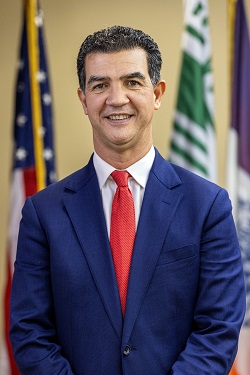 Ydanis Rodriguez was appointed Commissioner of the Department of Transportation in December, 2021 by Mayor Eric Adams – and began serving in the position on January 1, 2022. As NYC DOT Commissioner, Rodriguez oversees more than 5,500 employees, an annual operating budget of $1.4 billion, and a 10-year capital budget of $33 billion. Rodriguez is the first Latino and only the second person of color to serve in the position.
In serving in this role, Commissioner Rodriguez has expressed the aspiration that, with the leadership of Mayor Adams, he will work with the people of NYC DOT to make New York City the most walkable and bikeable city in the nation, a vision which will guide his leadership. He will work to bring government, local communities, the private sector, and academia together to make this vision a reality.
In his tenure as Commissioner, Commissioner Rodriguez has led several major initiatives, including the Adams Administration's plan to increase investment in the Streets Master Plan by nearly $1 billion as well as NYC DOT's pledge to redesign 1,000 intersections Citywide. In 2022, he also led the successful Administration effort to strengthen state law to allow NYC DOT's speed-cameras to operate 24/7.
Previously, Commissioner Rodriguez served in the New York City Council, representing the 10th District that includes the neighborhoods of Washington Heights, Inwood and Marble Hill. First elected in 2009, he became a member of the Council's Transportation Committee, which he then chaired from 2014 through 2021. As Chair, Rodriguez led oversight of transportation agencies, spearheading the fight for improvements in mass transit and sustainable transportation – including expanded bus and bicycle lanes and the growth of bike share. Rodriguez worked closely with NYC DOT on the successful implementation of Car-Free Earth Day and was heavily involved in the annual Riders Respond Tour, where activists and officials call attention to mass transit by riding the subway over a 24-hour period. Together with former Speaker Corey Johnson, Rodriguez also co-led the fight to create Fair Fares, a program that provides a 50 percent discount on transit for New Yorkers who live under the poverty line. He sponsored more than three dozen other bills enacted into law – including those that protect pedestrians and cyclists, like the Dangerous Vehicle Abatement Program, as well as those focused on improving and expanding the rights of immigrants, women, workers, and New Yorkers seeking social justice.
Prior to elected office, Commissioner Rodriguez taught in New York City public schools for more than fifteen years. As a teacher, he co-founded two schools: Gregorio Luperon High School, which supports newly arrived immigrants from Latin America transitioning to the American educational system, as well as the Community Health Academy of the Heights, a school that has served 6th through 12th grades.
Born in the Dominican Republic, Rodriguez arrived in New York City in 1983 at the age of 18. Like most immigrants who come to America to pursue their dreams, he worked tirelessly -- including as a livery cab driver -- to put himself through City College of the City University of New York, where he earned both Bachelors and Masters degrees. At CUNY, he helped lead a student movement to maintain higher education at a cost accessible to working-class and middle-class New Yorkers.