Henry Gutman, Commissioner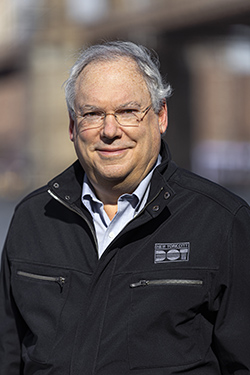 Henry "Hank" Gutman was appointed New York City Department of Transportation Commissioner by Mayor de Blasio on February 3, 2021.
Commissioner Gutman is a Retired Partner of Simpson Thacher & Bartlett, LLP, where he headed the Intellectual Property Practice Group from 1996 until his recent retirement. During his 40-year legal career, Mr. Gutman litigated a wide range of high-profile cases, including Lotus v. Borland, which he argued before the U.S. Supreme Court. A 45-year Brooklyn resident, Mr. Gutman serves as Chair of the Brooklyn Navy Yard, the City's largest industrial park, providing thousands of quality manufacturing jobs for those who need them most. He also serves on the Board of Brooklyn Bridge Park, helping create a world-class park on what was an abandoned waterfront.
Mr. Gutman is a trustee of the Brooklyn Public Library, where he co-chairs the Digital Innovation Committee, and a member of the Board of St. Ann's Warehouse. He previously served as Vice Chair of the New York League of Conservation Voters, and as a Board member of the National Center for Law and Economic Justice. He is a graduate of the University of Pennsylvania and Harvard Law School.