IMMEDIATE RELEASE
February 13, 2023
Contact: (212) 839-4850, press@dot.nyc.gov
"Staten Island Day": Commissioner Rodriguez Meets With Local Leaders During All-Day Visit to Staten Island
DOT builds community partnerships, connects with local leaders, and highlights critical work during day in Staten Island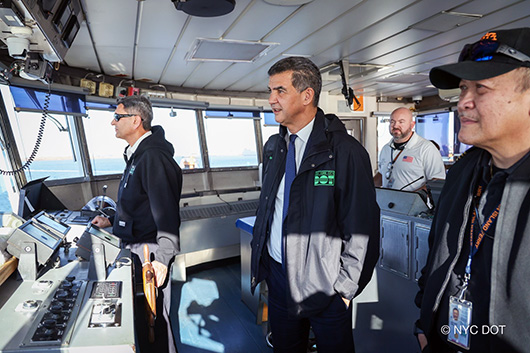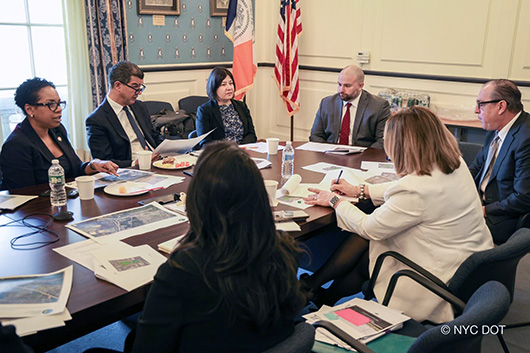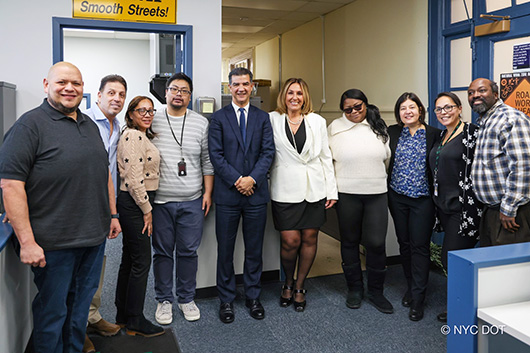 NEW YORK – New York City Department of Transportation (DOT) Commissioner Ydanis Rodriguez spent Monday on Staten Island meeting with elected officials, advocates, and faith leaders to discuss transportation-related needs and traffic safety in the borough. At meetings at Borough Hall and across the island, the Commissioner met with Borough President Vito Fosella; Council Members Joe Borelli, David Carr, and Kamillah Hanks; local organizations La Colmena and Port Richmond North Shore Alliance, as well as Staten Island-based DOT staff. The visit highlighted traffic safety on the Borough and strengthened relationships with local communities to help DOT continue serving the needs of Staten Islanders.
"Taking day-long trips to each borough helps me better understand the transportation and traffic-safety needs of each borough and build partnerships with local community leaders," said NYC DOT Commissioner Rodriguez. "We're working every day to provide Staten Islanders with reliable ferry service while addressing the most pressing safety needs of the borough's streets. We thank Borough President Fosella and local elected officials for their partnership and support as we continue to develop new projects for Staten Island."
The Commissioner's visit to Staten Island today included:
A Borough Hall meeting with the Borough Present and three local Council members;
A site visit to view recent safety improvements installed on St. Pauls Avenue and Vanduzer Street;
A site visit to Seaview Avenue in Ocean Breeze to discuss pedestrian safety;
A lunch with Port Richmond North Shore Alliance and La Colmena to discuss traffic safety on the North Shore;
A Borough Hall meeting with Rev. Terry Troia, of Project Hospitality, and local faith leaders.
Following Queens Day in December 2022, Staten Island Day is the second borough-centric tour the Commissioner has taken part in to learn more about borough-specific challenges. Through 2022, Commissioner Rodriguez joined nearly 30 New York City Council members for in-district tours or site visits, with plans for further visits and borough days in 2023.
###