FOR IMMEDIATE RELEASE
Press Release #14-63
June 19, 2014
Scott Gastel/Nicole Garcia (212) 839-4850
NYC DOT Commissioner Trottenberg Announces Summer Streets Dates, Weekend Walks and the Return of Expanded Car-Free Hours on Central Park Drives above 72nd Street this Summer
Summer Streets 2014 to be held August 2, 9 and 16 from 7 a.m.-1 p.m.
Weekend Walks events hosted by 30 community partners across all five boroughs
New York City Department of Transportation (DOT) Commissioner Polly Trottenberg today announced the return of Summer Streets, Weekend Walks and extended car-free hours in Central Park. Summer Streets will take place on August 2, 9 and 16 from 7 a.m.-1 p.m. Last year, 300,000 people attended Summer Streets. This year's event features a new, interactive sound installation inside the Park Avenue tunnel and hundreds of family-friendly activities along the entire route, which extends from the Brooklyn Bridge to Central Park in Manhattan.
DOT is also partnering with 30 community groups to present Weekend Walks citywide. These community-requested temporary pedestrian streets offer local programming that can include everything from dance performances to workshops to arts and crafts. Weekend Walks have already taken place in Williamsburg, Brooklyn and Louis Niñe Boulevard in the Bronx. The Bronx Museum of the Arts' Boogie on the Boulevard, for example, takes place on August 3, 10 and 17 along a section of the Grand Concourse. Sunnyside Shines is hosting Sunnyside Strolls July 26 and the first three Saturdays in August.
"Seven miles of streets open this summer with activities that let New Yorkers and visitors see buildings, landmarks and art from new perspectives," said Commissioner Trottenberg. "Together with Summer Streets, Weekend Walks and Central Park's extended car-free hours, there are a range of opportunities to walk, bike and explore neighborhoods throughout the city."
Commissioner Trottenberg also announced the return of extended car-free hours on Central Park's Drives north of 72nd Street beginning the morning of Fri., June 27, through Labor Day. During this period, the north-south drives will remain open exclusively to pedestrians and bike riders. The Park's transverse roads will remain open to crosstown traffic, as will the park drives south of 72nd Street according to their current schedules.
This year's Summer Streets architectural walking tour is produced with Culture Now. It features timed tours and meet-and-greets with historians at architectural landmarks. There will also be a new tour highlighting historical monuments and contemporary art along the route.
Summer Streets also features a new sound installation in the Park Avenue tunnel this year. "Dive" by Norwegian artist Jana Winderen will create eight different immersive soundscapes in the tunnel that use recordings from shallow to deep underwater environments in Greenland, Iceland, Norway, Russia, Canada, USA, Thailand, the Caribbean and areas of the Pacific.
New York City's signature summertime event will again offer the popular 165-foot-long, 25-foot-high zip line at the Foley Square Rest Stop. The 25-foot-tall REI rock climbing wall at the Soho Rest Stop and the Whole Foods City Picnic area at the Midtown Rest Stop will return as will "Course of Emotions," a nine-hole miniature-golf course by artist Risa Puno at the Uptown Rest Stop.
There also are a number of new activities, including a sound series with unique site-responsive musical performances each weekend. One newcomer is "Trumpet City: Park Avenue." Musician Craig Shepard will position 91 trumpeters along Park Avenue between 45th-72nd streets on August 2 between 11:30 a.m. and 12:30 p.m. for a unique sound performance. Each block will feature up to four trumpet players playing Shepard's original composition in sync. Risa Puno and trumpeters Craig Shepard, Eric Biondo, Stephanie Richards and Phil Rodriguez joined the Commissioner for the announcement at 51st Street and Park Avenue.
DOT also will provide free bike helmets for adults and children at the Midtown Rest Stop, to encourage safe biking habits. The agency is also hosting a Safety Zone, which features the popular "Truck's Eye View" and other safety education activities. Children and adults are invited to speak with instructors, climb into a parked truck and gain first-hand knowledge of a truck driver's view of the roadway. The activity teaches participants to avoid blind spots and give other tips to stay safe on the streets.
Various City agencies participate to make Summer Streets a success. This year, the Department of Parks & Recreation is offering its Shape Up program with free yoga and Pilates classes. The Department of Cultural Affairs' Materials for the Arts will host arts and crafts workshops. The Department of Sanitation is leading workshops about recycling and composting, while the Department of Environmental Protection's "Water-On-The-Go" program will be supplying mobile drinking fountains along the route. The Mayor's Office of Citywide Event Coordination and Management, NYPD and FDNY also support this effort.
More information, including a route map and street closure information, is available at nyc.gov/dot. Check out nyc.gov/weekendwalks for events in all five boroughs.
Upcoming Weekend Walks Events 2014
Bronx
Brooklyn
Manhattan
Queens
Staten Island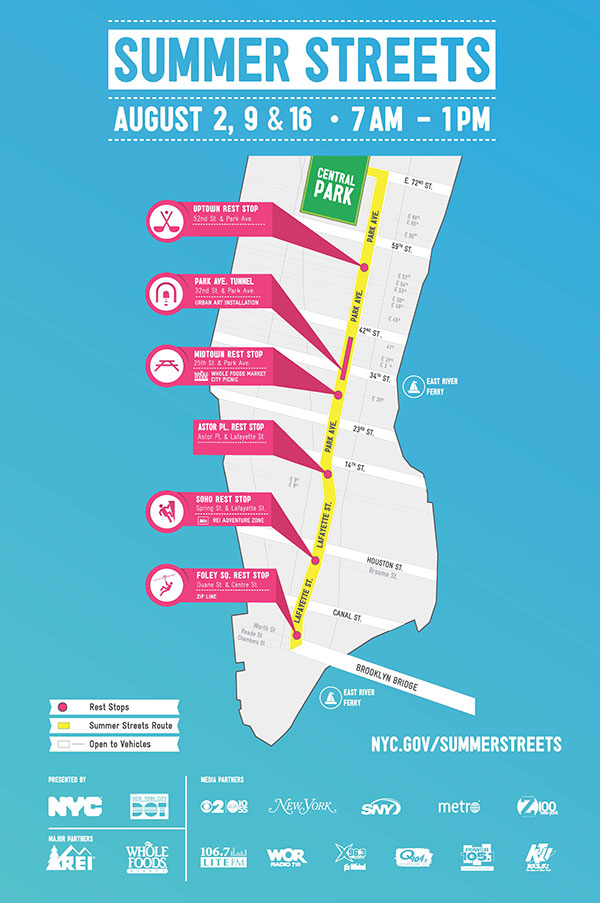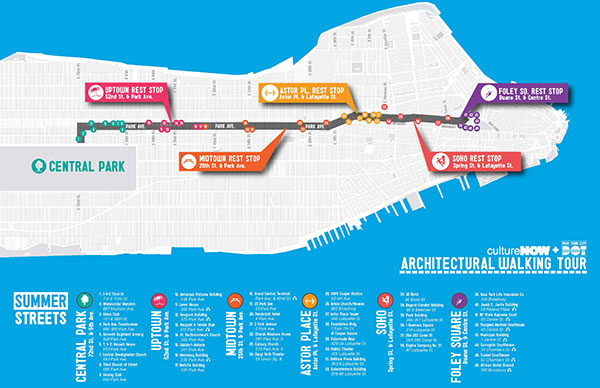 —30—