FOR IMMEDIATE RELEASE
Press Release #12-46

Seth Solomonow/Nicole Garcia (212) 839-4850
NYC DOT Commissioner Sadik-Khan, US Transportation Secretary LaHood Launch Innovative "LOOK" Safety Campaign, Bringing Innovative Pedestrian Street Markings, Distracted Driving Ads Alerting New Yorkers to Walk Safe and Drive Smart
New safety campaign first in a series of announcements to build on City's safety efforts
Driver distraction cited in 416,000 injuries and 3,092 traffic fatalities nationwide in 2010, 9,200 traffic injuries and 41 fatalities in New York City alone
New York City Department of Transportation (DOT) Commissioner Janette Sadik-Khan and US Department of Transportation Secretary Ray LaHood today announced the launch of the new LOOK! safety campaign to highlight the critical need for motorists and pedestrians to pay attention when driving and crossing the street and also introducing the City's first widespread use of "LOOK" pavement markings at crosswalks alerting pedestrians to oncoming traffic. Ads tailored to drivers feature eyes and will appear on MTA/NYC buses' rear advertising panels. These ads remind motorists to "Drive smart/LOOK!" with the dramatic statistic that 57% of traffic fatalities involved pedestrians. Another underscores the life-saving benefits of motorists looking before they turn, noting that half of all New Yorkers killed last year by cars at the crosswalk had a green light. The street treatment's distinctive lettering, installed with the same durable thermoplastic used in other street markings, spell the word "LOOK" with "eyes" drawn within the O's mimicking eyes looking in the direction of oncoming traffic. Commissioner Sadik-Khan and Secretary LaHood unveiled the new safety campaign at Second Avenue and 42nd Street in Manhattan, one of the dozens of intersections where the markings and ads are featured.
"New Yorkers are driven to distraction with their smart phones, and the simple act of looking can prevent thousands of crashes and injuries every year," said Commissioner Sadik-Khan. "LOOK! is a message to all New Yorkers that safety is in the eye of the beholder and everyone needs to keep an eye out for each other on our streets."
"Safety is the Department of Transportation's number one priority, but everyone has a role to play in achieving our goal." said Secretary LaHood. "This new campaign will remind both drivers and pedestrians to be alert and focused at all times, whether they are behind the wheel or traveling by foot."
The curbside markings are currently installed in crosswalks at 110 intersections citywide and are complemented by ads on nearby bus shelter, phone kiosks and other outdoor placements to reinforce the message to look before crossing the street. The pedestrian-focused ads feature photographs of eyes and text calling on New Yorkers to "Walk safe/Cross smart," along with the humorous reminder that "Mom was right. Look before you cross the street."
Nearly 9,200 people were injured and 41 were killed in New York City in crashes involving driver inattention, more than any other cause, in 2010 alone, the last year for which detailed traffic crash data is available. The ads, which will be expanded to nearly 200 intersections and more than 300 buses, build on recent public education campaigns that have taken on the biggest safety issues on New York's streets, including speeding, drunken-driving, and other initiatives focused on all transportation modes. This sustained campaign is also part of a larger safety strategy of engineering, education and enforcement that has contributed to making the last five years the safest in New York City's recorded history.
The pedestrian ads and markings are being placed together at targeted locations with histories of crashes resulting in serious injuries and fatalities. The initial rollout began in July in all five boroughs, including at Grand Concourse and Bedford Park Blvd. in the Bronx; Avenue D and Utica Avenue in Brooklyn; Madison and Montgomery streets in Manhattan; Roosevelt Avenue between 76th and 77th streets in Queens; and Clove Road and Victory Boulevard on Staten Island. Bus ads are expected to run through December. They will run in tandem with the pedestrian-focused ads and markings to extend the reach of LOOK's important safety message as lighting levels decrease due to daylight-saving time and foot traffic tends to surges in commercial areas due to the traditional holiday season.
The LOOK campaign originated in 2006 to enhance safety for all street users, and particularly to build awareness among motorists and pedestrians of the growing number of bike riders using the streets. The re-launch of LOOK complements DOT's other education efforts designed to reach one or more transportation modes. DOT recently partnered with the NY Knicks to launch the "Heads Up" campaign, which spotlights unsafe behavior and reminds pedestrians, bike riders and motorists to stay alert, obey the rules of the road and keep themselves and others safe. The "That's Why it's 30" and "You the Man" campaigns educate motorists on the safety benefits of following the 30 m.p.h. speed limit and to use a designated driver every time they drink.
New York City's streets are the safest of any big city in the United States. Unprecedented safety redesigns, traffic engineering and education helped bring traffic fatalities to the lowest levels in recorded history in 2011 and made the last four years the safest period in city history. For more information about DOT's ongoing efforts to enhance safety, visit www.nyc.gov/dot.
Driver Safety Ads

Pedestrian Safety Ads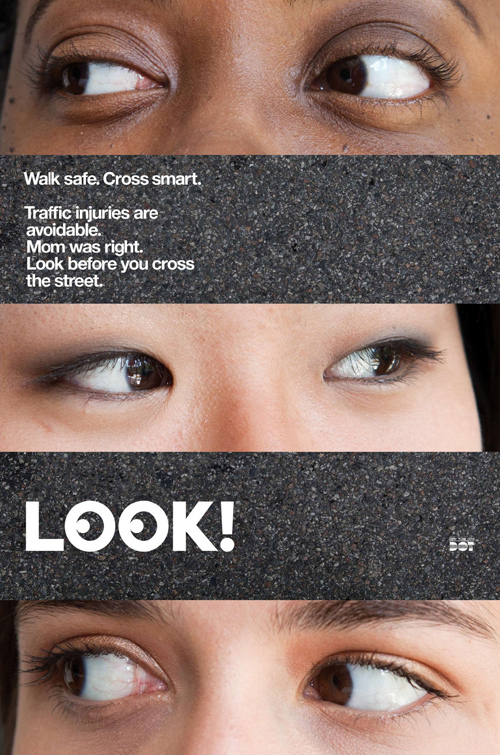 LOOK street marking design

—30—