FOR IMMEDIATE RELEASE
Press Release #11-99

Seth Solomonow/Scott Gastel (212) 839-4850
NYC DOT Opens Community Plaza in New Lots Triangle, Bringing Public Space to Encourage Foot Traffic, Boost Business
Underused traffic triangle converted into a plaza maintained by local merchants
Plaza is the latest improvement to public space
New York City Department of Transportation (DOT) Commissioner Janette Sadik-Khan, Council Member Charles Barron and New Lots Avenue Triangle Merchants Association President Eddie Di Benedetto today announced the opening of the New Lots Triangle Plaza, a community requested public space implemented through DOT's NYC Plaza Program to enhance neighborhood streets and local businesses. The pedestrian triangle was previously surrounded by conflicting and intimidating streams of traffic on Ashford Street and Livonia and New Lots avenues. Requested by the merchants association and supported by Brooklyn Community Board 5's transportation committee, the initial changes have calmed traffic, reduced pedestrian and vehicle conflicts, created a brighter, larger pedestrian-only public space, eased access to businesses and transit and laid the groundwork for a future capital project to make the plaza permanent. The merchants association is responsible for the 3,800-square-foot plaza's cleaning and maintenance and hopes to introduce a destination-making green market and other programming at the location. The plaza follows the recent launch of the CityBench program to bring 1,000 benches to make streets more inviting citywide and safety improvements to Grand Army Plaza.
"A community plaza invites local residents with a place to sit, and it's also a red carpet for local retailers who depend on foot traffic," said Commissioner Sadik-Khan. "Enhanced public space is not just a quality of life amenity, it's an investment strategy that retail corridors from Midtown to the Bronx Hub to New Lots have recognized."
"The mission of our organization is to revitalize and beautify the area," said New Lots Avenue Triangle Merchants Association President Eddie Di Benedetto. "We worked closely with the DOT to make this plaza a symbol of revitalization and we will continue our efforts to make the Triangle area the crown jewel of our community."
Through the NYC Plaza Program, DOT works with local non-profit organizations to build neighborhood plazas in areas with few parks and open spaces, helping achieve a key goal of Mayor Michael R. Bloomberg's PlaNYC agenda that all New Yorkers live within 10 minutes of quality open space. New Lots Triangle is a busy and growing retail and transportation hub at the entrance to the No. 3 train where local civic leaders and merchants initiated the request for a more attractive entrance to the dozens of nearby businesses, including diners, salons, a drugstore, a travel agency, a deli and many others. The 3,800-square-foot plaza with chairs and tables was created by joining an 800-foot traffic triangle with nearby sidewalks and the staircase to the New Lots train station, where passengers previously had to exit the station practically into traffic. There were 14 injuries, including five to pedestrians, at this location between 2006 and 2010. Merchants report that the plaza is having an immediate impact on business by encouraging pedestrians to linger longer in the area and visit businesses, boosting the local economy.
The New Lots Plaza features chairs and seating as well as a 100% recycled-materials surface that is both skid resistant and reflects light to brighten the area. Granite blocks and planters with trees and shrubs help create a safe perimeter. The B6 bus was rerouted from Ashford to Cleveland streets to allow for the Ashford Street closure between New Lots and Livonia avenues, and to make a simplified, safer turn for bus drivers with the new traffic pattern. 
DOT is working across the five boroughs to make New York a more walkable city. Additional plazas have recently been approved for Knickerbocker and Myrtle avenues in Bushwick; West 175th Street between Broadway and Wadsworth Avenue in Washington Heights; Zion Triangle in East New York between East New York and Pitkin avenues; and also recently along Richmond Terrace in Mariners Harbor, Staten Island. More information on these programs can be found at nyc.gov/plazas.
Before (top) and After Photos of New Lots Triangle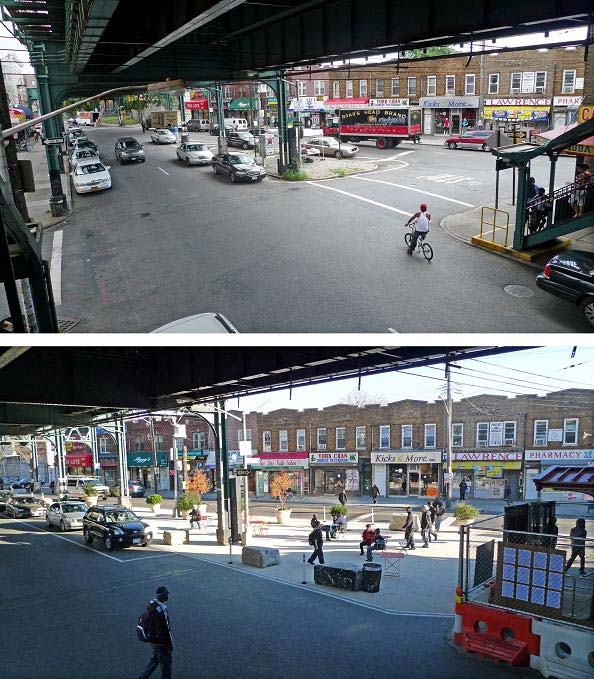 —30—