Julie Bero, Chief Strategy Officer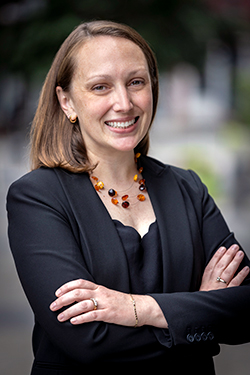 Julie Bero joined NYC DOT as Chief Strategy Officer in 2022, and leads the policy vision for the nation's largest municipal transportation agency.
Overseeing NYC DOT's Policy, Intergovernmental Affairs, and Press & Communications units, Ms. Bero works to advance the agency's core objectives of safety, mobility, sustainability, equity, and accessibility. Ms. Bero advises the Commissioner and provides strategic direction on mayoral priorities related to the Department, including Vision Zero, congestion pricing, federal infrastructure funding, electric-vehicle charging, and equitable investment. She also leads the agency's work to re-envision the Brooklyn-Queens Expressway from the Verrazzano Bridge to the Kosciuszko Bridge, including the triple cantilever—a multi-billion dollar infrastructure project.
Prior to working for NYC DOT, Ms. Bero spent five years in the NYC Mayor's Office, where she specialized in managing multi-agency initiatives to advance citywide priorities. Appointed Chief of Staff to the Deputy Mayor for Health and Human Services during the first wave of COVID-19, she collaborated with agency leadership to solve complex problems in a crisis, centering equity and safety to implement programs to serve the most vulnerable New Yorkers. Among these programs were the development of new protocols to safely shelter unhoused individuals, processes to ensure respectful burial of the deceased, and childcare safety guidelines. As the City reopened, Ms. Bero spearheaded the safe return to office for more than 300,000 City employees, including implementation of the City's workforce vaccine mandate.
Ms. Bero previously served as a Political and Policy Advisor in the Mayor's Office of Intergovernmental Affairs and at the New York City Council. Prior to her roles in City government, Ms. Bero advanced advocacy strategies at the Center for Reproductive Rights. She fought to expand access to reproductive health care and rights, providing tactical assistance to lawmakers, advocates, and providers.
Ms. Bero holds a Masters degree in Gender and Social Policy from the London School of Economics and Political Science, and a Bachelor of Arts in American Studies from Colby College. She grew up in Brooklyn, where she lives with her family.