Sustainable Streets: DOT's Strategic Plan
Sustainable Streets: 2013 and Beyond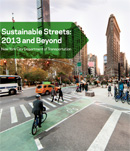 Sustainable Streets: 2013 and Beyond charts DOT's progress in making streets safer, improving mobility, and maintaining and enhancing infrastructure since 2007. The report reflects on previous strategic and other planning documents produced by DOT, and explains projects, programs, and data analysis that have contributed to a decline in citywide traffic fatalities, faster bus service, improvements in bridge conditions, and creation of new public space. In total, the agency repurposed 180 acres of former road space for other uses: 141 for new bike lanes, 39 for new public plazas and traffic calming. Download Sustainable Streets: 2013 and Beyond (print resolution, 230 MB pdf) Download Sustainable Streets: 2013 and Beyond (screen resolution, 36 MB pdf) View digital map website: www.sustainablestreets.info
Download sections of the report at print resolution: Table of contents and introduction (14 MB pdf) Safety section (14 MB pdf) Mobility section (46 MB pdf) World Class Streets section (53 MB pdf) Infrastructure section (40 MB pdf) Resiliency section (19 MB pdf)
Sustainable Streets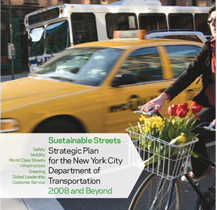 In the Spring of 2008, DOT released Sustainable Streets, the agency's strategic plan. The plan laid out, for the first time ever, a clear and detailed transportation policy for New York City — one that promised a new direction. DOT is delivering on the promises of its plan, and is moving forward on every one of the 164 actions committed to in Sustainable Streets. This annual update of the plan reports on that progress, and serves as a focal point for meeting targets and sustaining momentum across all of our Agency's programs. It also sets forth new goals that have emerged during the past year, ranging from development of an internal DOT car-sharing system to further reduce DOT's fleet, parking needs and miles driven, to issuing a request for proposals to establish a large scale public bicycle system in New York, similar to those in Paris and other cities. Learn more about Sustainable Streets
Sustainable Streets Index
DOT relaunched the Sustainable Streets Index as the New York City Mobility Report in November, 2015.
Visit the NYC Mobility Report page to download the report, as well as previous SSI publications dating back to 2008.
Sustainable Streets 2009 Progress Report
DOT launched numerous new projects and initiatives in the first year after the strategic plan, and saw positive transportation results in many areas. Download the Complete 2009 Update (screen resolution pdf)
Policy Documents
Electric Vehicle Advisory
The Electric Vehicle Advisory Committee Report of Recommendations for calendar year 2014 was prepared pursuant to Local Law 122 of 2013. The report examines the current state of the electric vehicle market and makes recommendations for future activity. Read the 2014 Electric Vehicle Advisory Committee Report of Recommendations
Street Design Manual
The New York City Street Design Manual provides policies and design guidelines to city agencies, design professionals, private developers and community groups for the improvement of streets and sidewalks throughout the five boroughs. It is intended to serve as a comprehensive resource for promoting higher quality street designs and more efficient project implementation. Learn more about the Street Design Manual
Urban Street Design Guide
The Urban Street Design Guide is a published by National Association of City Transportation Officials, or NACTO. It charts the principles and practices of the nation's foremost engineers, planners, and designers working in cities today. From Bus Rapid Transit to bikeways and public seating, the Guide showcases a new model for streets that work better for people, bikes, transit and cities. The Guide outlines both a clear vision for complete streets and a basic road map for how to bring them to fruition. Read the Urban Street Design Guide
NYC Street Works Manual
The NYC Street Works Manual clearly presents the procedures that govern work of New York City's streets. The Manual's clear presentation of permit procedures is designed to deliver higher quality street surfaces, fewer transportation capacity reductions and a more efficient construction environment to the people and businesses of New York City. Visit the online Street Works Manual
New York City Pedestrian Safety and Action Plan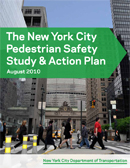 This landmark study is the largest of its kind ever undertaken by a U.S. city. Researchers analyzed over 7,000 crash records of to identify the causes, common factors and geographic distribution of pedestrian crashes in New York City. DOT aims to cut all traffic fatalities in half by 2030 (over 2007 levels), and pedestrians accounted for 52% of all traffic fatalities from 2005-2009. DOT will use this data to inform future projects, as outlined in the Action Plan portion of the report Learn more about the Pedestrian Safety and Action Plan and download the report (August 2010).
Active Design Guidelines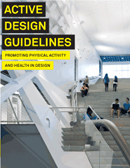 The Active Design Guidelines are the City's first publication to focus on designers' role in tackling one of the most urgent health crises of our day: obesity and related diseases including diabetes. The Guidelines were developed by a partnership of City agencies, working with leading architects and planners, to complement other City publications, such as the DDC's series of handbooks for architects and urban designers and DOT's Street Design Manual. The Guidelines are part of the vision of a more livable and hospitable NYC promoted in Mayor Bloomberg's Design + Construction Excellence Initiative. The goal of the Guidelines is to make New York City an even greater place to live, by creating an environment that enables all city residents to incorporate healthy activity into their daily lives. Visit the Active Design Guidelines website
Greenlight: Sustainable Street Lighting for NYC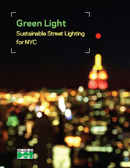 DOT operates the largest municipal street-lighting system in the country, with 262,000 lights on City streets, bridges and underpasses, 12,000 in parks and 26,000 on highways. In 2009, DOT tested LED lighting on streets and sidewalks in Central Park and along the FDR Drive. DOT is partnering with the US Department of Energy and the Climate Group to develop an LED pilot program for new technologies that will further reduce the City's greenhouse gas emissions and improve energy efficiency. Data collected from New York City's LED installations will quantify the performance of LEDs and assist other cities interested in the conversion to LED fixtures. This report provides more background on the current state of DOT's program and efforts to make it an international leader in green lighting. Download the Greenlight report (pdf) Read the press release
World Class Streets: Remaking New York City's Public Realm
A summary of DOT's public realm strategies, as part of the agency's efforts to place New York City at the forefront of urban development. This report is grounded in the findings from a Public Space/Public Life Survey conducted by world-renowned Gehl Architects/Urban Quality Consultants in the fall of 2007. Download World Class Streets (screen resolution pdf) Download World Class Streets (print resolution pdf)
New York City Interagency Road Safety Plan
New York City is the safest large U.S. city and is getting safer, with 62% fewer traffic fatalities per 100,000 than the average of the 24 next-largest cities. Traffic fatalities decreased 31% from 2001 to 2010 to historic lows. The New York City Interagency Road Safety Plan (pdf) describes programs and initiatives to further reduce traffic fatalities, injuries and crashes, improve compliance with traffic laws and improve road safety in New York City. This plan builds upon Sustainable Streets and the Pedestrian Safety Study and Action Plan, and helps satisfy requirements of Local Law 12, signed into law by Mayor Bloomberg in February 2011.
Community Presentations
DOT generally presents projects at community board meetings where the public can ask questions and provide feedback. To find upcoming meetings, check the events calendar or contact your local Community Board. View a list of DOT's current projects View community presentations grouped by topic: bicycle routes, pedestrian network, Neighborhood Slow Zones, Select Bus Service, Safe Streets for Seniors View projects grouped by year: 2013, 2012, 2011, 2010, 2009, 2008, 2007
Vernon Blvd Update and Safety Improvements
DOT is proposing safety improvements on Vernon Blvd between 46th Ave and 30th Rd. The safety improvements including the installation of jersey barriers at key locations along the existing two-way path to create a physical separation between path users and moving traffic. Download the Vernon Blvd Update and Safety Improvements Presentation(pdf) (presented to Queens CB1 and CB2 – October 2014)
Mobility Improvements on 3rd Avenue
DOT is proposing mobility improvements on 3rd Avenue that will extend two-way operation on the Avenue one block uptown from E. 24th Street to E. 25th Street. This will provide an additional southbound option for motorists who exit FDR Drive at E. 25th Street. Download the 3rd Avenue Two Way Conversion project(pdf) (presented to Manhattan CB6 – Sep 2014)
Measuring Results
Protected Bicycle Lanes in New York City
Since 2007, New York City Department of Transportation has installed over 30 miles of protected bicycle lanes throughout the city, including several parking protected bicycle lanes on various avenues in Manhattan. This report contains an analysis of how some of these Manhattan routes have impacted safety, mobility, and economic vitality. Download Bicycle Path Data Analysis (pdf) (November 2014)
The Economic Benefits of Sustainable Streets
New York City has been a leader in transforming the city's streets into more efficient and welcoming spaces for all users. DOT has developed a powerful set of metrics to evaluate these planning and engineering efforts, particularly for safety and mobility impacts. This report introduces a robust new metric for assessing the local economic impacts of street improvements. DOT examined changes in sales tax receipts in areas around improvements, finding convincing evidence that the improved accessibility and more welcoming street environment created by these projects led to increased retail sales. Download The Economic Benefits of Sustainable Streets (16 MB pdf), released December 2013
Making Safer Streets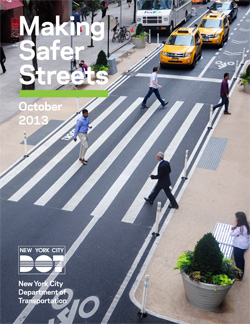 Over the past decade, New York City has seen a 30% decline in traffic fatalities, the lowest level since records were first kept in 1910, making New York City's streets the safest of any big city in the United States. This report focuses on how smart and innovative street design can dramatically improve the safety of our streets. The results reported here are based on "before and after" comparisons of crash data for projects implemented in the last seven years. This analysis is the largest examination of the safety effects of innovative roadway engineering conducted in a major American city, or perhaps any city globally. Download Making Safer Streets (pdf), released November 2013
Safe Streets NYC: Traffic Safety Improvements in New York City
DOT has accelerated its efforts to improve pedestrian and traffic safety at locations that have repeatedly been the site of traffic or pedestrian-related crashes. These efforts have sharply reduced the number of traffic-related crashes and fatalities, which are now at historic lows. This, released in January 2009, document details DOT projects and results in all five boroughs. Citywide Projects, Introduction, Bronx, Brooklyn, Manhattan, Queens, Staten Island Past Safe Streets Reports: 2007, 2006 , 2005
Measuring the Street
Cities need to set new goals for their streets to meet the needs of a growing population and to address vehicle crashes, traffic congestion, under-performing bus and bike networks, and environments that are inhospitable for pedestrians. The projects described in this report demonstrate how New York has been able to transform its streets by blending new technologies with time-tested tools. The metrics shown in the report are used to measure success and inform the design of future projects. Download Measuring the Street (pdf)
New York City's Green Dividend
Because New Yorkers drive substantially less than the average American, they realize a staggering $19 billion in savings each year—money that their counterparts in other metro areas spend on auto-related expenses. And because they spend so much less on cars and gasoline—money that quickly leaves the local economy - New Yorkers have much more purchasing power to spend locally, stimulating the city's economy. This is New York City's Green Dividend. Read the full report by CEOs for Cities.
Downtown Flushing Mobility & Safety Improvement Project Evaluation
DOT, working with elected officials, Community Board 7, local businesses, MTA and New York City Economic Development Corporation, developed a pilot program to improve mobility and safety for everyone on the streets of Downtown Flushing—pedestrians, transit riders and motorists. While Downtown Flushing was a thriving community, the area's sidewalks are overcrowded, the traffic network is clogged, and certain intersections were dangerous for both pedestrians and vehicles, particularly Union Street and Northern Boulevard, the most dangerous intersection for pedestrians in the borough in 2009. In July 2010, DOT implemented the pilot program to modify traffic and pedestrian flows. This report evaluates the efficacy of those changes. Download the Downtown Flushing Mobility & Safety Improvement Project Evaluation (pdf)
Studies and Reports
Highland Park-East New York Transportation Study
The Highland Park-East New York Transportation Study was undertaken with the goals of improving safety and mobility for motorists, pedestrians, and cyclists; reducing congestion; and complementing other transportation and planning initiatives in the study area. It assesses current (2012) and future (2022) travel conditions and proposes improvement measures to address identified problems. The study process involved extensive collaboration with other city agencies (Department of City Planning and New York City Transit) as well as other stakeholders such as the Local Development Corporation of East New York (LDCENY).
The study area is bounded by Bushwick Avenue and Highland Boulevard on the north, Cleveland Street on the east, Sutter Avenue on the south, and Mother Gaston Boulevard and Eastern Parkway Extension on the west. It falls in Community Districts 5 and 16 and is predominantly residential with over 30,000 residents; however, industrial uses are also dispersed throughout the area with the bulk of it in the East Brooklyn Industrial Business Zone.
Recommendations were developed to enhance safety and improve traffic operations at some locations in the study area. These recommendations include geometric, parking and signal timing changes as well as bus circulation and pedestrian safety improvements. Highland Park-East New York Transportation Study – Final Report (June 2015) (pdf)
Far Rockaway Central Business District (CBD) Traffic Study
DOT has completed the Far Rockaway Central Business District (CBD) Traffic Study. The study was conducted to assess and document existing traffic and transportation conditions, identify constraints and opportunities, and to support the development of the Central Business District urban design and revitalization plan. The study area is bounded by Horton Avenue/Minton Street/Alonzo Road to the north, Beach 9th Street/Caffrey Avenue/Beach 17th Street to the east, Seagirt Boulevard/Beach 25th Street to the south and Pinson Street/Beach Channel Drive/Rockaway Freeway to the west. Learn more about the Far Rockaway Central Business District (CBD) – Traffic Study (Draft Report) (pdf)
DOT's Red Light Camera program
New York City launched the nation's first program in 1994. Since then, over 500 American municipalities have established similar programs, preventing red light running related crashes, injuries and deaths across the country. The purpose of the Red Light Camera program is to encourage all motorists to obey traffic signals, and the program has in fact contributed to a 85% drop in red light running events at intersections with the camera. The success of this program has made New York City residents safer. This report was prepared to comply with State law, passed in 1988, which granted the City the authority to launch the first Red Light Camera program. Download the report (pdf)
Commercial Bicyclist Outreach Summary
This report outlines DOT's efforts to promote safety for commercial bicyclists with the nation's largest commercial cycling education and safety campaign. DOT went door-to-door to advise businesses, hosted forums for delivery cyclists, and produced multilingual informational material for owners and employees. Download the report (pdf) Learn more about commercial bicyclist safety
NYC Bike Share: Designed by New Yorkers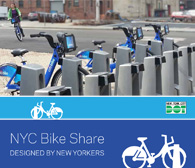 In preparation for the arrival of New York's newest travel option, bike share, DOT undertook an unprecedented public planning process. This report documents the community participation, which took the form of community board meetings, online suggestions, consultation with elected officals, and demonstration events. Download the report (pdf) Learn more about bike share in New York City
Soundview Areawide Transportation Study
The Soundview Areawide Transportation Study resulted from a community request to address traffic congestion and safety on the Soundview peninsula. The study focused on the area bounded by East Tremont Avenue to the north, Castle Hill and Zarega Avenues to the east, O'Brien Avenue and the East River to the south, and the Bronx River Parkway to the west. The study recommends several measures to improve traffic operations and enhance safety, including signal timing changes, converting two-way streets to one-way, and adding turning lanes on Castle Hill Avenue and Bruckner Boulevard. Download the report (pdf) (July 2013)
West Side Manhattan Transportation Study
This study of a traffic and transportation on the Upper West Side sought to improving traffic operations and pedestrian safety. The study projected traffic conditions for 2018 and made short- and long-term recommendations for improvements throughout the neighborhood. Learn more about the study
City Island Transportation Study
This study assessed existing and future traffic conditions on City Island and the surrounding area (Orchard Beach and the northern parts of Pelham Bay Park), and was made at the request of the Bronx Community Board 10. The study recommends several measures to improve traffic flow, reduce congestion, and enhance safety in the study area. Download the study (pdf) (2013)
Maspeth Bypass and Intersection Normalization
DOT is examining traffic flow in Maspeth, Queens, with a particular focus on the movement of trucks. The study's findings are helping DOT to improve traffic circulation and enhance safety in the industrial and residential neighborhoods bounded by Grand Avenue, the Long Island Expressway (I-495) and the Brooklyn Queens Expressway (I-278). Learn more
Parking Conditions Study for Yankee Stadium and Atlantic Yards
This report presents findings from parking studies conducted in the fall of 2011 around Yankee Stadium in the Bronx and Atlantic Yards in Brooklyn. The study examined the implications of different approaches to curb management generally and a residential parking permit program in particular. This report provides a comprehensive assessment of parking conditions in these areas as a basis for public discussion and future planning. Download the study (pdf) (July 2012)
In 2013, DOT collected on-street parking occupancy, turnover, and vehicle registration location data around the Barclays Center during event and non-event days. Download a presentation on the results (pdf), given to the Atlantic Yards Quality of Life Committee on Sept. 16, 2013
Bowery Houston Bleecker Transportation Study
DOT has completed the Bowery Houston Bleecker Transportation Study which sought to improve traffic circulation and enhance safety for all road users while addressing community concerns. The study area was bounded by Clinton Street and Avenue B to the east, Mercer Street to the west, East 4th and East 8th Streets to the north and Spring and Delancey Streets to the south. The study assessed traffic and transportation conditions in the area and identified short and long-term safety improvements. Issues such as land-use, traffic congestion, pedestrian & bike safety, truck activity and accidents were studied in detail. The recommendations and improvement measures that were generated include roadway geometry changes, parking regulation changes and pedestrian safety enhancements. Download the Future Conditions and Recommendations Report (Sept 2014) Download the Third Public Meeting Presentation (Nov 2013) Download the Second Public Meeting Presentation (Feb 2012) Download the Existing Conditions Report (Dec 2011) Download the First Public Meeting Presentation (May 2010)
Harlem-Morningside Heights Transportation Study
This study was a collaboration between DOT and the Department of City Planning, conducted in response to community concerns about development trends, increased congestion and changes in neighborhood character. The purpose of the study was to assess current and future land use development, transportation needs and traffic congestion in the area. The Final Report (2015 Future Conditions and Recommendations) presents a comprehensive analysis of traffic conditions and recommends traffic improvement measures to alleviate congestion as well as improve mobility and safety for all street users. Download the Draft Final Report (pdf)
Northern Brownsville Transportation Study
DOT conducted this study at the request of Brooklyn Community Board 16 to address congestion, parking and safety for all street users. The study examined traffic congestion, circulation, parking demand and supply as well as safety in the area. The study recommends measures to improve traffic operations, relieve congestion, and safety. It also recommends loading/unloading zones along Pitkin Avenue commercial strip. Download the study (pdf)
Red Hook Streetcar Feasibility Study
DOT conducted this study to determine the feasibility of a running a streetcar route in the Brooklyn neighborhood of Red Hook. The study was funded through a Federal Transit Administration grant secured by U.S. Representative Nydia Velázquez and has long had the support of the Brooklyn Chamber of Commerce. The study was completed in September 2011. Learn more about the study
Downtown Brooklyn Surface Transit Circulation Study
The Downtown Brooklyn Surface Transit Circulation Study evaluated existing surface transit routes in Downtown Brooklyn and the potential for new or modified services. The goal of the study was to maximize the effectiveness of Downtown Brooklyn's surface transit network. The study was completed in August 2011. Learn more about the study
Reduced School Speed Limit Study
Results of a pilot study conducted by DOT to determine the efficacy of reduced speed zones (with 20mph reduced speed limit signs accompanied by flashing beacons that operate during school hours) in reducing vehicle speeds around schools. Download the report (June 2008)
Court Street Signal Modification Analysis
In response to community concerns about traffic speeds and pedestrian safety on Court Street in Brooklyn, the Department modified traffic signals, which resulted in reduced vehicle speed and more opportunities for pedestrians to cross Court Street. Download the report (June 2005)
Park Slope Alternate Side Parking Suspension Study
During the Summer of 2008, DOT suspended alternate side parking in Park Slope, Brooklyn. This study finds the suspension caused minimal impact on traffic and parking conditions in that neighborhood. (December 2008)
Downtown Brooklyn Transportation Blueprint
The Downtown Brooklyn Transportation Blueprint was initiated in response to the City's 2004 rezoning of downtown Brooklyn and major developments such as Atlantic Yards and Brooklyn Bridge Park. Despite Downtown Brooklyn's excellent mass transit access, the area suffered from roadway congestion. The success of future projects depends on maintaining access and mobility and continuing to improve safety and health. The blueprint lays out a comprehensive set of multi-modal transportation treatments and innovations that can be implemented as needed over time to address existing congestion and the needs of future growth. Learn more Download the Blueprint Technical Memorandum (part I, part II) Download the project fact sheets (pdf) Download the implementation framework (pdf)
Placard Parking Usage in Lower Manhattan
The New York City Economic Development Corporation and DOT commissioned this study to understand how placards are used in Lower Manhattan and assess the availability of curb frontage relative to placard activity.
The streets of Lower Manhattan are a valuable public asset where different user groups compete for limited road space. Curbside parking spaces are highly valued and competition for those few spaces is fierce. A significant portion of the more than 1,300 block faces of curb frontage is allocated to authorized users—vehicles with agency placards displayed in their windshield that permit them to park in designated areas.
The results of this study, published in January 2008, are intended to help the City accurately consider existing policies in the context of the future of the Lower Manhattan street network. This study was made possible in part by a grant from the Lower Manhattan Development Corporation, which is funded through Community Development Block Grants from the US Department of Housing and Urban Development. Executive Summary Final Report Appendix 1A, Appendix 1B, Appendix 2, Appendix 3
College Point Transportation Study
DOT conducted the College Point Transportation Study to address community concerns related to traffic and transportation issues arising from new large scale commercial retail developments on the peninsula. Major recommended improvements that have been completed include widening Linden Place at the Whitestone Expressway, widening 20th Avenue between Whitestone Expressway and Parsons Boulevard, creating free flow U-turns between the Whitestone Expressway Service Roads at Linden Place and at College Point Boulevard, and constructing a pedestrian underpass under the Whitestone Expressway at Linden Place. Major future improvements include extending Linden Place from 28th Avenue to 20th Avenue and improving the connections between the commercial retail centers located on 28th and 20th Avenues. Download the report (pdf) (December 2006) Download a summary of the report (pdf)
Ridgewood Transportation Planning Study
The Ridgewood Transportation Planning Study area is located on the Brooklyn/Queens border. The goal of the study is to assess the existing and future traffic and transportation conditions, identify any problems and generate recommendations to develop a package of improvement measures to accommodate future transportation needs. Executive Summary, Introduction, and Demographic Analysis, Land Use and Zoning, Traffic and Transportation, Public Transportation, Safety Analysis, Conclusion (March 2007)
Coney Island/Gravesend Sustainable Development Transportation Study
Initiated by DOT in response to community concerns about the increase in traffic congestion and the safety of motorists, pedestrians, and bicyclists this study links transportation with land use while emphasizing sustainability. Download the report (May 2004)
Central Park
Closure of Central Park and Prospect Park Park Drives
Report on the pilot project to further limit the number of hours that motor vehicles can utilize the park drives of both Central Park and Prospect Park. The goal of this project was to minimize potential conflicts between vehicles and pedestrians in the parks and to provide additional space for recreation. Download the report (February 2007)
The Gates: Traffic Impacts and Analysis
In February 2005, The Gates, a temporary public art work was on view for 16 days in Central Park, consisting of 7,500 gates bearing saffron-colored fabric panels. The Gates required the full closure of the Central Park Drives to set up and dismantle the exhibit, and partial closure during the exhibit. This report documents the traffic impacts associated with the closures of the park drives during this exhibit. Download Part I Download Part II Appendices
2004 Holiday Traffic Plan: Central Park Drive Improvements
As part of the 2004 Holiday Traffic Plan, DOT and the Department of Parks and Recreation implemented an ambitious program to improve the overall usability of the Central Park Drives. DOT closely monitored the impacts of this initiative to determine the impacts. Download the report (May 2005)
Reauthorization of the Transportation Equity Act for the 21st Century (TEA-21)
This report describes the City's accomplishments using Federal transportation funding and lays out a plan for future use of these funds. Download the report (February 2003)
Traffic and Crash Data
Bicycle Crash Data
As required by Local Law 13 of 2011, DOT compiles the total number of bicycle crashes reported by city agencies. The Bicycle Crash Data report contains information on crashes involving only bicycles, between bicycles and motorized vehicles, and between bicycles and pedestrians. This data includes the number of injuries resulting from such crashes and is grouped by borough and by police precinct. Download the 2014 Bicycle Crash Data report (pdf) Download the 2013 Bicycle Crash Data report (pdf) Download the 2012 Bicycle Crash Data report (pdf) Download the 2011 Bicycle Crash Data report (pdf), covering October 1, 2011 through December 31, 2011
DOT collaborated with the departments of Health and Mental Hygiene, Parks and Recreation, and Police on this report, which describes the factors that contributed to the deaths and serious injuries of bicyclists over a decade. Download Bicyclist Fatalities and Serious Injuries in New York City, 1996-2005 (September 2006)
High Pedestrian Crash Locations: Pedestrian Safety Improvements at the Top 20 Intersections
This report, in response to Local Law 11, addresses DOT's ongoing commitment to improve safety at high pedestrian crash locations. The law requires DOT to identify the twenty highest crash locations based upon a ranking of the total number of crashes involving pedestrians. The number of locations in each borough is based on the proportion of citywide pedestrian injuries by borough. Safety improvements have been recently implemented at all, with additional improvements scheduled for the near future. Download the 2013 report (pdf) Download the 2012 report (pdf) Download the 2011 report (pdf) Download the 2010 report (pdf) Download the 2009 report (pdf) Download the 2008 report (pdf) Download the 2007 edition (pdf)
New York City Bicycling Screenline Counts and Commuter Cycling Indicator
DOT has developed an indicator that makes use of the most robust data available to estimate levels of commuter cycling over time. Data on this page shows trends in both general and commuter cycling in New York. Learn more about the Commuter Cycling Indicator
New York City Screenline Traffic Flow Report
This report presents vehicular volumes and historical comparisons across the Bronx-Westchester, Queens-Nassau, Manhattan-New Jersey, Staten Island-New Jersey, and Brooklyn-Queens screenlines. Download the 2014 Report (June 2015) 2002, 2003, 2004, 2005, 2006, 2007, 2008, 2009, 2010, 2011, 2012, 2013
2005 Transit Strike: Transportation Impacts and Analysis
The 2005 transit strike presented daunting challenges in maintaining mobility and access for City residents, businesses and visitors. The increased demand on the remaining operating transportation systems required a comprehensive and coordinated plan. This report, published in February 2006, describes how the City's Transit Strike Plan succeeded in maintaining mobility within the City. Part I: Executive Summary, Preparing for the Transit Strike, and Traffic Management Strategies. Part II: Analysis and Findings, Conclusions and Appendices.
Bridges and Tunnels
Annual Bridge and Tunnel Condition Report
This annual report describes DOT's work in maintaining the 788 City bridges and tunnels. Read the 2014 Report (June 2015) Reports for the years 2000-13 are also available
Manhattan River Crossings
This report, published annually by DOT since 1972, presents vehicular volumes, classification, and trends for all bridge and tunnel facilities serving Manhattan. Read the Manhattan River Crossings Reports from: Download the 2014 report (pdf) (June 2015) Download earlier reports:2001 (summary), 2002, 2003, 2004, 2005, 2006, 2007, 2008, 2009, 2010, 2011, 2012, 2013
New York City Bridge Traffic Volumes
Since 1948, DOT has monitored traffic flow on 47 bridges operated by the City of New York. This report summarizes vehicular volumes, classification data, and trends for the 47 bridges that cross over water, as well as the nine bridges and tunnels operated by the Metropolitan Transportation Authority and the six bridges and tunnels operated by the Port Authority of New York and New Jersey. Read past New York City Bridge Traffic Volumes reports: Download the 2014 report (August 2015) Download earlier reports: 2001, 2002, 2003, 2004, 2005, 2006, 2007, 2008, 2009, 2010, 2011, 2012, 2013
Harlem River Bridges
This report describes the eight Harlem River bridges, the rehabilitation projects that are either under way or planned, and the importance of obtaining Federal funding through reauthorization of the Transportation Equity Act for the 21st Century (TEA-21). Download the report (January 2004)
DOT Research Papers and Presentations
DOT staff are frequently invited to give papers and presentations at a variety of professional and academic conferences across the country and around the world. Below is a small sample of recent ones.
Rules and Specifications
New York City Traffic Rules
Include rules on traffic signals, pedestrians, restrictions on turns, speed restrictions and rules for parking, stopping, and standing. The rules also cover buses, taxis and for-hire vehicles, truck routes, parkways, limitations on dimensions and weight of vehicles, and other information. Learn more about the Traffic Rules
New York City Highway Rules
Including permits for street construction, fee schedules, permits for street furniture, and requirements for sidewalk, curb, and roadway work. Learn more about the Highway Rules
Street Furniture and Street Lighting Rules
Revocable Consents
Find out more about the process for granting revocable consents, needed if you intend to install a structure on, under or over a City street or sidewalk.
Newsracks Rules
DOT has enacted rules regulating the placement, installation, and maintenance of newsracks on City sidewalks.
Distinctive Street Lighting
DOT's Street Lighting Catalog lists the distinctive street lighting lampposts and luminaires, that meet DOT's standards and are appropriate for use on the City's streets, and are an alternative to standard New York City street lighting fixtures. Learn more about distinctive street lighting
Specifications
The following documents are available for purchase from the Office of the Agency Chief Contracting Officer, 55 Water Street, Ground Level, New York NY 10041. For further information, call 212-839-9435.
Specifications for furnishing all labor and material necessary and required for the installation, removal or relocation of street lighting equipment in the City of New York, 1992. $50.00.
Standard Specifications, Bureau of Highway Operations, June 1986. $5.00.
Standard Drawings, Division of Street Lighting, $75.00.
Standard Details of Construction, Bureau of Highways, Roadway Design, August 1988 (revised 1999). $10.00.