The New York City Department of Transportation's Mobility Management Program (MMP) seeks to coordinate and improve transportation opportunities for people with disabilities, older adults, and low income populations. This involves several methods, including:
Development of resources & tools for project managers and the community;
Coordination efforts within our agency, with other agencies and organizations, as well as the public; and
Identification of strategies to improve transportation services.
This comprehensive and strategic approach benefits the community and project managers by improving communication and collaboration between the agency and the community being served.
Current Mobility Management initiatives include:
Mobility Management Resource Guide
The Resource Guide is a One-Stop-Shop to learn about various programs, services, and existing conditions that could improve mobility and transportation opportunities for people with disabilities and older adults throughout New York City. It can be used by a diverse audience, including community based organizations, city project managers, individuals with disabilities, older adults, caseworkers, and travel trainers.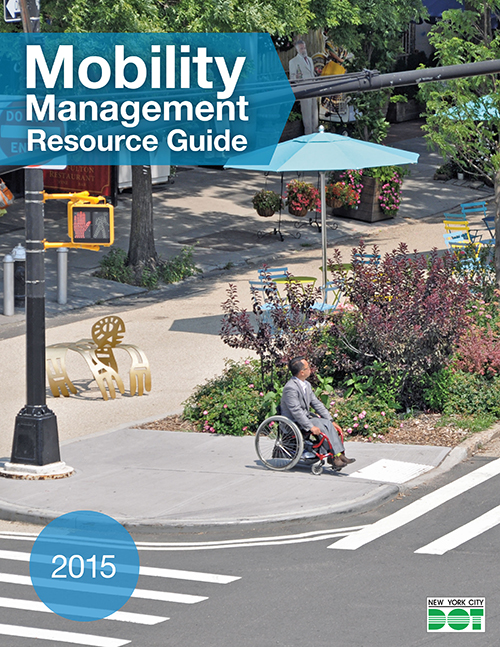 Download the Mobility Management Resource Guide (pdf)
Download the Mobility Management Resource Guide (text only version)
Descargue la Guía de Recursos para la Administración de la Movilidad
Mobility Management Conference
The Mobility Management Conference brings together mobility managers, travel trainers, transit providers, project managers, government officials, and advocates across the region to showcase innovative solutions in addressing mobility needs of people with disabilities, older adults, and low income populations. Previous topics have included partnership strategies, pedestrian infrastructure improvements, and inclusive technology.
The 2016 Mobility Management Conference took place on May 18th, 2016 at the Baruch College, William and Anita Newman Conference Center. Below are the conference materials:
MM Conference Program
List of Conference Attendee's and Speakers
MM Conference Report
Panel: The Role of Health & Transportation
Mobility Management Teleconference
In addition to our annual in-person conference, the Mobility Management Program hosts a fall teleconference for mobility managers across the New York Metropolitan Transportation Council (NYMTC) region to discuss relevant topics of interest as well as provide updates on local mobility management programs and services. The 2016 Teleconference took place on December 8th, with a focus on innovations in mobility services and mobility management planning.
2016 Teleconference Presentations
Questions and Comments
If you're interested in contacting the Mobility Management Program, please email MobilityManagement@dot.nyc.gov or call 212-839-3260.