Trucks & Commercial Vehicles
Office of Freight Mobility
The Office of Freight Mobility is responsible for advancing policies and programs that mitigate the adverse impacts of trucks on infrastructure and communities, while also improving truck delivery efficiency with an overall mission of supporting the City's economic competitiveness. The Office of Freight Mobility can be reached through our hotline number at 212-839-6670.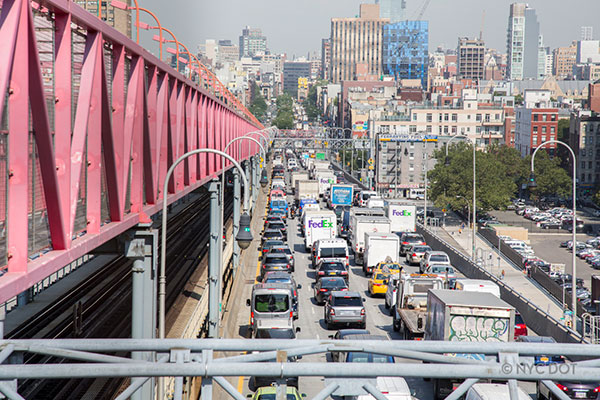 Trucks and commercial vehicles are essential to New York City, providing goods and services to millions of New Yorkers every day. The City's diverse mixture of land uses, dense urban environment and vast transportation infrastructure require a distinct set of rules and regulations to govern the operation of trucks and commercial vehicles. In order for this system to function efficiently, it is important that drivers observe these rules and regulations.
The information provided on these web pages is for educational purposes only. Please refer to the official New York City Traffic Rules and Regulations for the most current rules governing trucks and commercial vehicles.
Subscribe to the DOT Freight Mobility mailing list
Resources:
Key Freight Initiatives:
Smart Truck Management Plan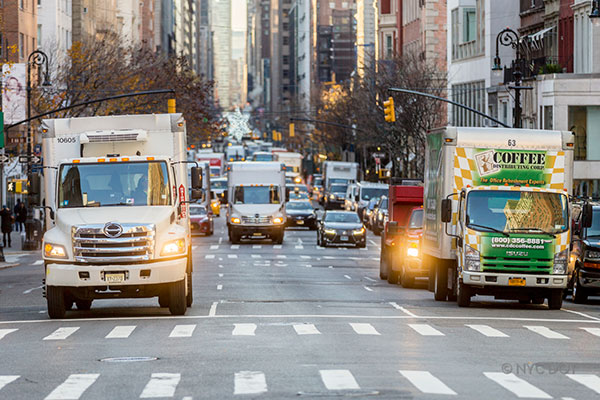 The New York City Department of Transportation is developing a plan to improve the quality of life for all New Yorkers through the safe, reliable, and environmentally responsible movement of goods. The citywide Smart Truck Management Plan will improve our understanding of truck route usage and compliance, movement of goods, needs of shoppers and receivers, and community concerns. With input from the community, the Department will then implement a series of strategies and actions to improve operations and enhance the economic vitality and quality of life for all New Yorkers.
We are also coming to you! Upcoming events are listed below:
Staten Island, Wednesday May 30th, 2018, 6:30pm-8:30pm
Faber Park Field House
Richmond Terrace/Faber St
Staten Island, NY 10301
Bronx, Saturday June 2nd, 2018, 12pm-6pm
Southern Blvd BID Culture Trail Festival Weekend Walks
Southern Blvd bet. East 163rd Street & Westchester Avenue
Bronx, NY 10459
Manhattan, Saturday, June 9th, 2018, 11am-5pm
Columbus Avenue Bloomingdale Family Days Weekend Walks
Columbus Avenue, 106th – 110th Street,
New York, NY 10025
Queens, Tuesday, June 19th, 2018, 6:30-8:30pm
Queens Central Library
89-11 Merrick Blvd
Jamaica, NY 11432
Brooklyn, Saturday, June 23rd, 2018, 12pm-4pm
Summer Plazas Weekend Walks
5th Avenue, 39th-41st Streets
Brooklyn NY 11232
To provide feedback online, please visit the NYC Smart Truck Management Plan Feedback Portal to get more information about the plan.
Off-Hour Deliveries (OHD) Program
Delivery trucks and commercial vehicles are critical to the economic vitality of New York City (NYC), a population of 8.5 million. Without efficient freight transportation, retail stores would not have goods to sell and restaurants would have nothing to serve. As NYC's population continues to grow, the demand for freight transportation will also increase, resulting in more trucks on the road.
The continuous growth and demand on our transportation system has caused increased congestion, which reduces economic productivity and diminishes quality of life. To address these issues, NYC DOT is expanding its Off-Hour Deliveries (OHD) program. The OHD program encourage goods delivery off-hours between 7 pm and 6 am. Visit the program webpage to learn more.
Truck's Eye View Program
DOT developed the Truck's Eye View (TEV) program in 2011 to provide education to the public on the blind spots around large trucks. The Truck's Eye View program demonstrates to the public where the blind spots around large trucks are located. At events citywide, participants can sit in the driver's seat of a truck and learn about the vehicle's blind spots from a professional truck driver, to increase safety awareness for all roadway users.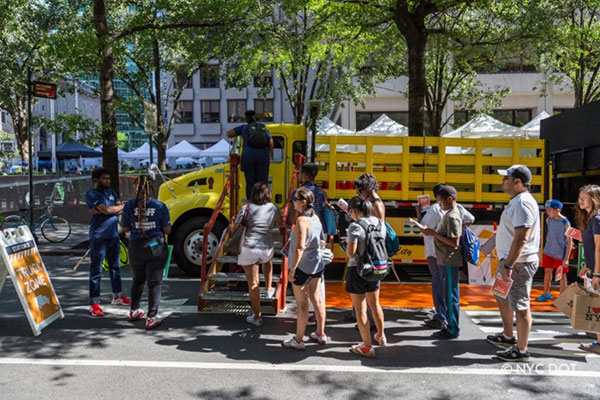 In 2017, DOT held five events with a total of 1,742 participants. With the hopes of reaching more residents citywide, the NYCDOT will be presenting the TEV program in all five boroughs in 2018. With the help of our trucking association affiliates and inter-agency volunteers, we will be looking to bring a truck to a neighborhood near you. We're asking everyone to come experience sitting in a truck and learn about truck blind spots and how to be safer on city streets!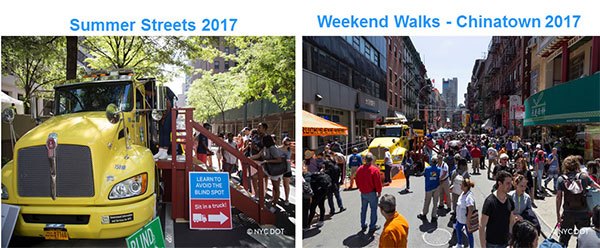 You can find us at these upcoming community events (additional events may be added):
Summer Streets-August 4th, 11th and 18th at Park Ave and East 51st Street (inside the Safety Zone)
Forest Park Fall Festival-October 13, 2018 at Victory Field in Forest Park, Queens, NY
To learn more about the Truck's Eye View Program or request a display at a community event in your area, please contact us at FreightMobility@dot.nyc.gov.
Check It or Wreck It
DOT's Check It or Wreck It campaign encourages truckers to view the truck route map, use a truck-specific GPS and avoid parkways in the New York Metro Area.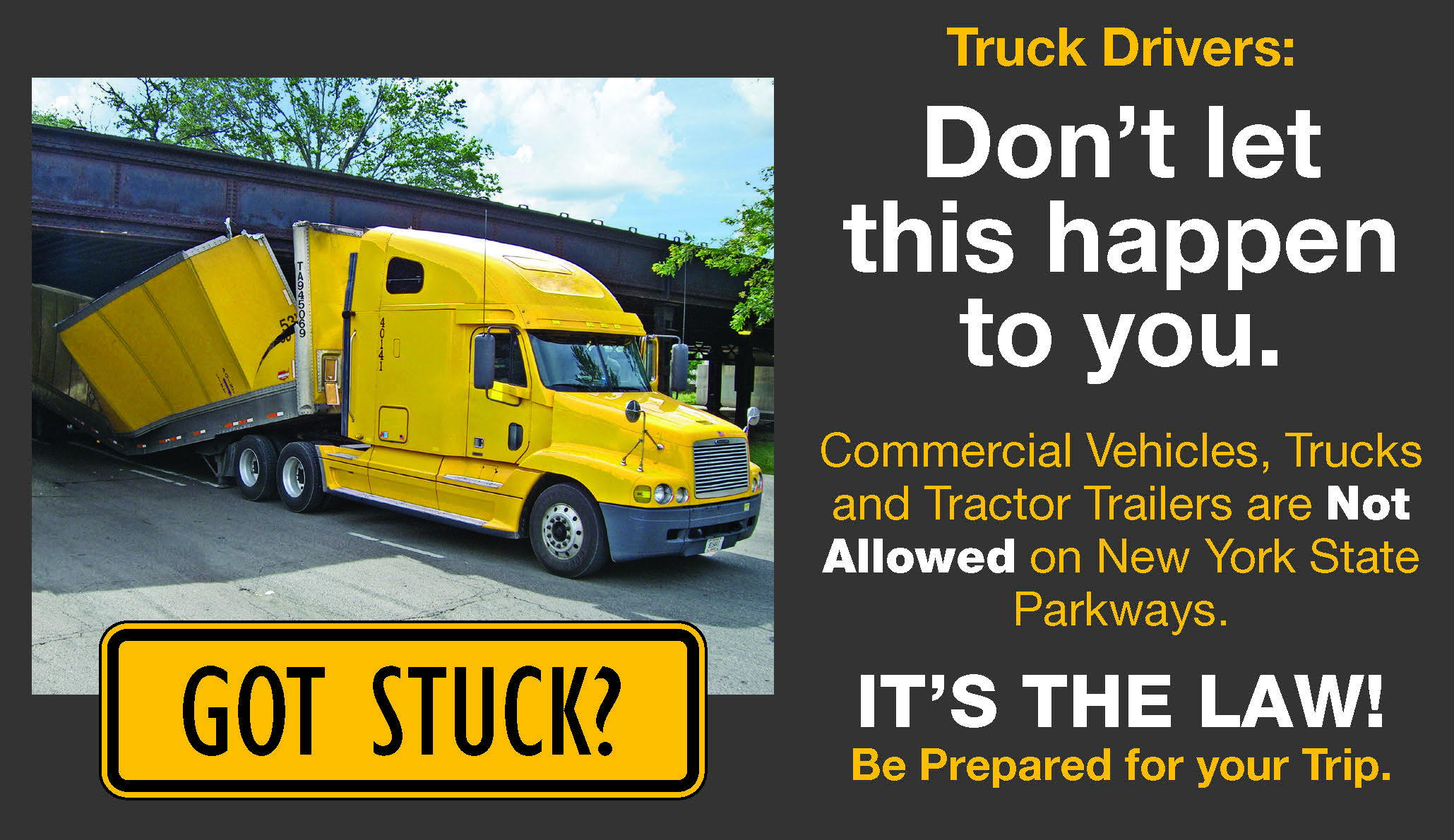 Truck or Commercial Vehicle?
New York City has unique definitions for commercial vehicles and trucks that differ from New York State Department of Motor Vehicles classifications. Find out how your vehicle is classified so you know what rules and regulations apply to you.
Truck Routes
With nearly 1,000 miles of designated roadway, New York City has one of the most complex truck route systems in the nation. Learn more about different types of truck routes
New York City Truck Route Map
DOT publishes a full color, double-sided map featuring the City's comprehensive Truck Route network overlaid on top of the entire arterial street network, making it easier for drivers to locate specific streets and intersections. The map also contains helpful information on truck route signage, weight limits and dimensions, overweight/overdimensional permitting and truck related violations as well as City, regional and state truck-related resources. Download the 2015 New York City Truck Route Map (pdf) Download the 2015 New York City Truck Route Map Front (pdf) Download the 2015 New York City Truck Route Map Reverse (pdf) Order copies through the mail
Interactive Truck Map
There have been truck route changes since 2012 to the Truck Route Map. For details of changes, see links below. Download details on the truck route changes in Brooklyn (pdf) Download details on the truck route changes in Queens (pdf) 53 Foot Tractor Trailers can access specific and limited routes to JFK Airport in Queens. See the reverse side of the 2015 Truck Route Map for more information.
Truck Route Geodata
The New York City Truck Routes map data is available in shapefile and KML format in the DOT Datafeeds collection. This data has been revised to include all truck route changes from 2012 through 2015. Download the data
New York City Traffic Rules
The New York City Traffic Rules and Regulations are contained in Chapter 4 of Title 34 of the Rules of the City of New York. It includes rules on traffic signals; pedestrians; restrictions on turns; speed restrictions; other restrictions on movement; rules for parking, stopping, and standing; rules for buses, taxis and for-hire vehicles; truck routes; rules pertaining to parkways and parks; limitations on dimensions and weight of vehicles; and other information.
Commercial Vehicle Identification
The New York City Traffic Rules require that commercial vehicles display the registrant's name and address on both sides of the vehicle. This is described in Section 4.08 of the Traffic Rules.
The Federal Motor Carrier Safety Administration (FMCSA) issues vehicle identification numbers, known as USDOT numbers, to commercial vehicles that operate interstate to transport passengers, or haul cargo. New York State requires intrastate commercial motor vehicle registrants to obtain a USDOT number. For more information, contact the FMCSA at 800-832-5660 or visit https://www.fmcsa.dot.gov/registration/do-i-need-usdot-number.
Highway Use Tax (HUT) numbers are administered by the New York State Department of Tax and Finance. For information call 1-800-980-5437 or (in New York State) 518-388-5245, or visit OSCAR.
Reducing Emissions From Non-Road Equipment (Local Law 77)
Local Law 77, which was signed into law in 2003, requires the use of ultra-low sulfur diesel and "best available technology" for reducing emissions from non-road equipment used on City construction projects. See the Verified Technologies List of all the diesel retrofit technologies that the US Environmental Protection Agency has approved for use in engine retrofit programs. See the summary of verified diesel emission control strategies by the California Air Resources Board.
Truck Regulations
Weight and Size Limits
The allowed gross vehicle weight in New York City is 80,000 pounds. Read the full weight and size limits Vehicles that exceed New York City's size and weight limits must obtain overdimensional permits.
Parkway Restrictions
Trucks and commercial vehicles cannot travel on most parkways in New York City. Read a complete list of parkways where trucks and commercial vehicles are prohibited Download a brochure from DOT and NYSDOT about parkways regulations in the New York area. Request paper copies of the brochure
Parking and Deliveries
Parking a Truck or Commercial Vehicle
What you need to know about parking your truck or commercial vehicle in New York City.
Cross Over Mirrors
Because of the height of large trucks, it can be difficult for truck drivers to see what is happening directly in front of their vehicles. This has contributed to a significant number of pedestrian deaths in New York City.
Cross over mirrors must be installed on all trucks that
are registered in New York State, and
operate in New York City (except for expressways).
Installing cross over mirrors in front of the cab of a truck is a simple way of eliminating a truck driver's front "blind spot" and allowing the driver to see any person at least three feet tall and passing one foot in front of the vehicle. School buses have long been required to have cross over mirrors. The mirrors are relatively inexpensive and manufacturers typically offer them below list price, and provide bulk discounts. Read the law Download a flyer about cross over mirrors
Express Lane Permits
DOT issues Express Lane Permits that enable ambulettes, commuter vans and shuttles and other mass transit fleets to use the high occupancy vehicle (HOV) lanes leading to the Queens-Midtown and Brooklyn-Battery Tunnels.
Urban Freight Initiatives
This report outlines initiatives aimed towards advancing policies and programs which mitigate the adverse impacts of trucks on infrastructure and communities, while improving safety, truck delivery efficiency, and New York City's economic competitiveness. Download Urban Freight Initiatives Report (pdf)