Trucks & Commercial Vehicles
Trucks and commercial vehicles are essential to New York City, providing goods and services to millions of New Yorkers every day. The City's diverse mixture of land uses, dense urban environment and vast transportation infrastructure require a distinct set of rules and regulations to govern the operation of trucks and commercial vehicles. In order for this system to function efficiently, it is important that drivers observe these rules and regulations.
The information provided on these web pages is for educational purposes only. Please refer to the official New York City Traffic Rules and Regulations for the most current rules governing trucks and commercial vehicles.
Subscribe to the DOT Freight Mobility mailing list
Check It or Wreck It
DOT's Check It or Wreck It campaign encourages truckers to view the truck route map, use a truck-specific GPS and avoid parkways in the New York Metro Area.
Truck or Commercial Vehicle?
New York City has unique definitions for commercial vehicles and trucks that differ from New York State Department of Motor Vehicles classifications. Find out how your vehicle is classified so you know what rules and regulations apply to you.
Parking and Deliveries
Parking a Truck or Commercial Vehicle
What you need to know about parking your truck or commercial vehicle in New York City.
Off-Hour Delivery
Trucks and commercial vehicles both cause and suffer from congestion on New York City's streets. Because of this congestion, deliveries made during the business day cost us all – as stores pass on the expenses of wasted time, lost revenue, missed deliveries and parking tickets. In order to combat congestion, help businesses control costs and improve air quality, DOT worked with Rensselaer Polytechnic Institute, and a group of stakeholders and research partners to implement an Off-Hour Truck Delivery Pilot program, funded by USDOT, which ran from late 2009 through 2010. Learn more about the pilot Sign up to participate in off-hour delivery
Truck Routes
With nearly 1,000 miles of designated roadway, New York City has one of the most complex truck route systems in the nation. Learn more about different types of truck routes
New York City Truck Route Map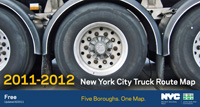 DOT publishes a full color, double-sided map featuring the City's comprehensive Truck Route network overlaid on top of the entire arterial street network, making it easier for drivers to locate specific streets and intersections. The map also contains helpful information on truck route signage, weight limits and dimensions, overweight/overdimensional permitting and truck related violations as well as City, regional and state truck-related resources. Download the 2011-2012 New York City Truck Route Map (pdf) Order copies through the mail
There have been truck route changes in some areas of Brooklyn and Queens since 2012. A updated NYC Truck Route Map is under development. Download details on the truck route changes in Brooklyn (pdf) Download details on the truck route changes in Queens (pdf)
Truck Route Geodata
The New York City Truck Routes map data is available in shapefile and KML format in the DOT Datafeeds collection. This data has been revised to include all truck route changes since 2012 and is up-to-date. Download the data
Community Proposals
20th Street Truck Route Network Study
In 2010, after a petition was signed by over 200 residents of 20th Street in Brooklyn, Community Board 7 requested that DOT study the truck route on 20th Street between Third and Seventh Avenues to see if the street could be changed to one-way. The petition cited property damages and congestion due to two-way truck traffic on the narrow street. DOT is currently conducting a traffic study to develop truck route alternatives for this area.
Truck Route Management Study
DOT has been actively engaged in addressing community concerns about truck traffic on City streets and improving the overall management of trucks and commercial vehicles. Learn more about the study
Truck Regulations
Weight and Size Limits
The allowed gross vehicle weight in New York City is 80,000 pounds. Read the full weight and size limits Vehicles that exceed New York City's size and weight limits must obtain overdimensional permits.
Parkway Restrictions
Trucks and commercial vehicles cannot travel on most parkways in New York City. Read a complete list of parkways where trucks and commercial vehicles are prohibited Download a brochure from DOT and NYSDOT about parkways regulations in the New York area. Request paper copies of the brochure
Low Bridges
There are several hundred low vertical clearance structures in New York City, including elevated rail lines, tunnels, bridges, highway ramps, buildings over highways and other obstructions. DOT has prepared maps of low vertical clearances on the limited access highway system. Citywide map, Manhattan map, Bronx map, Brooklyn map, Queens map, Staten Island map Download citywide low bridges data in KML format
Cross Over Mirrors
Because of the height of large trucks, it can be difficult for truck drivers to see what is happening directly in front of their vehicles. This has contributed to a significant number of pedestrian deaths in New York City.
Cross over mirrors must be installed on all trucks that
are registered in New York State, and
operate in New York City (except for expressways).
Installing cross over mirrors in front of the cab of a truck is a simple way of eliminating a truck driver's front "blind spot" and allowing the driver to see any person at least three feet tall and passing one foot in front of the vehicle. School buses have long been required to have cross over mirrors. The mirrors are relatively inexpensive and manufacturers typically offer them below list price, and provide bulk discounts. Read the law Download a flyer about cross over mirrors
Express Lane Permits
DOT issues Express Lane Permits that enable ambulettes, commuter vans and shuttles and other mass transit fleets to use the high occupancy vehicle (HOV) lanes leading to the Queens-Midtown and Brooklyn-Battery Tunnels.
Traffic Rules
The New York City Traffic Rules and Regulations are contained in Chapter 4 of Title 34 of the Rules of the City of New York. It includes rules on traffic signals; pedestrians; restrictions on turns; speed restrictions; other restrictions on movement; rules for parking, stopping, and standing; rules for buses, taxis and for-hire vehicles; truck routes; rules pertaining to parkways and parks; limitations on dimensions and weight of vehicles; and other information.
Commercial Vehicle Identification
The New York City Traffic Rules require that commercial vehicles display the registrant's name and address on both sides of the vehicle. This is described in Section 4.08 of the Traffic Rules.
The New York State Department of Transportation assigns vehicle identification numbers to commercial vehicles. This is not a responsibility of New York City DOT. For information, contact New York State DOT at 1-866-881-2630 for travel within New York State or 1-800-832-5660 for travel between states.
Highway Use Tax (HUT) numbers are administered by the New York State Department of Tax and Finance. For information call 1-800-980-5437 or (in New York State) 518-388-5245, or visit OSCAR.
Reducing Emissions From Non-Road Equipment (Local Law 77)
Local Law 77, which was signed into law in 2003, requires the use of ultra-low sulfur diesel and "best available technology" for reducing emissions from non-road equipment used on City construction projects. See the Verified Technologies List of all the diesel retrofit technologies that the US Environmental Protection Agency has approved for use in engine retrofit programs. See the summary of verified diesel emission control strategies by the California Air Resources Board.