Motorists & Parking
Traffic Advisories
DOT published traffic advisories weekly, which provide the locations of road construction and street events that will impede the normal flow of traffic. Weekly Traffic Advisory Weekend Traffic Advisory Special Traffic Advisory
As part of its Citywide traffic improvement program, the New York City Department of Transportation has compiled a list of areas where major street construction or street events will impede the normal flow of traffic. Visit the NYC Street Closures Map
New York City Speed Limit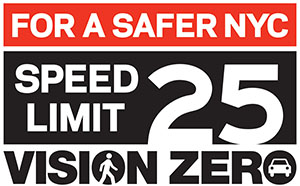 Starting November 7, 2014, the speed limit on all New York City streets will be 25 MPH unless otherwise posted. This new speed limit will be enforced by the NYPD and with speed enforcement cameras. By getting New York drivers to slow down, we will prevent crashes, protect New Yorkers from injury and save lives. Lowering the speed limit to 25 MPH is one aspect of the Mayor's comprehensive Vision Zero Action Plan to eliminate traffic deaths and serious injuries.
The new 25 MPH speed limit will affect all NYC streets, except those where a different speed limit is posted. The speed limits on our highways will remain the same. Some big streets, which have been designed to accommodate faster speeds will remain at 30 MPH. Other streets, particularly streets near schools, may have a lower speed limits posted. After November 7th, 2014, all streets that do not have a posted speed limit have a speed limit of 25 MPH. Download 25 MPH FAQ's (pdf) Download Information on New York City's Speed Camera Enforcement (pdf)
Parking
Alternate Side Parking
Get the alternate side parking schedule.
Parking Rates
Get information about street parking rates.
DOT sells parking cards that can be used to pay at on-street parking meters and in municipal parking facilities. Learn more about NYC Parking Cards
Parking Regulations
Find information about rules for parking, and search the on-street parking regulations. Learn more about parking regulations
Municipal Parking Garages
DOT operates municipal parking garages and lots in all five boroughs. Find out more about municipal parking facilities
Parking Permits
DOT issues parking permits for people with disabilities, for clergy, for government agencies and not-for-profits. Learn about permits for people with disabilities Learn about clergy parking permits
DOT also issues Agency Business Parking Permits to City, State or Federal agencies whose employees need to park while conducting official business. Apply for an Agency Business Parking Permit
DOT issues Annual On-Street Parking Permits to not-for-profits. The permits allow vehicles limited standing and parking privileges in loading zones and at parking meters while carrying out the organization's mission. Apply for an Annual On-Street Parking Permit
Street Resurfacing
DOT publishes a weekly schedule of streets slated for milling or resurfacing. Read the weekly resurfacing schedule
The Daily Pothole
The Daily Pothole blog tracks the daily count of potholes filled and lanes resurfaced and explains roadwork with maps and photographs.
DOT is a national leader in the use of recycled asphalt pavement, which turns yesterday's pavement into today's streets. The Agency is currently piloting the use of warm mix asphalt. Learn more about sustainable paving
Trucks and Commercial Vehicles
Trucks and commercial vehicles are essential to New York City, providing goods and services to millions of New Yorkers every day. DOT regulates trucks and commercial vehicles on New York City's streets, including rules on vehicle classification, size and weight restrictions, truck routes and commercial parking. Learn more Download the NYC Truck Route map Learn about DOT's Off-Hour Delivery Program
Current DOT Projects
Learn about projects in neighborhoods around the City to reduce traffic, improve travel time and pedestrian safety.
Safety for Motorists
DOT works to make sure that transportation is safe for everyone on the street. As part of that mission, DOT offers free car seat fittings throughout the city. Learn more about safe driving and car seat fittings.
Ensuring work zone safety is a top DOT priority. Driving safely near work zones saves lives. Learn more about this issue and get tips on driving safely around work zones
Neighborhood Slow Zones
Neighborhood Slow Zones are a community-based program that reduces the speed limit from 30 mph to 20 mph and adds safety measures within a select area in order to change driver behavior. The ultimate goal of the Neighborhood Slow Zone program is to lower the incidence and severity of crashes. Slow Zones also seek to enhance quality of life by reducing cut-through traffic and traffic noise in residential neighborhoods. Learn more about Neighborhood Slow Zones
High-occupancy Vehicle Lanes
New York City has several roadways with lanes for high occupancy vehicle.
Bus Lane Rules and Enforcement
Bus Rapid Transit in New York City includes dedicated bus-only lanes. Vehicles can enter an active bus lane only to quickly pick up or drop off passengers or turn right. Bus lane violations are $115 or more. Learn more about bus lane cameras If you have received a bus lane camera violation, you can view the video footage used to issue the violation
Citywide Congested Corridors Studies
DOT is conducting citywide congested corridor studies. The corridors in the study were chosen based on high traffic volume/congestion, vehicle related emissions/pollutions, pedestrian and other road users' safety.
Taxi Relief Stands
DOT designates the locations of relief stands for taxi and for-hire-vehicle drivers. Taxis and for-hire cars are regulated by the Taxi and Limousine Commission
New York City Highway & Traffic Rules
Read the official City rules on traffic signals, pedestrians, restrictions on turns, speed restrictions, parking, stopping, and standing, rules for buses, taxis and for-hire vehicles, truck routes, rules pertaining to parkways and parks, limitations on vehicle dimensions and weights, and other information.
Adopt-a-Highway
The Adopt-A-Highway program is a tax-deductible way for you to market your business or organization to thousands of people a day while giving back to your community.