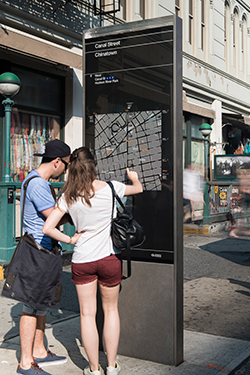 WalkNYC is New York City's standard for pedestrian wayfinding. WalkNYC provides a clear visual language and graphic standards that can be universally understood, encourages walking and transit usage by providing quality multi-modal information, and provides consistent information across a broad range of environments in the city. The first WalkNYC signs are being installed during the Summer of 2013 in four areas of the City.
New York City is well-known as a walking city, but pedestrian-oriented information is difficult to find and inconsistent where available. The City's streets are a mix of named and numbered streets, with a variety of building numbering conventions, with street grids merging at confusing angles. Even Manhattan's simple street grid is difficult to navigate when emerging from a subway station or transit hub. While the City has many signs directing drivers these provide very little benefit to pedestrians. The goal of WalkNYC is to remedy this information and navigation gap.
WalkNYC Sign Family and Placement Strategy
In each of the four initial areas, DOT worked with community partners to identify, research, and observe the popular destinations, primary pedestrian routes, and key decision-making points of each neighborhood. Through careful research, DOT also located the difficult-to-navigate parts of each neighborhood, focusing on the routes between transit services, landmarks and public spaces.
This research created a detailed picture of each area, which DOT used to tailor a placement strategy. The research also forms the basis of the site location and network planning standard that will be applied citywide. DOT has developed a variety of sign sizes to accommodate different environments.
WalkNYC maps are also installed at Citi Bike station kiosks, to expand the wayfinding network and provide valuable information for pedestrians, in addition to Citi Bike users.
The four initial areas and community partners for WalkNYC are:
Sign Features
WalkNYC signs provide valuable information, from basic cardinal directions and street names to mapped details like subway entrances and Wi-Fi hotspots. The maps are rotated "heads-up" or forward-facing to show the street network as it appears in front of you. Research and user testing demonstrate that this method is more accessible for people who are unfamiliar with their surroundings or have trouble reading maps.
Transit Links
The MTA operates the subway system, issues MetroCards, and operates the Metro-North and Long Island Railroads. Find other area transit service providers
Questions and Comments
Contact DOT at walknyc@dot.nyc.gov with your questions or comments.
Report a Problem