Stay Updated on the Ferry
Sign up for email updates and alerts on ferry service changes. Alerts are also posted on DOT's Twitter and Facebook pages.
Riding the Staten Island Ferry
Passenger Safety
See the Staten Island Ferry Safety Advisory (pdf)
See the Staten Island Ferry Safety & Environmental Protection Policy (pdf)
Download the Staten Island Ferry Rules of Conduct (pdf) Read the Staten Island Ferry Rules of Conduct for Bicyclists. 
Route Information
The Ferry operates between the St. George Ferry Terminal on Staten Island and the Whitehall Terminal in Lower Manhattan. The trip is about 25 minutes long. The Ferry is free.
The St. George Terminal is located at 1 Bay Street, Staten Island.
The Whitehall Terminal is located at 4 South Street, Manhattan.
All passengers are required to comply with applicable U.S. Coast Guard Security Regulations regardless of which level they board from.
The Staten Island Ferry does not carry cars.
Lower-Level Boarding
Staten Island Ferry is opening lower-level boarding to the general public on September 18, 2017. The times that lower-level boarding will be open for each terminal are as follows:
St. George
: Lower-level will be open weekdays from 6:40 am – 9:00 am, covering the 7:00 am – 9:00 am departures
Whitehall
: Lower-level will be open every day from 12:00 pm – 8:00 pm, covering the 12:30 pm – 8:00 pm departures
Lower-level boarding will remain open 24/7 for people with bicycles and persons with impaired mobility. Bicycles must always board on the lower-level. More information on accessibility for passengers with mobility impairments is listed below in section titled "Accessibility."
As with other aspects of our operation, lower-level boarding is subject to compliance with US Coast Guard Combined Security Plan. This requires security screening and mandates that embarking and disembarking passengers be kept separate at all times.
Gates for the lower-level will close promptly according to posted schedule. Lower-level will not serve as area for late passengers to board after the main loading doors are already closed. The gates must close on-time to maintain schedule.
There is a finite amount of space in the lower-level waiting areas. If capacities are reached, the lower-level will be closed and passengers will be directed to the upper levels.
NYC DOT ask for your patience as we begin lower-level boarding. These waiting areas are temporary in nature and the current configuration may go through changes as we adjust details to conform to the operational environment and regulatory regime.
Pets
Pets, other than service animals as defined by the Americans with Disabilities Act, are not allowed in the facilities and/or onboard the ferry boats, unless they are caged and/or muzzled.
Accessibility

Both terminals are equipped with escalators and elevators and operate within ADA guidelines. Authorization to board on the lower level will only be issued with proper supporting documentation. For further information, please call 212-839-3061, Monday through Friday between 8:00 am and 4:00 pm, all other times please dial 311. You may also email your request and documentation to ferryaccessrequest@dot.nyc.gov. Please allow 3 to 5 business days for processing.
If you would like to file an American with Disabilities Act complaint alleging disability discrimination, visit 311 Online, file by mail, or contact our Customer Complaint Representative at (212) 839-3096.
To file a complaint online: 311 Online
To file a complaint by mail:
NYC Department of Transportation
Office of the Commissioner
Attn: Customer Complaint Representative
1 Ferry Terminal Drive
Staten Island, NY 10301
Security
All passengers are subject to random screening by NYPD and K9 personnel. Passengers refusing to random screenings will not be allowed to board the vessel and will be asked to leave the terminal. Staten Island Ferry terminals are under 24/7 CCTV surveillance. Please note: NYPD is present on all Staten Island Ferry vessels and stationed in both terminals.
Ferry Schedule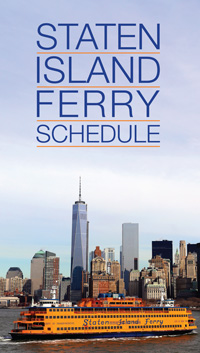 The ferry runs around the clock, every day of the year. Generally, the ferry runs every fifteen minutes during rush hour, and every half hour or hour during nights and weekends. During periods of reduced visibility or heavy weather the schedule may be adjusted. See the detailed schedule Download a printable copy of the schedule effective October 2015 (pdf)
The ferry operates on a holiday schedule on New Year's Day, Martin Luther King, Jr. Day, Presidents' Day, Memorial Day, Labor Day, Thanksgiving Day and Christmas Day. On these days, service will be provided every 30 minutes throughout the day, with departures on the hour and half hour from each terminal.
Independence Day - 4th of July
From 12:00 am through 4:00 pm - 30 minute service will be provided.
From 4:00 pm through 7:30 pm - 20 minute service will be provided.
Last boat before fireworks will depart from both terminals at 7:30 pm.
Service will be suspended from 8 pm-10 pm due to firework festivities.
Half hour service resumes at 10 pm from both terminals.
Transit connections
The St. George Terminal is served by the Staten Island Railway and the S40, S42, S44, S46, S48, S51, S52, S61, S62, S66, S74, S76, S78, S81, S84, S86, S90, S91, S92, S94, S96 and S98 bus routes.
The Whitehall Terminal is accessible by the M5, M15, M15 SBS and M20 bus routes and the 1, 4, 5, J, R and Z trains.
Late Notes
A Staten Island Ferry is considered late if it departs more than six minutes later than its posted departure time. Late notes are available through the Passenger Service Office located in the St. George Terminal between the hours of 8AM and 4PM, by contacting 311, or by email at ferrylatenotes@dot.nyc.gov. Please include the date and time that you traveled as well as the terminal you departed from and your name and email address. Responses will be emailed within 1 business day. Please contact 212-839-3061 or 311 with questions or concerns.
Parking
No vehicles are allowed on the ferry.
In addition to privately operated lots, there are two DOT Municipal parking lots at St. George Ferry Terminal. The daily parking rate is $8.00, quarterly permits are $300. Parking in the nearby municipal garage and lot at St. George Courthouse Garage costs $55 per month. Learn more about long-term parking permits
The upper South Lobby Kiss & Ride at the St. George Ferry Terminal is open for passenger pick-ups and drop-offs. Passengers should take the South Lobby elevator on the main concourse level to the third floor. Drivers can access this area by taking the bus ramp from Richmond Terrace, using the outermost right lane.
Facts about the Ferry
The City has operated the Staten Island Ferry since 1905. The Ferry carries over 23 million passengers annually on a 5.2-mile run between the St. George Terminal in Staten Island and the Whitehall Terminal in Lower Manhattan. The Ferry runs 24 hours a day, 365 days a year. The Staten Island Ferry is the most reliable form of mass transit, with an on-time performance of over 96 percent.
On a typical weekday, five boats make 118 trips, carrying approximately 70,000 passengers. During rush hours, the ferry runs on a four-boat schedule, with 15 minutes between departures. Between rush hours, boats are regularly fueled and maintenance work is performed. Terminals are cleaned around the clock and routine terminal maintenance is performed on the day shift. On weekends, three boats are used (98 trips on Saturday and 96 trips on Sunday). The boats make over 40,000 trips annually. Ferry terminal supervisors, assigned around the clock at both Whitehall and St. George, are responsible for ensuring that the ferry operates according to its published schedule.
Ferry fleet
Molinari Class Boats
There are three sister ships, Guy V. Molinari, Sen. John J. Marchi, and Spirit of America in this class. Each boat carries 4,427 passengers with a crew of 16. The boats are 310 feet long, 70 feet wide, with a draft of 13 feet 10 inches, 2,794 gross tonnage, service speed of 16 knots, and 9,000 horsepower.
Guy V. Molinari honors Staten Island's three-term Borough President of Staten Island, from 1990 to 2001. Prior to that, Mr. Molinari was a member of the United States House of Representatives, a State Assemblyman, and a successful attorney with a private practice on Staten Island. The Molinari began carrying passengers on January 26, 2005
John J. Marchi is named for the New York State Senator who served in a variety of Senate and other community leadership roles. Senator Marchi was born in Staten Island, and received high honors from numerous academic, political and community oriented organizations and committees. Marchi entered service on May 20, 2005.
Spirit of America entered service on April 4, 2006.
Barberi Class boats
There are two ships in this class, Andrew J. Barberi and the Samuel I. Newhouse. The Barberi entered service in 1981 and the Newhouse in 1982. Each boat carries 5,200 passengers, with a crew of 15. The boats are 310 feet long, 69 feet 10 inches wide, with a draft of 13 feet 6 inches, 3,335 gross tonnage, service speed of 16 knots, and 7,000 horsepower.
Austen Class boats
There are two sister ships, Alice Austen and John A. Noble, in this class, which began service in 1986. Each boat carries 1,107 passengers, with a crew of 9. The boats are 207 feet long, 40 feet wide, with a draft of 8 feet, 6 inches, 499 gross tonnage, service speed of 16 knots, and 3,200 horsepower.
Kennedy Class boats
This class began service in 1965. Originally, there were three boats in this class — John F. Kennedy, American Legion, and Governor Herbert H. Lehman. Kennedy is still in operation, the others have been retired. Kennedy class boats carry 3,055 passengers with a crew of 13. They are 297 feet long, 69 feet 10 inches wide, with a draft of 13 feet 6 inches, 2,109 gross tonnage, service speed of 16 knots, and 6,500 horsepower.
Emergency response
The newest addition to the DOT fleet is the American Legion, the latest in the fleet to bear that name, a new high speed utility boat that was purchased with $1 million donated by the NASDAQ Disaster Relief Fund to enable DOT to respond to emergency situations in and around lower Manhattan. Gladding-Hearn Shipbuilding in Somerset, Massachusetts built the vessel, which was delivered in March 2007. The new boat can hold 12 passengers in addition to its crew and has a top speed of 30 knots. In situations where a ferry may require assistance in mid-harbor, the utility boat will be used to shuttle maintenance staff quickly from the terminals to the boat. The boat will also be used to deliver DOT staff and equipment to the private ferry landings around Manhattan during an emergency.
Ferry Terminals
Whitehall Terminal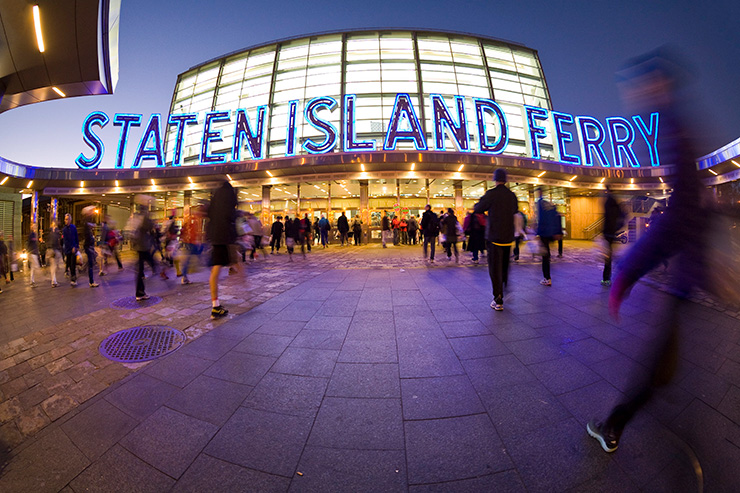 The Whitehall Ferry Terminal opened in 2005. The heart of the terminal is a 75-foot-high entry hall with panoramic views of the downtown Manhattan skyline and the harbor. The building has a state-of-the-art heating and air conditioning system, which is partially powered by solar panels. The terminal encompasses a total floor area of 200,000 square feet, including, a 19,000-square-foot waiting room (6,500 square feet larger than the previous one), 6,000 square feet of retail, 10,000 square feet of office space, and 10,000 square feet of ancillary support and ferry operation rooms. Percent for Art installed 28 granite benches designed by artist Ming Fay. Titled Whitehall Crossing they mimic Indian canoes crossing New York Bay. Learn more about musicians enlivening the ferry terminals through DOT's Arterventions program
In parallel with the construction of the new terminal, MTA oversaw the renovation of Peter Minuit Plaza. The newly configured plaza more safely accommodates pedestrians, taxis and buses. The redesigned space is home to 42 new trees, new public space for community activities, a covered walkways from the terminal to Whitehall Station and a dedicated cab drop-off area along Whitehall Street and a new bus loop.
St. George Ferry Terminal
The St. George Terminal was originally built in 1950. In 2005, the terminal reopened after extensive renovations. The renovated terminal's steel and glass design provides natural lighting and views of the harbor from floor-to-ceiling windows. The transparent waiting room is secured by ornamental rails. The renovation also brought the terminal to ADA-compliance and added 20,000 square feet of retail space, and added walkways to Richmond Terrace and the ballpark. The redesign also added green features, including a photovoltaic louver system that will save 25% of the energy needed to operate the facility, an 18,000 square foot garden of local plants on the roof, which will be irrigated by rain water.
St. George Terminal late night closures
The St. George Terminal waiting room will be intermittently closed between the hours of 1:00 am and 4:30 am in order to comply with federally mandated security procedures. During such times, passengers will be requested to wait inside the terminal in a designated location near the main pedestrian entrance. All passengers will have the ability, upon the completion of the sweep, to reenter the waiting room in order to board their intended boat. Thank you for your cooperation.
Lost and found
The Ferry's Lost and Found Office is open Monday through Friday from 8:00 am - 4:00 pm. It is located in the St. George Terminal waiting room, next to the NYPD Police Room. For additional information, or Lost and Found assistance, visit 311 Online.
Pay phone locations
Pay phones are located in both terminal waiting rooms. At Manhattan Whitehall Terminal they are located inside the waiting room by the rest rooms. At Staten Island St. George Terminal they are located by the Passenger Service Office and Passenger Drop Off and Pick Up Area.
Ferries and the environment
DOT works to ensure compliance with National Pollutant Discharge Elimination System (NPDES) permit requirements as part of the Clean Water Act. This includes identifying operational discharges that are applicable to the vessel; continual implementation of related safety management system requirements; utilizing additional best management practices to reduce operational discharges; performing periodic onboard inspections; documenting instances of noncompliance or violation with permit requirements and to ensure corrective action.
Passengers on board the Staten Island Ferry can do their part for the environment and assist DOT's compliance with these environmental regulations.
Make a conscious effort to minimize wastewater when using sinks and toilets. Notify vessel crewmembers if sinks, faucets or toilets are observed to be running or leaking.
Use the trash cans that are provided onboard vessels and in terminals. Improperly discarded trash and waste can be washed or blown overboard, polluting the waters of New York Harbor.
Do not throw anything overboard while riding the Ferry.
Advertising on the Ferry
If you're interested in advertising on the Staten Island Ferry or at the St. George or Whitehall Terminals please contact Ferry Ads, 718-351-2557 or visit www.ferryads.com for rate cards and more details.
Filming, performing or distributing literature on the Ferry
Permits are required to distribute literature or perform in the terminals or for film or photo shoots in the terminals or on the ferry. The applications for these permits are online. Application processing takes 3 to 5 business days. Apply for a permit to film or photograph on the ferry or in the terminals Apply for a permit to distribute literature in the terminals Apply for a permit for a performance or special event in the terminals
Title VI Compliance
DOT is committed to ensuring that no one is excluded or discriminated against in its services, as protected by Title VI of the Civil Rights Act and other laws. If you would like to file a Title VI complaint alleging discrimination, you may do so online or by mail. You may also contact our Customer Complaint Representative at (212) 839-3096 during regular business hours. At other times, dial 311.
To file a complaint online: File a complaint with DOT
To file a complaint by mail:
NYC Department of Transportation
Office of the Commissioner
Attn: Customer Complaint Representative
1 Ferry Terminal Drive
Staten Island, NY 10301
Download the Title VI notice in English, Spanish, Chinese, Russian, Haitian Creole, Bengali, Korean, Italian, and Polish (pdf)