DOT Art partners with community-based organizations and artists to present public art in neighborhoods across the City. Artists help transform the city's streets from ordinary to extraordinary with temporary unexpected interventions – colorful murals, dynamic projections and through-provoking sculptures. Public plazas, fences, barriers, bridges, step streets, and sidewalks serve as canvases for art. Visit DOT's Flickr stream for an archive of DOT Art projects Sign up for the e-newsletter Download a list of permanent DOT Art projects (pdf)
DOT Art has several programs: Community Commissions Barrier Beautification Arterventions Art Display Cases
Construction Fence Banner Wraps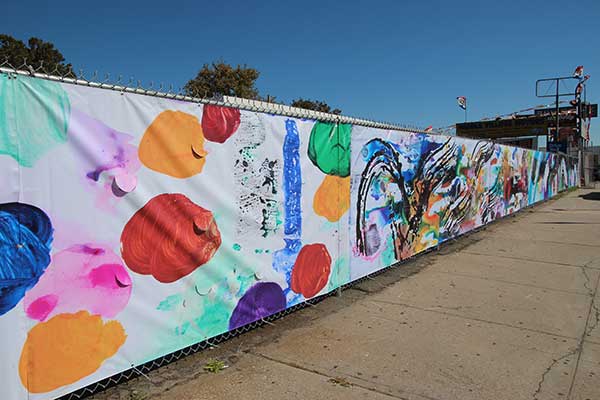 DOT Art has released a brand new open call opportunity for 2017: Construction Fence Banner Wraps. Artists and designers are invited to propose conceptual 2-D designs to be printed on vinyl mesh art banners that will then be selected to be installed on construction fences throughout the City. While the construction fences protect pedestrians and cyclists from active street reconstruction projects, the vinyl mesh surrounding the construction sites serves as a canvas for art transforming the construction space into a more inviting corridor. As construction sites arise during 2017, DOT Art will select up to four designs for implementation. Artists will be provided a design fee of $3,000 and the banners will be installed and maintained by DOT at no additional expense to the artist. The application deadline is Friday, February 17, 2017. Download the Construction Fence Banner Wraps request for proposals and application here. Download the Construction Fence Banner Wraps request for proposals and application here.
Programming and Performance Opportunities 2017
Programming partners and performers are needed for all three Summer Streets Saturdays to assist with creating the best possible event for hundreds of thousands of New Yorkers to enjoy. Please download the Summer Streets Programming and the Summer Streets Performance Applications to apply to participate. For questions regarding programming or performances at the event, please email the Summer Streets team.
Barrier Beautification Announcement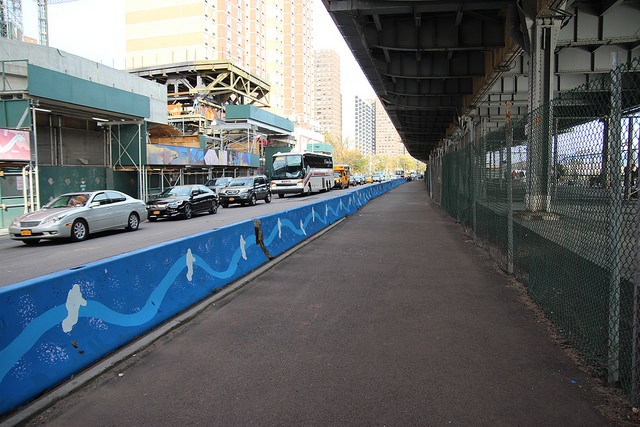 Project Spotlight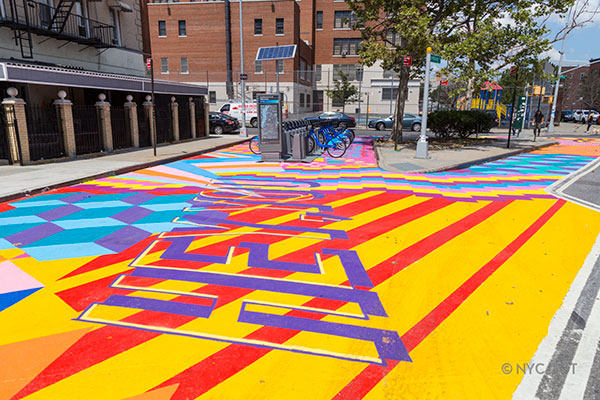 Big City of Dreams by Andrea von Bujdoss. Presented with DOT Bike Share. North 4th Street and Roebling, Brooklyn. Current Installation.
A neon-like glow has descended upon the Williamsburg Citi Bike Station on N. 4th and Roebling in Brooklyn. Although the site may look calm now, New York City artist Andrea von Bujdoss aka "Queen Andrea" battled rainstorms and mud throughout the implementation of the asphalt mural titled, "Big City of Dreams." At 3,745 square feet, our largest asphalt mural site to-date, Queen Andrea worked quickly given the weather, condensed installation timeline, and imminent return of the Bike Share station. Through perseverance and persistence, the project was completed on time and the Citi Bike station returned on schedule. This site is near and dear to Queen Andrea's heart as it is located across the street from the former location of McCaig Welles Gallery where she exhibited some of her first shows.
191st Street Tunnel
Congratulations again to local Washington Heights artist Andrea Von Bujdoss (Queen Andrea), Fernando Carlo, Jr. (COPE 2) born and raised in the Bronx, Queens-based artist Nick Kuzsyk, Nelson Rivas (Cekis) currently living in Brooklyn and Maryland-based duo Jessie Unterhalter and Katey Truhn who presented 5 murals within the 191st Street Tunnel. Click on the below video to receive a behind the scenes look of the project.
DOT Art Opportunities
Community Commissions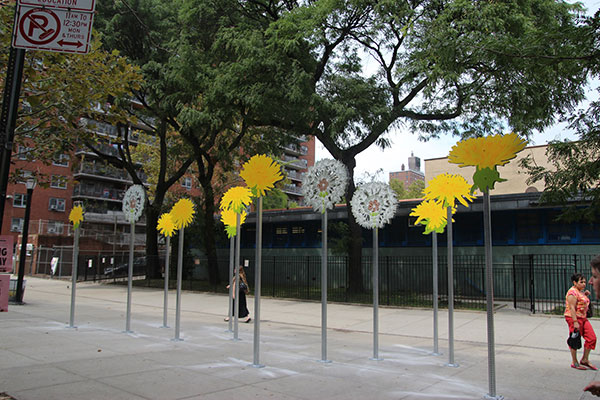 DOT Art invites artists to apply directly to the Community Commissions track to collaborate with pre-selected community-based organizations to produce and present temporary art on five priority sites, one in each borough, for up to 11 months. The priority sites were identified by DOT Borough Offices and Operating Units based upon community requests for beautification. Artists and organizations are eligible to receive up to $12,000 towards direct project costs in addition to in-kind engineering support. Partners will work closely with selected artists to maintain and remediate the site. All applicants must provide a conceptual design for consideration.
Postmark deadline: Spring 2017.
Barrier Beautification
Over the past seven years, DOT Art has collaborated with New York Cares and a number of professional artists to produce 30 temporary murals on barrier sites around the City. Twice a year in fall and spring, artists are invited to submit proposals in response to an open call that includes a submission deadline. DOT provides selected artists with a design honorarium in the amount of $2,500 and a materials fee of $500 to cover costs to produce stencils. DOT and NY Cares cover the cost of paint and associated materials. Volunteers from NY Cares and other local organizations assist selected artists with painting the designs on a single Saturday in the spring and weekday in the fall. DOT selects sites based upon DOT projects - primarily as part of a protected bike lane - Borough Commissioner and community requests. Selected artists are assigned a site in one of the five boroughs. All applicants must submit a conceptual design and examples of past work for consideration.
Postmark deadline: Winter 2017 Download the Barrier Beautification request for proposals and application (pdf) Barrier Beautification projects on Flickr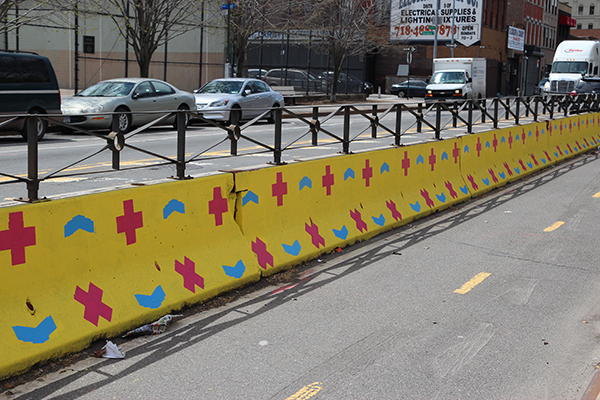 Arterventions*
DOT Art invites organizations and artists to request the necessary permits to commission an artwork for or present an existing artwork on DOT property that is funded entirely by an outside sponsor. Typically, these projects are associated with an exhibition on view in a gallery or alternative art space or produced in conjunction with a local or citywide festival. Work can be displayed or up to 6 months. Applicants are required to select a DOT site within the five boroughs. Interested organizations and artists must submit a joint application. Partners are responsible for engineering review (if sculptural), artwork maintenance during the display period and site remediation upon completion of de-installation. All applicants must submit photographs of the proposed site and when relevant, a conceptual design for consideration and or photographs of an existing sculptural work.
Applications accepted on a rolling basis. Download the Site Selection Tips (pdf) Download Arterventions application (pdf) Arterventions projects on Flickr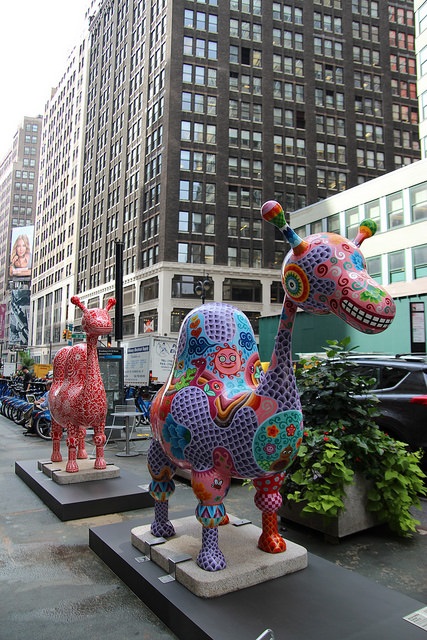 Art Display Cases
Twenty art display cases host rotating exhibitions that move to concrete plazas and wide sidewalks throughout the five boroughs. DOT Art partners with local institutions and artists to curate the cases. DOT prints the selected artwork on vinyl adhesives and installs the adhesives onto the exterior surface of the cases at no cost to the partner. DOT handles the installation and de-installation of the cases and restores the sites upon completion of the display period. The local organization is responsible for monitoring and maintaining the cases throughout the display period. The exhibit remains installed for a maximum of six months.
Organizations interested in providing an exhibit for the cases should email DOT Art.
Art Display Case Registry
Artists interested in presenting their artwork on Art Display Cases can now register with DOT Art by submitting an Art Display Case Registry Form. Upon submitting the form, an artist will be entered into the Art Display Case Artist Registry and may be selected to present their work in future exhibitions based upon the DOT Art Committee's discretion. Download Art Display Case Registry Form (pdf)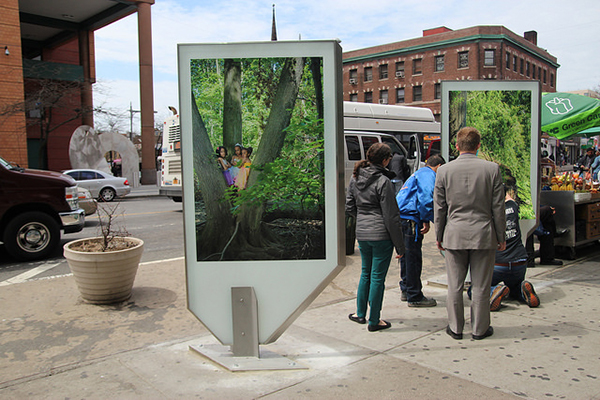 Musical Interludes
In collaboration with MTA Music Under New York, performers serenade ferry passengers in the St. George Ferry Terminal and Whitehall Ferry Terminal throughout the week. Performances range from violinists, bluesmen, folk singers and more
For more information on scheduled performances, follow @NYC_DOT on Twitter.
DOT Art Advisory Committee for 2016
Adam Brent, Artist + Director of the BFA in Integrated Design, Parsons the New School for Design
Lauren Click, Director of Community and Public Programs, Bronx Museum of the Arts
Kendal Henry, Director, Percent for Art Program, NYC Department of Cultural Affairs
Risa Puno, Artist
Monica Valenzuela, Deputy Director, Staten Island Arts