DOT's goal is to accelerate the growth of safe cycling by providing a system of bicycle routes that traverse and connect all five boroughs, while also creating a dense, fine-grained network of bike lanes in communities where cycling is already a popular mode of transportation. Learn about current bicycle projects Learn about past bicycle projects since July 2006 Protected Bike Lanes in NYC (pdf) Download a list of bicycle projects by borough and type, from 2006 – 2015 (pdf) Browse a list of streets with bike lanes
Ridership Statistics
In 2009, DOT's strategic plan laid out the accelerated goal of doubling bicycle commuting between 2007 and 2012 and tripling it by 2017. The City reached the goal of doubling bicycle commuting in 2011, a year early.
DOT conducts regular bicycle counts on all roadways crossing 50th Street in Manhattan, plus the Hudson River Greenways, the Staten Island Ferry at Whitehall, and the Queensboro, Williamsburg, Manhattan and Brooklyn Bridges. The counts began in 1980 and have been conducted annually since 1984. Learn more DOT Cycling counts DOT has collected some useful background facts on ridership statistics in New York City
Risk Indicator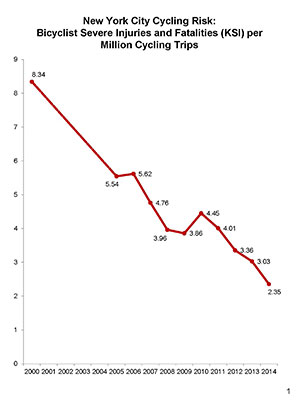 The NYC Cycling Risk Indicator describes changes in cyclist safety over the past decade while accounting for the increase in bicycle use in New York City. The decrease in the Cycling Risk Indicator from a high of 458 in 2000 to 83 in 2014 represents an 82% decrease in the average risk of a serious injury experienced by cyclists in New York City Learn more about the Cycling Risk Indicator (pdf)
Bicycle Crash Data
As required by Local Law 13 of 2011, DOT compiles the total number of bicycle crashes reported by city agencies. The Bicycle Crash Data report contains information on crashes involving only bicycles, between bicycles and motorized vehicles, and between bicycles and pedestrians. This data includes the number of injuries resulting from such crashes and is grouped by borough and by police precinct. Download the 2014 Bicycle Crash Data report (pdf) Download the 2013 Bicycle Crash Data report (pdf) Download the 2012 Bicycle Crash Data report (pdf) Download the 2011 Bicycle Crash Data report (pdf), covering October 1, 2011 through December 31, 2011 Download statistics for pedestrian traffic fatalities broken down by crash type (pdf)
Bike Share Trip Histories
Below are links to downloadable files of Citi Bike trip data. Each dataset includes:
Trip duration (seconds)
Start and end date and time
Start and end station name, ID, latitude, longitude
Bike ID
User type ("Customer" = 24-hour or 7-day pass user; "Subscriber" = annual member)
Gender (0=unknown; 1=male; 2=female)
Year of birth
Datasets include only trips taken by customers from publicly available stations that are longer than 60 seconds in duration.
2016
2015
2014
2013