Overview
The future of New York City is one where everyone has access to reliable and environmentally-friendly transportation options, as well as safe and welcoming streets and public spaces.
NYC DOT is developing the NYC Streets Plan, a five-year transportation plan to improve the safety, accessibility, and quality of the City's streets for all New Yorkers.
The plan will involve an in-depth analysis of the current state of New York City's streets and respond equitably to the uniqueness of the City's many neighborhoods and local needs.
The plan is being developed in response to Local Law 195 enacted in December 2019, which directs NYC DOT to issue and implement a transportation master plan every five years.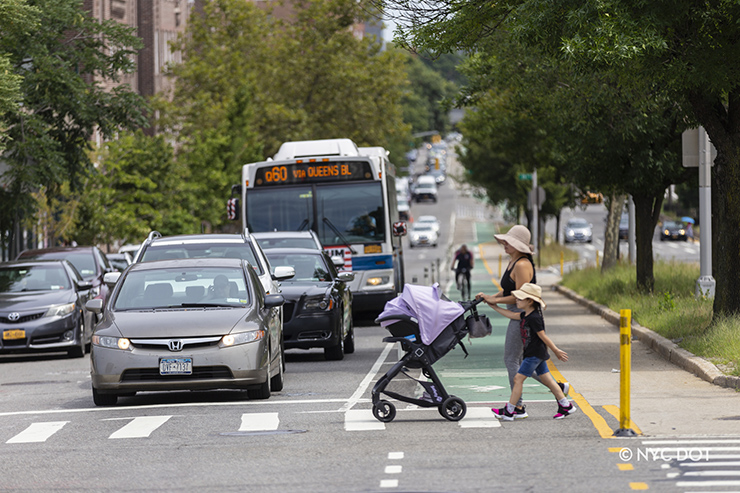 Timeline
Public outreach begins with the launch of the NYC Streets Plan online survey, which will allow you to give us your feedback on your priorities regarding our streets. NYC DOT will use the feedback to help us understand overall transportation priorities as well as the specific needs of our City's diverse neighborhoods.
There will be virtual public workshops focusing on all five boroughs in the coming months. Visit the Events section for the public workshop calendar.
| NYC Streets Plan Engagement Phase | Timeframe |
| --- | --- |
| Online Survey Launches | June 2021 |
| Virtual Public Workshops Round One | July 2021 |
| Virtual Public Workshops Round Two | TBD |
| Final Plan Due | December 2021 |
Provide Feedback
The NYC Streets Plan Survey is now closed. Thank you for sharing your feedback on your experience in NYC's streets and your ideas on how to make them better.
Events
NYC DOT is conducting a series of public workshops. Workshops are open to all interested New Yorkers and will take place during different times of day to accommodate various schedules. If you cannot attend the workshop where you live, we encourage you to attend another workshop at your convenience regardless of the workshop's geography.
Round One workshops were held in July 2021. Details and dates for the second round of workshops in Fall 2021 will be posted here when they are scheduled.
Resources
Workshop Presentations
Contact Us
For questions about the NYC Streets Plan, please email nycstreetsplan@publicworkspartners.com.
If you have general transportation concerns or suggestions, please contact NYC DOT online.