Overview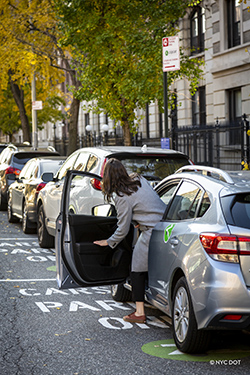 Carshare provides on-demand access to a vehicle for short-term use, usually by the minute, hour or day. Gas and insurance are built into the cost.
Cars park in publicly accessible neighborhood locations. Carshare members may reserve a vehicle, walk up to the car at their reservation time, and drive away, returning later to the same reserved spot.
Potential benefits of carsharing:
Improve local air quality
Reduce congestion
Lower household transportation costs
Improve mobility options for New Yorkers
Permanent Program
NYC will expand the program from 14 pilot zones to neighborhoods citywide, enabling carshare companies to propose new spaces in areas underserved by carshare.
NYC DOT will evaluate these space requests, which must meet siting and equity requirements, with input from local communities.
Public Hearing Notice
NYC DOT held a public hearing on proposed rules for the implementation of a permanent carshare program. The public hearing took place virtually on Monday, November 8, 2021 at 2pm.
Notice of Public Hearing and Opportunity to Comment on NYC DOT's Proposed Amendment to the Traffic Rules Relating to Carshare (pdf)
Pilot Program
NYC is hosting a citywide pilot designating over 280 parking spaces for carshare vehicles. Parking spaces are located in municipal parking lots and on streets in select neighborhoods.
NYC Carshare Pilot Map
For a map of locations and to learn more about the pilot program visit nycdotcarshare.info/map.
NYC Carshare Pilot Reports
NYC Carshare Pilot Report (pdf) Roundtrip Carsharing in New York City: An Evaluation of a Pilot Program and System Impacts by Berkley Institute of Transportation Services (pdf)
Contact Us
Contact NYC DOT online with questions about the carshare pilot program.