COVID -19 Alert:
NYC is offering a second pay-by-cell option for on-street parking. Reduce exposure risk for yourself and our workforce – use contactless methods to pay for parking.
ParkNYC app: pay for parking from pre-loaded wallet, no transaction fee (minimum $25 wallet)
ParkMobile app: pay for individual parking session, plus a $0.15 per transaction fee (no wallet or preload required)
Throughout New York City, on-street meters and meters at municipal parking facilities dispense receipts that are displayed on the dashboard of the parked car. Meter payments can be made using credit cards, coins or an NYC Parking Card. Drivers can also pay for parking using the free ParkNYC app or ParkMobile app.
Find out more about parking rates and rules
Paying with ParkNYC
Create an account using the free ParkNYC app
Load your ParkNYC wallet
Start parking – no need to display anything on your dashboard
Use the ParkNYC app to pay for on-street parking in all five boroughs.
How to Use Meters
Download a printable version of these instructions (pdf) Remember, you can pay for parking using a mobile app
1. Pay
Pay by Coins

Insert quarters or dollar coins to add time automatically
Pay by Cards

Credit cards: Dip and remove

NYC Parking Card: Insert and leave in
2. Add Time

Press the blue button to add time

Or, press the orange button to select the maximum time allowed
3. Print Receipt

Press green button to print receipt
4. Display Receipt

Place receipt on driver's side dashboard with printed side facing up
Malfunctioning Meters
To report a broken meter, visit NYC311 Online. If you are parked on a street with a broken meter, please use another meter to obtain your receipt or pay via the mobile app.
Tips for Paying with Coins
Customers have approximately 40 seconds to deposit coins. If no coins are deposited within this time and the green button is not pushed, the transaction will be cancelled and coins returned.
Tips for Using a Parking Card at a Meter
Do not remove the Parking Card until the transaction is over
The display will show the balance on the card
Press the green button to confirm the transaction
You can cancel the transaction at any time by pressing the red button
Parking Card payments can be combined with coins – this is helpful when Parking Cards have a very low value remaining
Learn more about paying with both a Parking Card and coins
Parking a Motorcycle at a Meter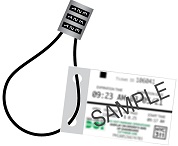 Like other motorists, motorcyclists using meters must display their receipt on their vehicle. To prevent theft or damage to the receipt, NYC DOT recommends using clear plastic holders attached to the motorcycle with a lock or other mechanism. Devices made especially for this purpose can be found in specialty stores.