FOR IMMEDIATE RELEASE
Press Release #17-023
Wednesday, April 12, 2017
Scott Gastel/Gloria Chin (212)839-4850
For Earth Day, NYC DOT and City Council Transportation Chair Rodriguez Announce That Car Free NYC Will Expand To Even More Streets Citywide
On Saturday, April 22, two miles of Broadway and St. Nicholas Avenue in Manhattan will only be open to pedestrians and cyclists; DOT's Weekend Walks car-free programming will also kick off in Morrisania, Astoria, Woodside and Brooklyn Heights
DOT also announces plans to convert a single City block, on Broadway in Flatiron, to a "Shared Street" configuration
Standing in Times Square, New York City Department of Transportation (DOT) Commissioner Polly Trottenberg and New York City Council Transportation Committee Chair Ydanis Rodriguez today announced that Car Free NYC would expand in celebration of Earth Day -- on Saturday, April 22nd. Launched for the first time last year, Car Free NYC will this year open even more streets to pedestrian and bicycle traffic only -- including Broadway from Union Square to Times Square and along St. Nicholas Avenue in Washington Heights. DOT made two other major announcements: that its Weekend Walks program, featuring car free community-based efforts on streets Citywide, will kick off on Earth Day in four different neighborhoods outside Manhattan; and that it plans for a block of Broadway in Manhattan's Flatiron District to transform this summer into New York City's first-ever "Shared Street."
"Car Free NYC is a great idea that will get even bigger this year, as we remove the rumble of cars and trucks from long stretches of Broadway in Midtown and St. Nicholas Avenue in Washington Heights," said DOT Commissioner Polly Trottenberg. "Along with a new season of DOT Weekend Walks that also starts that day, Earth Day will be a great time to sustainably celebrate on bike and on foot what is best about our City: its vibrant local communities. Speaking of sustainability, we are also thrilled to announce that starting as soon as this summer, one block of Broadway in the Flatiron District -- where pedestrians seriously outnumber cars -- could become New York City's first-ever Shared Street."
"Car Free Day started as a modest idea, encouraging New Yorkers to leave their cars home for the day, but with the help of NYC DOT and Commissioner Trottenberg, we have begun a real movement," said Council Transportation Chair Ydanis Rodriguez. "Now, we're showing New Yorkers the potential of a car-free Broadway and what open streets can look and feel like. Reducing car usage in our city can transform so much. It can help us to take advantage of space currently used for parking lots and gas stations; it can reduce traffic fatalities and injuries; it can make our city healthier and more breathable; and it can bring a newfound sense of calm to our bustling metropolis. Car Free Day is the start, but investing in our transportation infrastructure must follow. I am glad to have so many great partners who agree that this is the real key to a more Car Free NYC."
Chair Rodriguez launched the Car Free NYC concept last year, as he formed a coalition of dozens of elected officials, companies, advocacy groups and institutions to support a campaign asking New Yorkers to leave their cars at home on Earth Day -- and use other viable transportation options that day. A range of sponsors and other partners are expected to join the effort this year, including Citi Bike, which will offer free one-day passes. Clear Channel Communications will provide an electronic billboard in Times Square publicizing Car Free NYC. To underscore the role motorists can play on Earth Day and every day in New York to make it more sustainable, participants are expected to highlight the positive environmental effect of freeing up streets and promoting alternative modes of transportation, such as mass transit and cycling.
Flatiron "Shared Street": DOT today announced that one block of Broadway, between 24th and 25th Street in the Flatiron District just north of Madison Square, was under consideration as the first street in New York City to be converted to a full time "Shared Street" configuration, where pedestrians and cyclists share space with slow-moving vehicles. The Shared Street is modeled on what has already proven safe and successful in many cities including Seattle, Pittsburgh, London, and Barçelona. Last year, DOT piloted a large zone of Shared Streets in Lower Manhattan on one Saturday in August. Building on the success of this pilot, DOT would create a full-time Shared Street where traffic data indicate it could have a strong impact: on this single block of Broadway, during peak evening hour, pedestrians outnumber vehicles by an 18:1 margin (over 2,700 pedestrians to just under 150 vehicles).
While not strictly "car free," Shared Streets are seen as a new and sustainable use of limited urban space. DOT has worked closely with local partners including the Flatiron/23rd Street Partnership BID, Madison Square Park Conservancy, and Community Board Five to refine its proposal. On Thursday, CB 5's full board will be voting on the proposal already presented to its Transportation Committee (download presentation (pdf)). If approved, DOT would use its entire toolkit to reimagine this street, making a series of dramatic changes to the block starting this spring, including changing the direction of traffic (from southbound to northbound), narrowing driving to a single lane, adding bollards and new signage, changing the color of the asphalt, relocating a Citi Bike station there and instituting a new 5MPH advisory vehicle speed limit.
Car Free NYC: The Manhattan areas closed to vehicular traffic on Saturday, April 22nd from 10 am to 4 pm will be:

Broadway, from Union Square to Times Square:
In 2016, Car Free NYC covered only six blocks of Broadway but this year will expand to thirty blocks.  Programming along Broadway will include dance performances, fitness classes, music performances, children's activities, giveaways, cycling events, educational programming and more – all in partnership with the Times Square Alliance, Garment District Alliance, 34th Street Partnership, Flatiron Partnership and Union Square Partnership.
Athletes of all skill sets can participate in fitness and dance classes sponsored by Paragon Sport, Atheleta, Spin, Movement Creative, 305 Fitness and DanceSport and even grab a Vita Coco coconut afterwards. 
Musical performances by The Pit, The Poor Cousins, Evan Nachimson, Hye-Jeung Kang, BumbleBee Jamboree, Batala NY and Marching Cobras will liven the spaces along the way, dance enthusiasts can enjoy the works of Project Dance, Gibney Dance,
The Hoop Movement and Dancing Classrooms, history buffs can enjoy historical walking tours lead by the Municipal Art Society and historical bike tours lead by Loudest Yeller.
Environmental activists can learn more about sustainability through workshops and demos lead by several other city agencies or hear from several nonprofit organizations' such as Trees NY, Earth Initiative, Climate Museum, NYC Community Garden Coalition, Trust for Public Land, Appalachian Mountain Club, Discover Outdoors Foundation, Brooklyn Boulders Foundation, Transportation Alternatives, Design Trust for Public Space, New Yorkers for Parks, Bike New York and inTandem.
Arts and crafts workshops will be lead by LEAP, Manhattan Graphic Center, Materials for the Arts and Urban Studio Unbound, as well as individual artists Jessica Maffia, Jarret Stahl, Umberto Squarcia, Jennifer Cecere, Chat Travieso and Kirk Finkel or traverse an art walk designed by artist Hung Yi. Fifty temporary art signs designed by artist Ben O'Brien with environmentally themed imagery and facts will also adorn the route.
St. Nicholas Avenue from 181st Street to 190th Street:
St. Nicholas Avenue will be similarly open for the public to enjoy activities provided by the Washington Heights Business Improvement District.
Weekend Walks: On Earth Day, DOT will kick off its 10th annual season of Weekend Walks with four simultaneous events happening in Brooklyn, The Bronx, and Queens. Weekend Walks are car free events where community based organizations apply to close multiple blocks of a commercial street and provide active programing that promotes walking, cycling and local businesses. Weekend Walks are planned for more than 60 different locations throughout the five boroughs from April to December, starting with the four below.
The Bronx, 12pm-4pm, Save Our Streets (SOS) Law Day w/ SOS South Bronx Eagle Ave. From E.161 St. to E. 163 St., Morrisania
Brooklyn, 11:30am-4pm, Montague Weekend Walks w/ Montague Street BID Montague St. from Court St. to Pierrepont Pl., Brooklyn Heights
Queens, 11:30am-7pm, Songkran Weekend Walks w/ Thai Community USA Woodside Avenue from 75th to 77th St., Woodside
Queens, 9am-5pm, Earth Day Shore Fest w/ Astoria Park Alliance Shore Blvd. from Ditmars Blvd. to Astoria Park S., Astoria
"Manhattan is one of the most walkable urban environments on the planet, but when we reclaim our streets with events like Car-Free Day, we see just how much more is possible," said Manhattan Borough President Gale A. Brewer. "These events give us a real-life vision of the future: a safer city with more public transportation, more walking, more public space, and cleaner air."
"It's great Earth Day news that the Transportation Department is expanding its efforts to encourage New Yorkers to go car-free.  By growing the 'Weekend Walks' program and increasing the number of car-free zones on Earth Day – including Broadway between Union Square and Times Square, in  my Assembly District – New York City is inspiring New Yorkers to imagine a healthier and more livable city," said Assembly Member Richard N. Gottfried of Manhattan, Chair of the Assembly Committee on Health.
"I look forward to enjoying the Weekend Walk on Shore Boulevard with the Astoria Park Alliance for Shore Fest this Earth Day," said Council Member Costa Constantinides. "We will enjoy spending time on the street and our waterfront, while promoting sustainable habits and community togetherness. As chair of the Council's Environmental Protection Committee, I am proud to encourage environmentally-friendly habits on Shore Boulevard as well as other Weekend Walk and car free events across the city in honor of Earth Day. Thank you to DOT Commissioner Trottenberg and our community partners including the Astoria Park Alliance for leading this effort."
"As New York City's leading proponent of cycling as a practical, sustainable, and healthy means of transportation and recreation, we at Bike New York are thrilled that the City of New York is expanding Car Free Day NYC this year," said Ken Podziba, President and CEO of Bike New York. "We're also very excited about the announcement of our first full-time Shared Street and look forward to the 10th year of Weekend Walks. New York has the highest percentage of car-free households in the country, and as more and more people are using bikes as a means of transportation, these great initiatives draw attention to the progress the city is making to reduce car use in New York, thereby making our city healthier, safer, cleaner, less congested, and more environmentally friendly. We commend the efforts of all involved, with a special ring of our bike bells in support of DOT Commissioner Polly Trottenberg and NYC Transportation Chair Council Member Ydanis Rodriguez for their leadership."
"We are thrilled that the City is giving more communities a chance to experience Car Free NYC on this year's Earth Day, and we look forward the future expansion of the event that Council Member Ydanis Rodriguez launched," said Paul Steely White, Executive Director of Transportation Alternatives. "New York is joining other visionary cities around the world that are showing residents that their lives become safer and healthier -- and more fun --when more street space is dedicated to people who walk, ride bikes and use public transit."
"New York is a greener, safer city than ever before, and we are proud that Citi Bike has played a role," said Jay Walder, President & CEO of Motivate, operators of Citi Bike company. "We have a lot more to do—including bringing more Citi Bikes to more New Yorkers across the City. We thank Councilman Ydanis Rodriguez & Commissioner Trottenberg for their environmental leadership and their tireless advocacy for bike share. This Earth Day we invite all New Yorkers to go green by going blue and give Citi Bike a try."

On Earth Day, Citi Bike will offer a day of free rides for every New Yorker in partnership with MasterCard to celebrate. People can visit CitiBikeNYC.com/earthday, and get information about how to get a code to unlock free rides. 
Weekend Walks are multi-block, multi-day events on commercial corridors that promote the use of streets as public space. Now in its 10th year, starting on Earth Day and continuing into December. DOT will be working with 58 community partners to coordinate events in almost sixty locations around New York City, providing over 120 days of car-free programming on 26 miles of City streets. Each Weekend Walk is organized and hosted by a local partner and features a number of activities including music, arts and crafts, classes, and youth programming. Weekend Walks highlight local cultural institutions, non-profits, and community resources. The events promote healthy, safe recreation as well as local businesses, and create high-quality public space where community members can come together.
For more information about Weekend Walks, visit www.nyc.gov/weekendwalks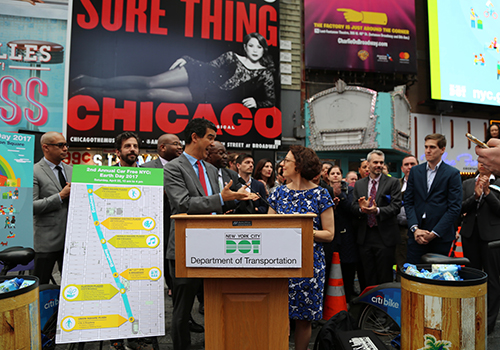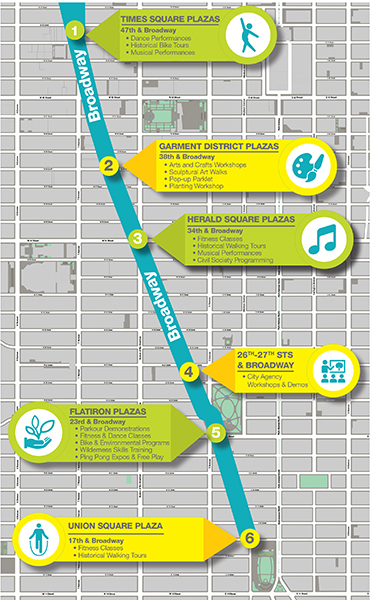 —30—