NYC's Public Space Programming initiative brings free activities to public spaces, such as plazas and Open Streets. This program connects public spaces citywide with local organizations that host activities. All activities are free and open to New Yorkers of all ages and abilities.
Programming brings arts, culture, fitness, and educational experiences to neighborhoods in need. These activities also promote the positive use of public space. This program is focused on supporting neighborhoods in NYC DOT Priority Investment and Public Space Priority Areas, as identified in the NYC Streets Plan.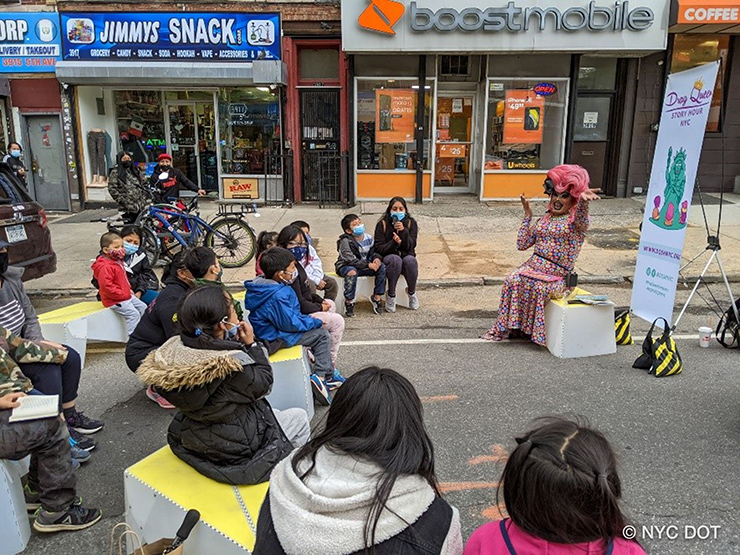 Public Space Programming Catalogue
This catalogue includes a list of non-profit organizations available to provide programming in NYC DOT managed public spaces. All activities on the list are free of charge and suitable for New Yorkers of all ages and abilities.
Download the 2022 Public Space Programming Catalogue (pdf)
Programming Events in 2022
NYC DOT is teaming up with several Programming Partners, City agencies, cultural organizations, and non-profit institutions to provide a wide variety of events to public spaces throughout the City this year!
Sign up for our Public Space newsletter to learn about upcoming events
Make Music New York – Plaza by Plaza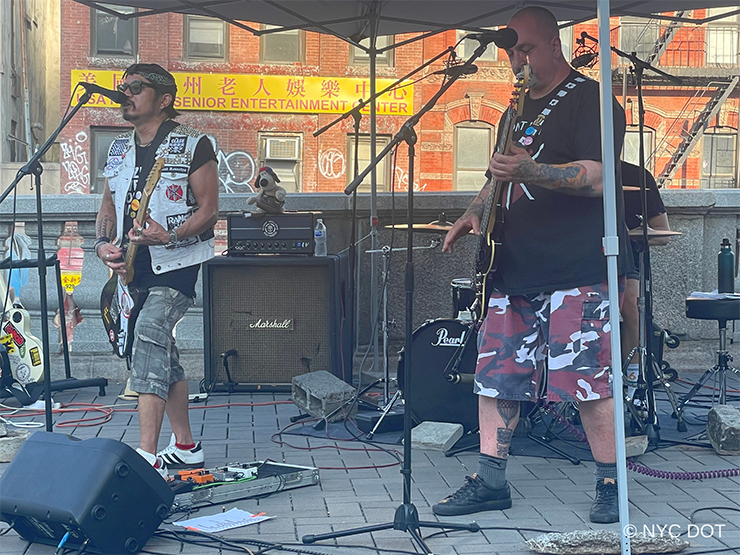 NYC DOT partnered with Make Music New York to bring a full day of music to over 15 plazas across the city on Tuesday, June 21. All events are free and open to the public, and feature a wide variety of New York City based artists.
Learn more about the Make Music New York project
Flatbed Follies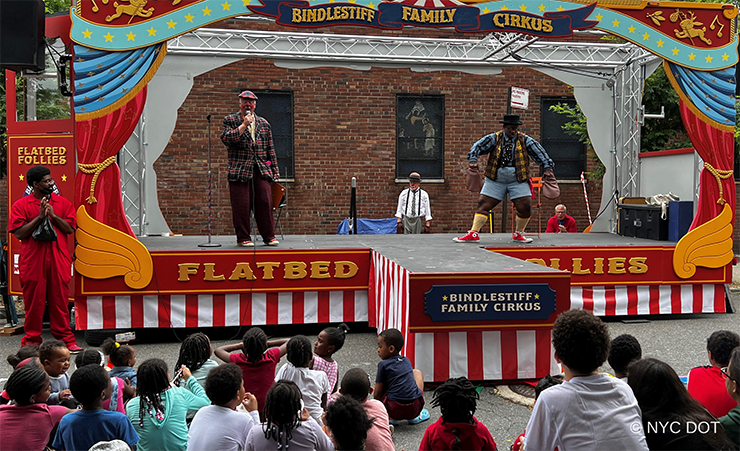 The Bindlestiff Family Cirkus' Flatbed Follies is an innovative travelling circus. They provide variety arts and amazing acts to neighborhoods throughout the city.
Learn more about the Bindlestiff Family Cirkus
Public Space Pilots – Partnership with Street Lab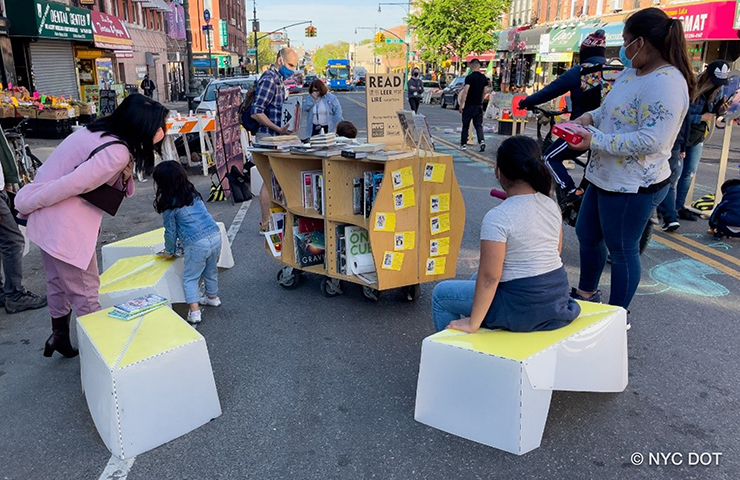 In 2022, Street Lab is partnering with NYC DOT and community groups to pilot new Open Streets, plazas, and other pedestrian public spaces in neighborhoods that lack these amenities. Street Lab will be providing their award-winning programming alongside a suite of other services to help get these new spaces off the ground.
Calendar
All events are subject to change and may be modified or cancelled due to weather or other circumstances. Check the event links to confirm when and where events are happening.
Bronx Events:
Brooklyn Events:
Manhattan Events:
| Date | Event | Location | Streets | Time |
| --- | --- | --- | --- | --- |
| 8/5/2022 | Street Lab Programming | West 120th Street Open Street | West 120 Street & Malcolm X Boulevard | 4pm to 7pm |
| 8/6/2022 | Dance Party NYC | Plaza de las Americas | West 175 Street & Broadway | 1pm to 11pm |
| 8/6/2022 | Dance Party NYC | West 103rd Street Open Street | West 103 Street & Amsterdam Avenue | 12pm to 3pm |
| 8/6/2022 | Dance Party NYC | Forsyth Plaza | Forsyth Street & Canal Street | 12pm to 4pm |
| 8/6/2022 | Dance Party NYC | Amsterdam Avenue Open Street | Amsterdam Avenue & West 107 Street | 12pm to 4pm |
| 8/6/2022 | Dance Party NYC | West 103rd Street Open Street | West 103 Street & West End Avenue | 2pm to 4pm |
| 8/6/2022 | Flatbed Follies - Dance Party NYC | Plaza de las Americas | West 175 Street & Broadway | 1pm to 6pm |
| 8/6/2022 | Street Lab Programming | Frederick Douglas Boulevard Open Street | Frederick Douglass Boulevard & West 116 Street | 4pm to 7pm |
| 8/12/2022 | Street Lab Programming | West 120th Street Open Street | West 120 Street & Malcolm X Boulevard | 4pm to 7pm |
| 8/13/2022 | Flatbed Follies | West 120th Street Open Street | West 120 Street & Lenox Avenue | 3pm to 7pm |
| 8/13/2022 | Flatbed Follies | Columbus Avenue Open Street | Columbus Avenue & West 68 Street | 12pm to 2pm |
| 8/14/2022 | Flatbed Follies | Columbus Avenue Open Street | Columbus Avenue & West 68 Street | 3pm to 7pm |
| 8/19/2022 | Circus Amok | Forsyth Plaza | Forsyth Street & Canal Street | 6pm to 8pm |
| 8/19/2022 | Street Lab Programming | West 120th Street Open Street | West 120 Street & Malcolm X Boulevard | 4pm to 7pm |
| 8/20/2022 | Flatbed Follies | East 109 Street | East 109 Street & Park Avenue | 9am to 1pm |
| 8/23/2022 | Broadway Forever! | Cooper Square Plaza | Cooper Square & Bowery | 3:30pm to 5pm |
| 8/25/2022 | Broadway Forever! | Quisqueya Plaza | Dyckman Street & Broadway | 3:30pm to 5pm |
| 8/27/2022 | Street Lab Programming | West 120th Street Open Street | West 120 Street & Malcolm X Boulevard | 4pm to 7pm |
| 8/28/2022 | Bike the Block | Plaza de las Americas | West 175 Street & Fort Washington Avenue | 11am to 3pm |
| 8/28/2022 | Street Lab Public Space Pilots | Harlem River Drive | Harlem River Drive & West 168 Street | 11am to 3pm |
Queens Events:
Staten Island Events:
| Date | Event | Location | Streets | Time |
| --- | --- | --- | --- | --- |
| 8/6/2022 | Dance Party NYC | Minthorne Street Open Street | Minthorne Street & Bay Street | 4pm to 8pm |
| 8/27/2022 | Bike the Block | Shore Road | Shore Road & Hylan Boulevard | 11am to 3pm |
| 8/27/2022 | Bike the Block | Satterlee Street | Satterlee Street & Shore Road | 11am to 3pm |
| 8/27/2022 | Street Lab Public Space Pilots | Satterlee Street Open Street | Satterlee Street & Shore Road | 11am to 3pm |