IMMEDIATE RELEASE
Press Release #18-023

As Part of National Work Zone Awareness Week, NYC DOT, DEP, DDC, and Partners Renew Call for Safe Driving in City Workzones
Participants highlight importance of motorists' awareness of crews maintaining infrastructure on roads, bridges, sidewalks and tunnels citywide
NYC Department of Transportation (DOT) Commissioner Polly Trottenberg and NYC Department of Environmental Protection (DEP) Commissioner Vincent Sapienza today announced the City's participation in National Work Zone Awareness week, observed this year from April 9-13. Given the death of a DOT Bridges electrician fatally struck on the Hutchinson River Parkway last week, Trottenberg cited the urgency of the campaign, as she was joined by DOT Arterial Maintenance crews along the Grand Central Parkway in Corona, Queens.
"With about 6,000 miles of streets and highways, and over 700 bridges and tunnels to maintain, DOT has a tremendous responsibility to keep New Yorkers safe," said DOT Commissioner Polly Trottenberg. "But we need our workers to be safe as well, and the tragic loss of one of our own just last week was a painful reminder of the dangers of this work. Work Zone Safety Awareness week emphasizes the importance of safety and traveling at a safe speed in and around work zones all year long -- so these public servants can return home safely to their families. This important campaign, where we partner with our sister agencies and local stakeholders, also aligns perfectly with our primary Vision Zero goals to reduce traffic-related injuries and deaths."
"The men and women of DEP who build and maintain the City's critical water and wastewater infrastructure, including the nearly 15,000 miles of water mains and sewers, necessarily work on public roadways and deserve a safe working environment," said DEP Commissioner Vincent Sapienza. "We look forward to building on this important partnership with DOT, DDC, our private utility partners and the public to keep the streets and highways safe for all New Yorkers."
"As we enter the busiest construction season DDC has almost 500 active infrastructure projects, each of which has its own site safety plan to ensure adequate space is maintained between pedestrians, vehicles, bicycles and construction equipment and workers," said DDC Acting Commissioner Ana Barrio. "DDC performed more than 1,200 safety audits last year, and sent 700 of its employees to safety training sessions. We take safety very seriously and ask that New Yorkers do so as well. Please drive carefully and always take heed of traffic control devices, signs, barriers and construction personnel."
"Safety is our top priority at the New York State Department of Transportation," said NYS DOT Acting Commissioner Paul A. Karas. "During Work Zone Safety Week, we remind motorists to slow down, be patient, and stay alert on New York's roadways. It's everyone's responsibility to make sure that our work zones and crews are safe every day of the year."
"Just as we strive to make our streets safe for drivers, pedestrians and cyclists, we must strive to keep safe the people who work to make our roads better," said Council Member Ydanis Rodriguez. "I look forward to working with Commissioner Trottenberg, the Speaker Corey Johnson, and my colleagues in Council to make work zones safer for the hardworking New Yorkers out on our roads."
"National Grid crews are out in full force in our communities and our streets modernizing our natural gas system to enhance reliability and resiliency and improve service to customers," said Keith Rooney, Director Customer and Community Management, National Grid. "Working with DOT, DEP, DDC other agencies, utilities and key stakeholders to highlight the importance of Work Zone Safety will help ensure a safer environment for both workers and motorists."
"We are happy to be here today to support National Work Zone Awareness Week. At Con Edison, our number one priority is to protect members of the public and our employees who are out on the streets doing their job every day. We work hard to keep our construction sites well-marked, and we ask pedestrians to stay clear of our work zones to help keep themselves safe," said Andrea Schmitz, vice president for Environment, Health and Safety at Con Edison. "We are proud to join our NYC DOT and DEP partners to spotlight the importance of keeping everyone safe as repair and maintenance work is performed on critical infrastructure."
"There is nothing more important than the safety of workers who put their lives on the line for the public everyday on the streets & highways to make our city a better and safer place," said Michael DeMarco, President, Local 1455 Traffic Employees. "I applaud commissioner Trottenberg for her commitment to safety & public awareness & will continue to work closely with her to ensure that all DoT workers get home safely to their families at the end of their workday"
At today's event, crews repaired guardrails and pruned tree branches along the Grand Central Parkway near Flushing Meadows- Corona Park. Also in attendance were NYC DDC Associate Commissioner for Infrastructure Shah Jaromi, and the New York State DOT Region 11 Director of Construction Craig Ruyle – agencies that also conduct significant work zone repair.
To enhance public awareness, DOT recently created a new "Work Zone Heroes" public service TV ad that illustrates the many ways agency crews build and maintain infrastructure. The 30 second spot reminds motorists that crews are working to keep the City moving safely, and that we can make the roads safer for all users by slowing down, paying attention, and respecting work zones. The project was completed in 2017 and will air on network and cable stations throughout Work Zone Awareness Week.
In order to enhance worker safety, the agency started using vertical panels in work zones as a channeling device when lane width is minimal. Taller than pylons and with a smaller footprint than barrels, vertical panels take up less lane width, but efficiently warn oncoming motorists, who can more easily distinguish between active and closed lanes. The agency has also deployed additional supervisors at work zones to monitor safety.
Regarding vehicular safety with our fleet, in 2016, DOT began installing truck side guards on certain vehicles as part of Mayor de Blasio's Vision Zero initiative. Truck side guards are vehicle-based safety devices designed to protect pedestrians, bicyclists, and motorcyclists when there is a side-impact collision with a truck.
In New York City, 28 DOT workers have been injured in work zone incidents since 2009 and five have died from work zone-related events during the past two decades. There were 12 intrusions related work zone injuries to DOT workers in 2017.
For information about work zone safety, Vision Zero and other efforts, visit nyc.gov/dot or nyc.gov/visionzero.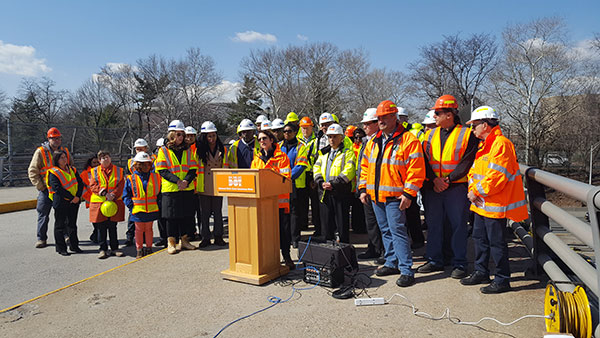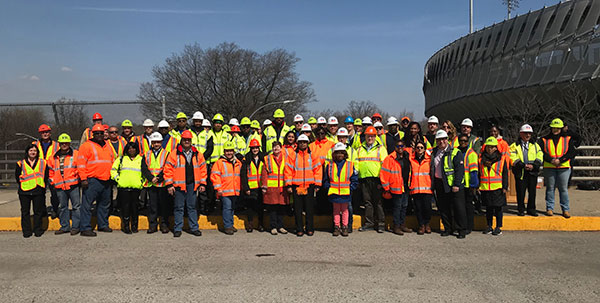 —30—