FOR IMMEDIATE RELEASE
Press Release #16-095
Friday, September 30, 2016
Scott Gastel/Jose Bayona (212) 839-4850
NYC DOT Implements Enhanced Crossings and Pedestrian Safety Improvements at Francis Lewis Park in Whitestone, Queens
The safety improvements included visual narrowing of the wide roadway with parking lane stripes, enhanced crossings with signage, and ADA compliant pedestrian ramps
The NYC Department of Transportation today announced the implementation of enhanced crossings and pedestrian safety improvements at Francis Lewis Park in Whitestone, Queens. At the request of Council Member Paul Vallone, DOT implemented this pedestrian safety project along Francis Lewis Park – 3rd Avenue between the Whitestone Expressway Service Road and 147th Street.
The pedestrian safety improvements project included visual narrowing of the 3rd Avenue wide roadway with 13 foot parking lane stripes on the north and south sides of the street, and enhanced pedestrian crossings with signage and ADA (American with Disabilities Act) compliant pedestrian ramps at the main entrance to Francis Lewis Park at the Whitestone Expressway Service Road. DOT also added a concrete curb extension at 3rd Ave and 147th Street to normalize the curbline and implement an ADA pedestrian ramp at that location.
"We are delighted to implement these pedestrian safety improvements along Francis Lewis Park in Whitestone as part of Mayor de Blasio's Vision Zero initiative citywide," said Queens Borough Commissioner Nicole Garcia. "Park users and pedestrians of all ages will benefit tremendously from the recently-installed enhanced crossings and pedestrian ramps. We look forward to continuing the dialogue and collaboration with Council Member Paul Vallone and Queens residents about ways to improve street safety in the borough."
"The safety of our children, families and neighbors is always a priority," said Council Member Paul Vallone. "The enhancements installed by the DOT for Francis Lewis Park will go a long way towards improving the safety of everyone entering the park as well as reducing the speed of drivers coming down 3rd Avenue. Continuing to work with our civic organizations, community boards and the NYC DOT will be critical as we address traffic and pedestrian safety at popular locations throughout northeast Queens."
Because of the width of the 3rd Avenue corridor, speeding has been a major concern for pedestrians and community members in the area.
DOT implemented this pedestrian safety improvements project in coordination with the Department of Parks and Recreation (DPR).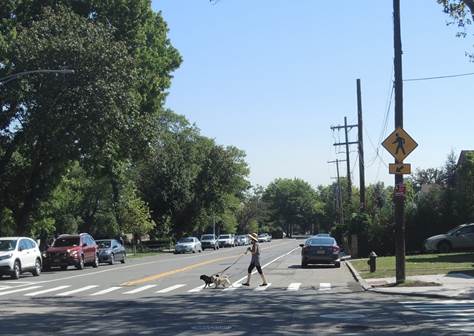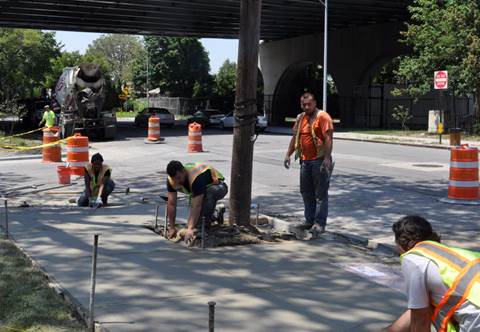 —30—