FOR IMMEDIATE RELEASE
Press Release #16-084
August 17, 2016
Scott Gastel/Jose Bayona (212) 839-4850
Vision Zero: NYC DOT Announces Completion of Traffic-Calming and Pedestrian Safety Improvements along Gold Street in Downtown Brooklyn
A new crossing midblock on Gold Street between York and Sands Streets facilitates pedestrian crossings among buildings within NYCHA's Farragut Houses
Wider median adds parking and deters speeding; Gold Street had ranked among the top 10% of Brooklyn streets for serious crashes
New York City Department of Transportation (DOT) Brooklyn Borough Commissioner Keith Bray, joined by Brooklyn Borough President Eric Adams, other elected officials and members of Community Board 2, today announced safety-improvement projects along Gold Street in Downtown Brooklyn within the New York City Housing Authority (NYCHA) Farragut Houses.
"Residents of the Farragut Houses needed and deserved a safe pedestrian route among their buildings and the subway, so the dramatic changes on Gold Street will make a real difference" said DOT Brooklyn Borough Commissioner Keith Bray. "DOT was proud to be able to work with the community to make the neighborhood around Farragut safer by creating crosswalks where residents were previously forced to jaywalk. And by widening the median here, we created another win-win: we both added parking and are deterring speeding."
"Infrastructure improvements to Gold Street, a thoroughfare with a dangerous crash history, will meaningfully improve the surrounding neighborhood's quality of life, particularly for families in the Farragut Houses who will have expanded access to safe streets," said Brooklyn Borough President Eric L. Adams. "Neighborhoods with streets where people feel safe walking and riding bicycles allow people of every generation to participate in the life of the community. I appreciate DOT Brooklyn Borough Commissioner Bray's continued partnership with my administration on street safety efforts across the borough, including my CROSS (Connecting Residents on Safer Streets) Brooklyn initiative to implement safety features that protect vulnerable pedestrians using our sidewalks and streets."
"It's great to see the gold standard in pedestrian safety and traffic-calming on Gold Street," said State Senator Daniel Squadron. "I thank Commissioner Trottenberg, Borough Commissioner Keith Bray, the Department of Transportation, and community."
"I couldn't be more pleased to see this mid-block crossing created and the median widened for pedestrian refuge making everyone safer. That's what Vision Zero is all about," said Assembly Member Jo Anne Simon. I thank the Department of Transportation for its openness and persistence in creating an environment where everyone using the road wins. I am also grateful to area residents and Community Board 2. By working together, we are stronger and safer."
"I applaud the Department of Transportation for implementing improvements to pedestrian safety in Downtown Brooklyn. This enhanced pedestrian cross will help elderly residents of Farragut Houses traverse a busy downtown street and is keeping in line with the Mayor's Vision Zero Plan. I pledge to continue to work with our city officials to create a safe and welcoming community for all residents of Brooklyn," said Assembly Member Walter T. Mosley.
"Safety doesn't have to come at the expense of less capacity or fewer transportation choices – this project being just one example. DOT's process, fostering collaboration between different parts of the community, resulted in something we can all be proud of," said Council Member Stephen Levin.
The traffic calming project is an important safety improvement for a block that previously ranked in the top 10 percent of Brooklyn corridors for crashes. Pedestrian traffic crossing Gold Street between York and Sands Streets nearly equals vehicular volumes during peak hours, as pedestrians crossed the street, many headed to the nearest subway, the York Street F train station. The new crossing reflects a popular pedestrian "desire line" to and from that station.
At the same time, NYC DOT also expanded Gold Street's center median, from three feet to eight feet, adding parking and installing an enhanced crossing that facilitates pedestrian crossings among the ten buildings that comprise the Farragut Houses.
NYC DOT added 21 parking spots on the west side of the Gold Street median for overnight and weekend parking -- and by doing so, removed one moving lane in each direction. The new configuration between York and Sands Streets now matches Gold Street's blocks to the north and south, which are also only one lane in each direction.
Earlier this year, Mayor de Blasio announced several new Vision Zero initiatives for 2016. In addition to an increased $115 million investment in street redesign and traffic-calming measures on key thoroughfares citywide, he announced the expansion of the bike-route network, a pilot project to reduce left-turn collisions, targeted NYPD enforcement, increased use of speed-enforcement cameras, and more intensive safety education in collaboration with the Department of Education in elementary and middle schools.
For more information, visit www.nyc.gov/visionzero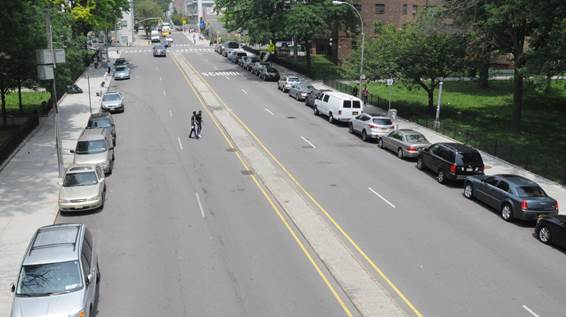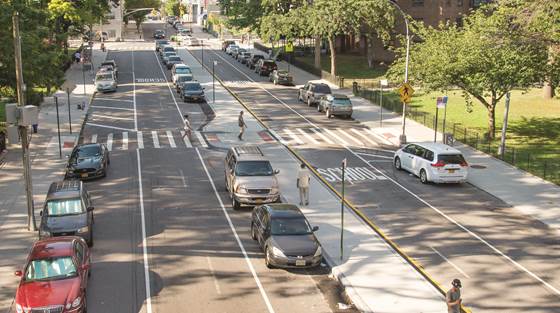 —30—