FOR IMMEDIATE RELEASE
Press Release #16-074
Thursday, July 28, 2016
Scott Gastel/Alana Morales (212)839-4850
Nostrand Avenue Select Bus Service Route Receives Additional Metered Parking Through NYC DOT Partnership with Local Merchants
After request from Nostrand Avenue Merchants Association, NYC DOT reexamined parking regulations along the corridor from Empire Boulevard to Parkside Avenue -- and increased metered parking hours to accommodate local small businesses
Implemented in late 2013, the B44 SBS along Nostrand brought a 10% increase in bus ridership from 2014 to 2015 and lowered travel times by as much as 31%.
New York City Department of Transportation (DOT) Brooklyn Borough Commissioner Keith Bray today stood with the Nostrand Avenue Merchants Association (NAMA), Brooklyn Borough President Eric Adams, Community Board 9, and Nostrand Avenue merchants to welcome adjustments to truck-loading and parking regulations along Nostrand Avenue from Empire Boulevard to Parkside Avenue.
"With faster, more reliable B44 service on Brooklyn's third-busiest bus, Select Bus Service has clearly been great for Nostrand Avenue," said Borough Commissioner Bray. "Nostrand Avenue is also one of Brooklyn's most vibrant commercial strips and we were happy to follow-up to ensure that parking and loading regulations meet the needs of the community. We continue to remain committed to working with local businesses and their customers while at the same time addressing concerns about keeping vehicle and bus traffic moving. I think we have struck a proper balance."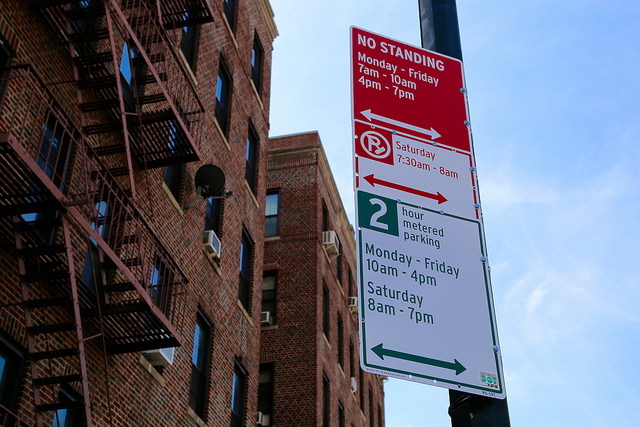 The Nostrand Avenue Merchants Association, an organization founded to help preserve and promote commercial revitalization along Nostrand Avenue, reached out to the DOT in November of 2015 calling for a reevaluation of truck loading zones in order to restore parking along the busiest section of the Nostrand corridor, with hundreds of small businesses. NAMA had noted that since the installation of Select Bus Service along Nostrand Avenue, truck-loading zone hours had limited parking for customers, but were not always fully used by businesses. Using time-lapse camera methodology to study curb activity, DOT was able to determine what loading zones could be modified to allow for more parking, while also maintaining space for deliveries, buses, and vehicular traffic. DOT's findings were presented to the Merchants Association in April of 2016. DOT began implementation last week, following approval by NAMA.
The ongoing changes include:
Adding continuous midday metered parking on east side blocks with limited truck loading needs.
Adding continuous all-day metered parking on west side blocks with limited loading needs.
Reducing the length of truck-loading zones, while adding longer time windows for loading on portions of east side and west side blocks with high truck loading needs.
"We voiced the concerns of our merchants and after conducting a careful study of the area, the DOT has obliged" said Pia Raymond, Vice President of the Nostrand Avenue Merchants Association. "The Nostrand Avenue Merchants Association is thrilled that DOT is adding parking on Nostrand Avenue by reducing truck loading times and adding metered parking where appropriate. We encourage the community to pull up, park and shop with our local businesses!"
Carrying nearly 40,000 riders daily, the B44 SBS is vital to bringing consumers to the hundreds of businesses along Nostrand Avenue. In June, DOT and Metropolitan Transportation Authority's New York City Transit (NYCT) released the "B44 Select Bus Service – Nostrand Avenue Progress Report." The progress report highlighted dramatic improvements on Brooklyn third-busiest bus route along one of Brooklyn's most heavily trafficked corridors. With the launch of the B44 Select Bus Service in November of 2013, the B44 SBS saw peak travel-time improvements of over 30%, as well as a10% increase in ridership from 2014 to 2015, along with a decrease in traffic crashes along the route. Extensive outreach was conducted to numerous community stakeholders prior to the B44 SBS implementation, and as today's announcement shows, DOT continued to monitor the route and made adjustments where necessary.
"The partnership between the Nostrand Avenue Merchants Association and the DOT to create much-needed parking spaces along the busy commercial corridor of Nostrand Avenue demonstrates the extraordinary potential of public-private collaboration to resolve local concerns," said Brooklyn Borough President Eric L. Adams. "Through this effort, families in Crown Heights, Prospect-Lefferts Gardens, and surrounding neighborhoods who depend on their vehicles for shopping and running other errands will have the ability to avoid unnecessary delays circling the block or walking a considerable distance from their cars."
"The Select Bus Service succeeded in improving travel times for bus riders, but it created real challenges for local merchants. I am overjoyed that the DOT made changes to accommodate the needs of our local small businesses, and I want to congratulate the merchants for their part in finding a solution to the problem" said State Senator Jesse Hamilton. "Our government should serve all Brooklynites, and this is an example of a government agency responding effectively. I look forward to helping to find creative solutions like this – demonstrating we can find ways to improve our transportation system to the benefit of both residents and businesses."
"This is a smart and proactive plan that represents the best in public and private partnerships. I commend Commissioner Bray, DOT staff, and the Nostrand Avenue Merchants Association for their efforts. Together they have implemented a simple, yet effective means of making the most of the vastly improved B44 route; and they have done so to the benefit of the riders, retailers, service industry, and the many customers and clients of Nostrand Avenue's commercial revitalization," said State Senator Martin Malavé Dilan.
"I applaud NYC DOT for expanding metered parking along the Nostrand Avenue corridor. It is important that as a community we are continuously finding ways to accommodate local small businesses and their customers. A lack of accessibility to parking can sometimes be a deterrence to prospective shoppers, and this initiative demonstrates to business owners that their viability is our priority" said State Senator Kevin Parker. "I thank the members of the Nostrand Avenue Merchants Association for their advocacy around this issue, and the New York City Department of Transportation for their timely response to our community's issue."
"The Department of Transportation's measure to increase metered parking hours along the B44 bus line is a critical step forward in solving merchant issues," said Assemblywoman Diana Richardson. "The implementation of this change along commercial blocks will contribute to revitalizing and increasing economic growth in our community."
"CB9'S Economic Development Committee recognizes and thanks DOT's good work for listening, responding and solving our merchant issues, working with us to create jobs and a thriving merchant community" said CB9's Economic Development Committee Chair Warren Berke.
"As a small business owner who is also devoted to expanded public transportation and safer city streets, I am very pleased that the city and our merchant group can reach a solution that honors all of these constituencies" said Mark Schwartz, owner of Little Mo Wine & Spirits. "My customers who do drive will be thrilled with these new meter hours."
"Increasing ridership on the B44 confirms what we already know: riders love select bus service. But what makes SBS a success is that the City can make adjustments to take the unique needs of communities into account to make sure that select bus service works for everyone" said Nick Sifuentes, Deputy Director of the Riders Alliance.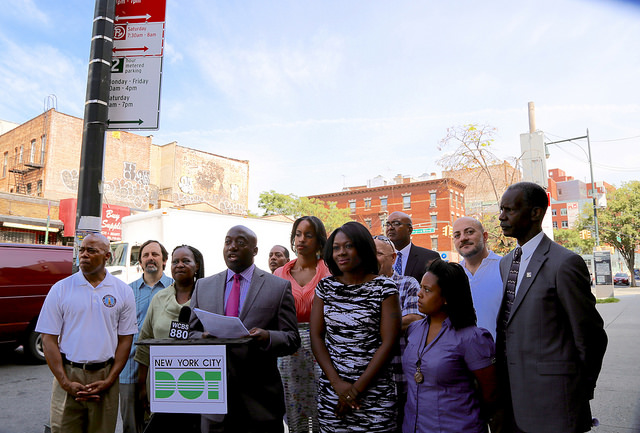 About the Nostrand Avenue Merchants Association: The Nostrand Avenue Merchants Association was founded in 1990s to help preserve and promote commercial revitalization on Nostrand Avenue from Eastern Parkway to Linden Boulevard in the Crown Heights South and Prospect Lefferts Gardens neighborhoods of Brooklyn. Nostrand Avenue is a thriving center of commerce, easily accessible by public and private transportation and teeming with delightful businesses, small and large. From delicious food, to quality professional services, to some of Brooklyn's most unique retail establishments, Nostrand Avenue's resilience and diversity shines.
—30—