FOR IMMEDIATE RELEASE
Press Release #16-036
April 11, 2016
Scott Gastel/Jaclyn Jablkowski (212)839-4850
NYC DOT and NYPD Launch Third Year of Vision Zero Street Teams Citywide
Collaborating with all eight NYPD borough commands, DOT to partner with local Precincts to reinforce motorist safety across the five boroughs
The New York City Department of Transportation (DOT) and the NYPD today launched the third year of the Vision Zero partners Street Team collaborations, in which DOT safety personnel team with local Precincts across the City on a rotating basis to reinforce the message against dangerous driving, such as failing to yield to pedestrians. Locations are selected based on crash history and rates of pedestrians/motorists identified by the agencies. This morning's launch was held at the intersection of 65th Street and Bay Parkway in the 62nd  Precinct, which includes the Bensonhurst and Bath Beach communities in Brooklyn and will be this week's focus.
As part of our Vision Zero efforts that helped make last year the safest ever on City streets, motorists in Bensonhurst and around the City will be reminded by our street teams to drive more carefully," said DOT Commissioner Polly Trottenberg. "Working closely with our partners at the NYPD, we are underscoring a pre-enforcement message that maintaining a safe speed and yielding to pedestrians will ensure that everyone gets home safely."
The Street Teams are an example of the collaborative effort moving us towards the goal of Vision Zero," said NYPD Transportation Chief Thomas Chan. "The Police Department works in partnership with the Department of Transportation to provide educational outreach directly with neighborhoods experiencing collision-related incidents. The basic formula of traffic safety education, followed by traffic enforcement, promotes the need for the public to join in this collaboration to save lives. We recognize that there is much more work that needs to be accomplished in order to achieve Vision Zero, but the Street Team efforts have led to an auspicious start."
The Vision Zero Street teams have hit 25 key locations each of the first two years of the Administration's safety initiative and plan to do the same this year. The education component primarily consists of the teams handing out flyers and talking to members of the public at a particular intersection. Each week of education is followed by a week of enforcement at the Precinct level, with NYPD targeting driving behaviors such as speed, failure to yield to pedestrians, distracted driving and parking in traffic lanes. 
Upcoming areas scheduled to be addressed by the Vision Zero Street Teams include:
Week of April 18th:  Concourse, Highbridge and Mount Eden (44th Precinct) in the Bronx
Week of April 25th: Chelsea and Clinton (10th Precinct) in Manhattan
Week of May 2nd: Mid-Island (122nd  Precinct) & South Island (123rd Precinct) on Staten Island
Week of May 9th: Fresh Meadows (107th Precinct) in Queens
Week of May 23rd: Greenpoint (94th Precinct) in Brooklyn
In January, Mayor de Blasio announced that 2015 had been the safest year ever on New York City's streets, and unveiled several new Vision Zero initiatives for 2016. In addition to targeted NYPD enforcement, he announced the expansion of New York City's 1,000-mile bike network, an additional $115 million investment in street redesign and traffic-calming measures on key thoroughfares citywide, a pilot project to reduce left-turn collisions, increased use of speed-enforcement cameras and more intensive safety education in collaboration with the Department of Education in elementary and middle schools.
For more information about Vision Zero please visit www.nyc.gov/visionzero.
For more photos from today's launch please visit https://flic.kr/s/aHskuHgiLZ.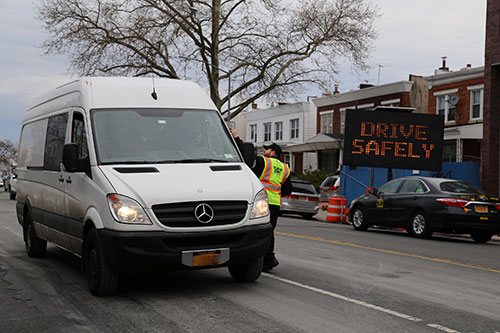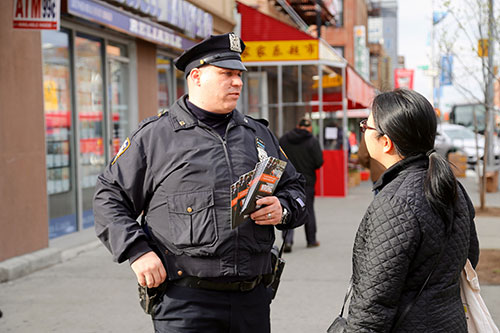 —30—