FOR IMMEDIATE RELEASE
Press Release #16-025
March 10, 2016
Chris Browne/Scott Gastel (212)839-4850
New York City Will Break Record for Most New Miles of Protected Bicycle Lanes in 2016
Over fifteen miles of physically protected bike lanes already in pipeline, with more projects on the way
Expansion of bike lanes and cycling has already helped drive Vision Zero's success
Mayor Bill de Blasio and Transportation Commissioner Polly Trottenberg today announced that New York City has committed to installing over 15 miles of physically protected bicycle lanes in 2016, the most of any year on record. The projects include protected lanes along Amsterdam Avenue, 2nd Avenue and 6th Avenue in Manhattan, as well as new two-way protected bike lanes in Marine Park in Brooklyn, on 20th Avenue in Queens and along Bruckner Boulevard in the Bronx.
"We know bike lanes calm traffic and reduce the chance of crashes," said Mayor de Blasio. "Even after the safest year ever recorded on our streets, our Vision Zero efforts will expand the network of protected bike lanes even farther, so we can have safer streets for all our people."
Building on the twelve miles of physically-protected bike lanes created in 2015, the most in a single year, DOT plans to install protected lanes that will build on the success of designs that have reduced crashes for both cyclists and pedestrians.
"Under the Mayor's leadership on Vision Zero, new protected bike lanes are providing a network that is helping New York City make cycling a safer and even more viable transportation option," said Polly Trottenberg, Commissioner of the Department of Transportation (DOT). "With success stories like a transformed Queens Boulevard and an award from Bicycling magazine as the nation's best cycling city, we are looking forward to doing even more in the next year."
DOT has bike lane projects planned for 2016 in all five boroughs, including building out several established networks. More projects will be announced in the weeks and months ahead. Among the new protected bike lanes already in development and planning are the following:
Bronx: Bruckner Boulevard, Hunts Point Avenue to Longwood Avenue.
Manhattan: Amsterdam Avenue, West 72nd Street to West 110th Street; Chrystie Street, Canal Street to 2nd Street; 6th Avenue, West 8th Street to West 33rd Street and; 2nd Avenue, East 105 Street to East 68th Street.
Queens: 20th Avenue, 37th Street to Shore Boulevard; Shore Boulevard, Ditmars Boulevard to Astoria Park South; and Hoyt Avenue North, 27th Street to 19th Street.
Brooklyn: Marine Park Connector, Ave U to Flatbush Avenue.
Brooklyn/Queens: Pulaski Bridge, linking Greenpoint and Long Island City.
As part of the process for these new bike lanes, DOT will be taking part in community consultation efforts, including detailed presentations and plans before community boards and local elected officials.
In January, after announcing on Queens Boulevard that 2015 had been the safest year ever on New York City's streets, Mayor de Blasio announced several new Vision Zero initiatives for 2016. In addition to the expansion of the bike network, he announced a new $115 million investment in street redesign and traffic-calming measures on key thoroughfares citywide, a pilot project to reduce left-turn collisions, targeted NYPD enforcement to protect seniors, increased use of speed-enforcement cameras and more intensive safety education in collaboration with the Department of Education in elementary and middle schools.
See more information about the de Blasio administration's Vision Zero initiatives in 2015 and 2016.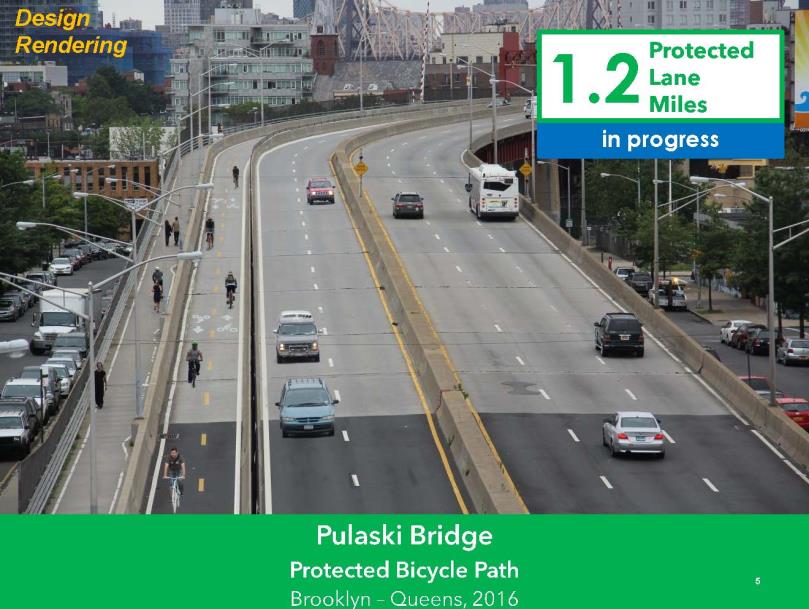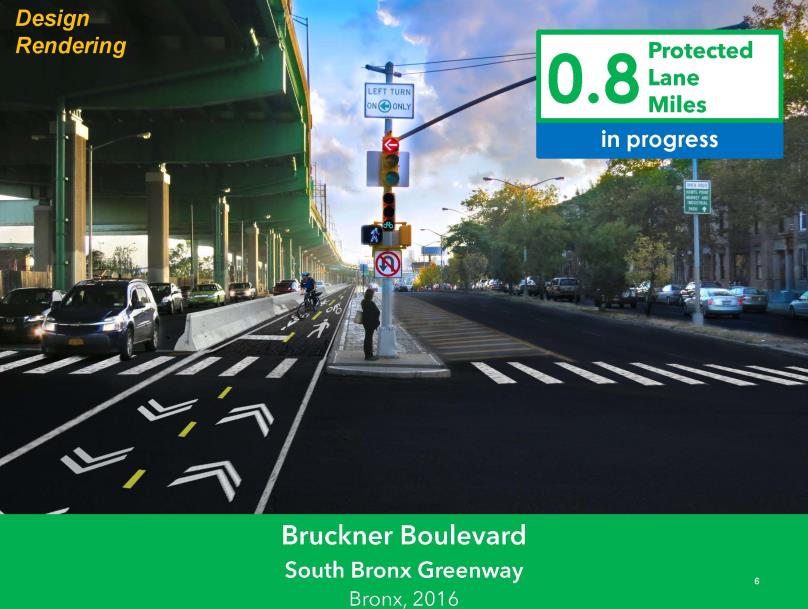 —30—