FOR IMMEDIATE RELEASE
Press Release #16-024

Scott Gastel/Jaclyn Jablkowski (212) 839-4850
NYC DOT to Propose Significant Improvements to Chrystie Street Bike Lanes in Lower Manhattan
Proposed changes: a two-way protected bike lane, safer pedestrian crossings, and better connections to the Manhattan Bridge bike path
This Tuesday evening, the New York City Department of Transportation (DOT) will present its proposal to redesign 2nd Avenue and Chrystie Street, from 2nd Street to Canal Street. The proposed improvements, to be made before Manhattan Community Board 3's Transportation Committee, include an upgrade to the current bike lanes on Chrystie Street to a protected two-way bike lane as well as improvements to the southbound connection on 2nd Avenue between 2nd Street and Houston.
"DOT is excited to offer important bike upgrades to Chrystie Street, a vital connection to the Manhattan Bridge bike path," said DOT Deputy Commissioner Transportation Planning and Management Ryan Russo. "This project and the many more planned for this year will serve our Vision Zero goal and make cycling a real transportation option for thousands of more New Yorkers.";
With nearly 3,000 daily cyclists, Chrystie Street is a major cycling connection to the Manhattan Bridge and serves as a Priority Area for Vision Zero, the de Blasio Administration's ambitious plan to eliminate deaths and injuries on New York City roadways. DOT's new safety proposal includes a two-way bike lane on the east side of Chrystie Street, protected by a combination of parked cars, jersey barriers, and delineators. While the number of car-travel lanes will remain the same, the proposal will reduce problematic double parking and provide a more continuous connection from Second Avenue to the Manhattan Bridge.
The proposal also includes construction of three new pedestrian islands at 2nd Street and Second Avenue, Stanton Street, and Rivington Street. This shortens pedestrian crossings and improves access to Sara Roosevelt Park. At the intersection of Canal and Chrystie Street, DOT will redesign the existing pedestrian island, as well as install jersey barriers where cyclists turn onto Chrystie Street from Canal Street.
At the intersection of Chrystie Street and Delancey Street, a protected signal phase and jersey barriers will be added, allowing cyclists to cross Delancey safely and enhancing safety for pedestrians. The change will also improve efficiency of the heavy traffic turning left bound for the Williamburg Bridge. At the intersection of Houston Street, DOT will similarly add a protected signal phase to reduce conflicts.
In its current configuration, Chrystie Street presents challenges for cyclists, with a heavy volume of trucks and other vehicles during peak hours. Southbound cyclists on Second Avenue north of Houston Street must cross from the bike lane on the east curb to an unprotected bike lane on the west side of Chrystie, only to cross Chrystie Street again to its east side for the Manhattan Bridge bike path entrance. The proposed new configuration will limit these unnecessary crossings, and provide a more seamless and direct trip from Second Avenue to the Manhattan Bridge.
Following the community board process, the DOT will begin work on Chrystie Street this fall, including resurfacing of the street from Houston Street to Canal Street.
Later this month, DOT will also present to Brooklyn Community Board 2 a proposal for protected bike lanes on Jay Street, near the Manhattan Bridge, which will bring upgrades to yet another well-travelled commuting corridor which is used by thousands of cyclists daily.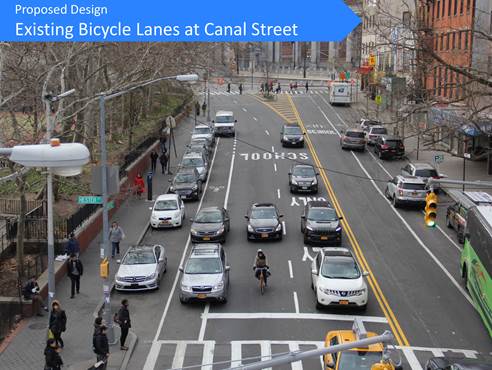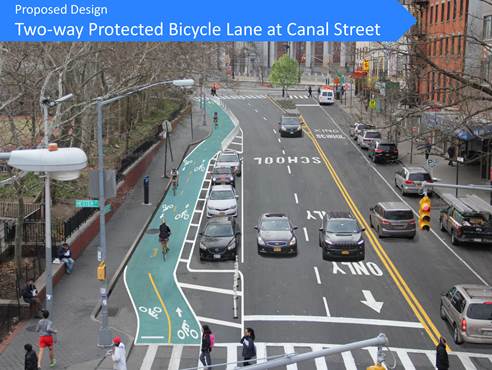 —30—