FOR IMMEDIATE RELEASE
Press Release #16-002
January 12, 2016
Scott Gastel/Bonny Tsang (212) 839-4850
NYC DOT and Queens Borough President Melinda Katz Announce Pedestrian Safety and Accessibility Improvements near Macdonald Park
Improvements, including enhanced crossings and new pedestrian ramps, will ease access for seniors, children, and people with disabilities
The New York City Department of Transportation (DOT) Commissioner Polly Trottenberg and Queens Borough President Melinda Katz announced today that the DOT completed pedestrian improvements near MacDonald Park in Forest Hills, Queens. Borough President Katz had requested pedestrian access improvements to MacDonald Park.
In response, the DOT installed enhanced crosswalks on Queens Boulevard Service Road at 70th Avenue and midblock, in front of the Forest Hills Jewish Center. Each crossing has new ADA-compliant pedestrian ramps, for improved accessibility. Additionally, DOT daylighted the approaches to the new crosswalks, improving the visibility for pedestrians and motorists.
"In our work to make Queens Boulevard safer, easing access to popular spots like MacDonald Park in Forest Hills is a real priority," said DOT Commissioner Polly Trottenberg. "We are pleased to work with Borough President Melinda Katz to engage the World's Borough and improve accessibility, as we make Queens even more welcoming and livable."
"These enhanced pedestrian safety measures are welcome improvements to this increasingly busy intersection of the neighborhood. The redesign delivers upon the important goals of the Vision Zero initiative. I commend Mayor de Blasio and the Department of Transportation, led by Commissioner Trottenberg, for their commitment to addressing the important issue of pedestrian safety," said Queens Borough President Melinda Katz.
"Parks appreciates the efforts DOT has made towards enhancing accessibility to greenspaces like MacDonald Park," said NYC Parks Commissioner Mitchell J. Silver, FAICP. "Constructing ADA-compliant pedestrian ramps and opening up sightlines provides much improved access points that are safer for everyone; especially in such a heavily trafficked area such as this."
MacDonald Park has many pedestrian crossings, with volume increased by proximity of the Forest Hills Post Office, the Forest Hills Jewish Center and nearby important public transit access points, including the Forest Hills-71st Avenue subway station and bus stops for the Q60 and Q64 along Queens Boulevard. In the past five years, there have been 4 pedestrian injuries at this intersection of Queens Boulevard and 70th Avenue.
"I am gratified that the NYC Department of Transportation has responded to my request to install pedestrian safety improvements at the heavily utilized crossing located at 70th Avenue, adjacent to the United States Post Office," noted Council Member Karen Koslowitz (Dem. Queens). "The installation, including ramps and painted crosswalks, will greatly aid individuals who have asked for increased accessibility at this specific location so that they can safely access MacDonald Park and the United States Post Office."
"I would like to commend the New York City Department of Transportation on their recent pedestrian improvements for MacDonald Park," said Assembly Member Andrew Hevesi. "Contemporary enhancements such as these will ensure all who cross busy intersections are safe and aware of their surroundings."
"Improvements to the long awaited pedestrian access to MacDonald Park are a major step to the improving of the overall safety measurements at MacDonald Park," said Queens Community Board 6 District Manager Frank P. Gulluscio. "CB 6, along with Queens Borough President Katz, Councilmember Koslowitz, and Forest Hills Civic Association have long advocated for these improvements and welcome the improved overall safety for all."
As a DOT Priority Corridor and a Vision Zero Great Street, Queens Boulevard has seen many safety improvements including the installation of a protected bike lane and improved pedestrian crossings from Roosevelt Avenue to 73rd Street, and pedestrian improvements at Yellowstone Boulevard last year. DOT has already begun the planning and outreach for redesigning another portion of the corridor, from 73rd Street to Eliot Avenue, for implementation later this year.
For more information about DOT's safety improvement projects, please visit www.nyc.gov/dot.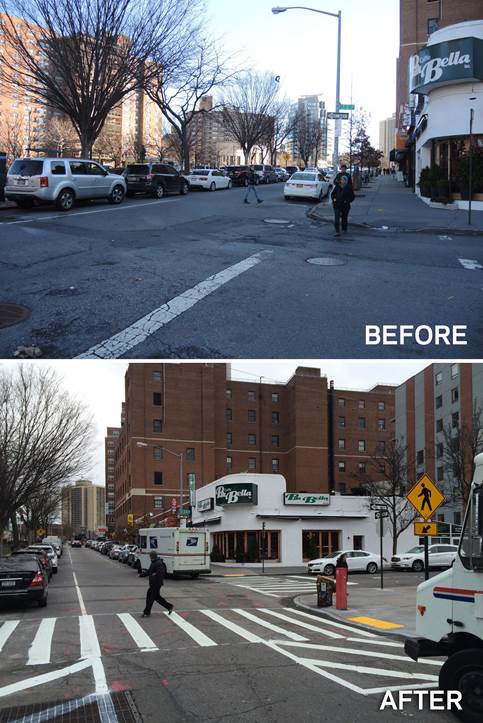 —30—