FOR IMMEDIATE RELEASE
Press Release #PR - Citibike
August 5, 2015
Dani Simons, media@motivateco.com; (347) 916-0215
Madeline Kaye, Madeline.Kaye@berlinrosen.com; (646) 200-5297
Scott Gastel/Bonny Tsang, sgastel@dot.nyc.gov/btsang@dot.nyc.gov; (212) 839-4850
Andrew Brent, andrew.brent@citi.com; (212) 559-1299
Citi Bike® Launches Expansion by Opening First Station in Long Island City, Queens
Citi Bike® to double in size over next two years
NYC DOT Commissioner Polly Trottenberg and Motivate CEO Jay Walder speak about commitment to making bicycling safer, more attractive and more accessible to all New Yorkers
NEW YORK – New York City Department of Transportation (DOT) Commissioner Polly Trottenberg and Motivate CEO Jay Walder kicked off Citi Bike'sdramatic expansion plans by activating the first station in Long Island City, Queens on Wednesday. This is the first step of a larger expansion plan that will double the size of the popular bike share network from 6,000 to 12,000 bikes over the course of two years as it grows across New York City. Twelve stations will be installed in Long Island City beginning this week and expansion will continue immediately into Greenpoint, Williamsburg, and more of Bedford-Stuyvesant, for a total of 91 stations. Expansion will then continue into Upper East and Upper West Sides, from 59th Street to 85th Street, with another 48 stations. These first 139 stations of Citi Bike's expansion will be installed by early fall. Citi Bike riders have taken over 20 million trips since the program launched over Memorial Day weekend 2013.
The expansion is supported by an increased sponsorship commitment from Citi of up to $70.5 million extended through 2024, a $21 million increase in the credit facility from the Goldman Sachs Urban Investment Group and an infusion of private capital from Motivate's investors.
DOT and Motivate arrived at the siting plan for the station locations through a comprehensive public engagement process that included more than a hundred meetings with the public and community stakeholders through the course of several years. By 2017, Citi Bike will also expand to the neighborhoods of Harlem, Astoria, Prospect Heights, Crown Heights, Park Slope, Carroll Gardens, Boerum Hill, Cobble Hill, Red Hook, and Gowanus.
To prepare for expansion and further improve service for its customers, Motivate replaced the software that powers Citi Bike and replaced hardware at all existing stations and docking points. These measures have allowed Motivate to deliver accurate, real-time information to customers about bike and dock availability via the Citi Bike App, and improved the ease and reliability of docking bikes. Motivate also overhauled the entire 6,000 bike fleet and created an entirely new line of custom designed bikes. Developed in partnership with Olympic bike designer Ben Serotta, the bikes offer a series of new features and comforts including higher-quality parts and upgraded seats to prevent water from pooling when it rains. The end result is that each bike will spend more time on the street and less in the repair shop. One thousand new bikes were added to the fleet to meet demand, and an additional 1,400 will be put into circulation this summer to stock expansion stations. Motivate has also stepped up their efforts to improve bike and docking point availability at high-volume stations with the use of valets, and the company is finding new ways to move bikes around the system to the places riders need them the most.
"Thanks to the leadership of Mayor Bill de Blasio, residents of Queens will see Citi Bike in the Long Island City for the first time starting today!" said DOT Commissioner Polly Trottenberg. "We are thrilled to see the bikeshare program expand to Queens, more of Brooklyn, and into upper Manhattan for the first time this year and are already hard at work doing community outreach for expansion into further parts of the city."
"Nine months ago New Yorkers wondered about the future of Citi Bike," said Jay Walder, President and CEO of Motivate. "Today New Yorkers see a much improved, and now expanding system. It is a credit to the hard work of our staff, the Department of Transportation and our sponsors and our financing partners, and it's really just the beginning. We look forward to seeing Citi Bike double in size over the next two years."
"We are thrilled to enable the expansion of Citi Bike and bring the blue bikes to Queens,"said Citi Head of Public Affairs Edward Skyler. "We have seen only the beginning of what Citi Bike can do to ease transportation, help New Yorkers live healthier lives and make our city more sustainable, and we are proud to help fulfill its far-reaching promise."
"We are excited to see the success of Citi Bike and to further support the program's expansion with additional financing, increasing our commitment to over $60 million," said Margaret Anadu, Managing Director in the Goldman Sachs Urban Investment Group.  "This expansion will not only increase access to affordable green transportation but will also create quality jobs and sustainable economic development."
"After years of hard work, I am proud to join Commissioner Trottenberg in announcing Citi Bike has arrived in Queens," said New York City Council Majority Leader Jimmy Van Bramer. "Since its inception Citi Bike has provided New Yorkers with a vital alternative mode of transportation that is empowering tens of thousands every single day. Now we in Queens will have that opportunity. For years I fought to have our borough incorporated into the nation's largest bike share network and today that becomes a reality. I want to thank the Administration, Motivate and the Department of Transportation for working with my office to expand Citi Bike into Western Queens. I look forward to continuing our collaboration as we work to expand this popular program into Astoria, Sunnyside Woodside and beyond!"
"I am proud to have gotten western Queens included in the Citi Bike expansion plans. The inclusion of Long Island City was a long time coming but I am glad it has finally arrived," said State Senator Michael Gianaris. "Bike share will allow people to enjoy our neighborhood in a healthy, fun way and facilitate easier travel around western Queens, an area in dire need of better mass transit. I am thrilled to see western Queens given the opportunity to enjoy the benefits of Citi Bike and look forward to its further expansion into more of our neighborhoods."
"I am an avid Citi Bike rider, and the expansion of stations into Bedford-Stuyvesant, Greenpoint, and Williamsburg will expand opportunities for me and my fellow Brooklyn cyclists to take to the streets. Bike riding is more than recreation; it is daily transportation for an increasing number of commuters. Partners like Citi Bike and the New York City Department of Transportation are to be commended for their continued commitment to cycling," said Brooklyn Borough President Eric Adams.
"It didn't take long for Citi Bike to become a key option in our transit network," said State Senator Daniel Squadron. "Expanding Citi Bike is especially meaningful in neighborhoods where transit options are not as robust, such as those along the waterfront in North Brooklyn in my district.  Thanks to Mayor de Blasio, Commissioner Trottenberg, and all of the partners for continuing to build this successful program."
"I am thrilled that Citi Bike is expanding further into my district. With the population explosion in Williamsburg and Greenpoint we need all the transportation options we can get. The New York City Department of Transportation surely sees the benefits of expanding the transportation network for cyclists, as witnessed with the upcoming Pulaski Bridge dedicated bike lane and the newly installed Greenpoint Avenue Bridge bike lane. Not only does this help people connect to other transportation options, it also promotes the live/work community that Williamsburg and Greenpoint has become. I commend Commissioner Trottenberg for realizing the importance of cycling to my constituents, and the city as a whole," said Assemblyman Joseph R. Lentol (D-North Brooklyn)
"With Citi Bike, NYC has created a thriving new public transit program with no tax payer dollars. I'm extremely pleased that this expansion will create even more Citi Bike employment and will give additional BedStuy residents an opportunity to give bike sharing a try," said Council Member Robert E. Cornegy, Jr. "In fact, I expect that many residents will find the service is a great way to get to their jobs, local parks and other forms of transit and make cycling a regular part of their lives. I can't wait to see all these new riders on the streets."
"The expansion of Citi Bike in Brooklyn means more New Yorkers will have access to an environmentally-friendly mode of transportation. I applaud the Department of Transportation and Motivate for sustaining New York's bike sharing program, which is an inexpensive and flexible option for daily commuters and tourists," said Council Member Laurie A. Cumbo.
"The extension of Citi Bike to neighborhoods that are underserved by mass transit is an investment that our Partnership Fund was proud to make, " stated Kathryn Wylde, President & CEO of the Partnership for New York City. "Motivate is taking the steps necessary to make bike sharing in New York more efficient and convenient, which will result in greater utilization for commuting to work as well as leisure activity."
"Long Island City has eagerly anticipated the arrival of bikeshare since Citi Bike first began, and we are thrilled that it has finally arrived," said Elizabeth Lusskin, President of the LIC Partnership. "We thank our local elected officials and everyone who worked so hard to bring bikeshare to our community. This expansion will be key to helping residents, visitors and workers get into and around LIC, experiencing all that we have to offer."
Citi Bike's annual membership costs $149 a year, but for any New York City Housing Authority resident, a membership costs only $60. Additionally, to celebrate its expansion, Citi Bike is offering a $25 discount to new members who sign up by August 31. For more details about membership, riders can find out more and view station maps atwww.citibikenyc.com/expansion.
| Neighborhood | Citi Bike Stations to be installed in 2015 |
| --- | --- |
| Long Island City | 12 |
| Greenpoint | 20 |
| Williamsburg | 33 |
| Bedford Stuyvesant | 26 |
| Upper East Side | 27 |
| Upper West Side | 21 |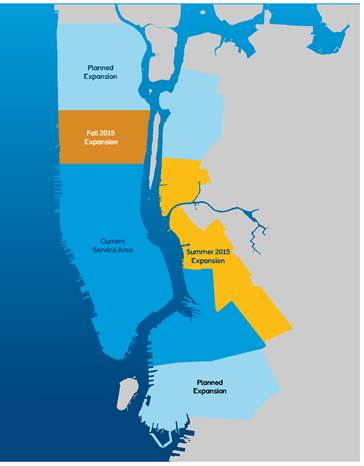 ###
ABOUT THE CITI BIKE PROGRAM
The Citi Bike program is New York's bike share system with thousands of bikes at hundreds of stations every few blocks in Manhattan below 59th Street; in the Brooklyn neighborhoods of Brooklyn Heights, Bedford-Stuyvesant, Williamsburg, Clinton Hill, Fort Greene and DUMBO; and Long Island City Queens. More stations are coming soon to Greenpoint, the Upper East and Upper West Sides. Annual members receive an electronic key to undock a bike from any station, allowing unlimited trips up to 45 minutes without incurring any additional costs. Twenty-four-hour and seven-day access passes are available for purchase at any Citi Bike station and provide unlimited 30-minute trips. There have been over 20 million trips on Citi Bike since the program launched in 2013.
ABOUT MOTIVATE
Motivate is a global leader in bike share. A full-service bike share operator and technology innovator, Motivate works to re-envision how people experience and move around cities.  Motivate currently manages all of the largest bike share systems in the United States and many of the largest systems in the world, including Bay Area Bike Share (California Bay Area), Citi Bike (New York), Divvy (Chicago), CoGo Bike Share (Columbus, Ohio), Capital Bike Share (Washington, D.C.; Arlington and Alexandria, Va.; and Montgomery County, Md.), Hubway (Boston, Somerville, Cambridge and Brookline, Mass.), Pronto (Seattle), Bike Chattanooga (Tenn.), Bike Share Toronto and Melbourne Bike Share in Australia as well as Bay Area Bike Share. Motivate's newest system is Citi Bike Jersey City, N.J., that will be compatible with New York City's Citi Bike program.

—30—