FOR IMMEDIATE RELEASE
Press Release #15-082
July 29, 2015
Scott Gastel/Bonny Tsang (212) 839-4850
NYC DOT, NYCHA Announce Significantly Increased Investment for NYCHA Sidewalks and Join Council Member Jumaane Williams at Newly Completed Sidewalks by Glenwood Houses
Over the next four years, the City is more than doubling its annual investment in sidewalk repairs citywide and tripling its annual commitment to $3 million for sidewalks outside of NYCHA properties
NYC DOT newly repaired over 30,000 square feet of concrete sidewalks and upgraded pedestrian ramps by Glenwood Houses in Brooklyn
Today, New York City Department of Transportation (DOT) Commissioner Polly Trottenberg and New York City Housing Authority (NYCHA) Director of Intergovernmental Affairs Brian Honan announced that the City will now triple its investment on NYCHA sidewalk repairs. Council Member Jumaane Williams joined them at the newly repaired concrete sidewalks outside of Glenwood Houses in Brooklyn.
"I am proud to announce that thanks to Mayor Bill de Blasio, the DOT is now tripling its investment in sidewalk repairs outside of NYCHA properties around the five boroughs," said DOT Commissioner Polly Trottenberg.  "This means safer and more accessible sidewalks for the over 400,000 NYCHA residents citywide."
"Harsh winters, tree growth, and wear and tear have taken a toll on City sidewalks at many NYCHA developments, including the ones at Glenwood Houses," said NYCHA General Manager Michael Kelly. "The DOT's investment to repair crumbling sidewalks at Glenwood and other NYCHA developments across the City, not only improves pedestrian safety, but helps improve the quality of life for our residents and the surrounding community."
DOT began repairs to the crumbling sidewalk outside of Glenwood Houses in May 2015, and completed the repairs by the end of June. The repairs included 32,777 square feet of new concrete sidewalks, 4 upgraded corner pedestrian ramps and 2 mid-block pedestrian ramps, and 163 linear feet of curb. The total cost of the project was an estimated $461,000.
"Improved sidewalks means improved safety for the residents of Glenwood Houses and every person passing by. I am proud to have worked with DOT Commissioner Trottenberg and NYCHA representatives to expedite repairs to the crumbling walkways around this property– resulting in thousands of square feet of newly completed concrete sidewalks and new pedestrian ramps. Investing in such repairs will help improve our NYCHA properties throughout the city, so I would like to thank Mayor de Blasio and Commissioner Trottenberg for pushing for these improvements throughout the five boroughs," said Council Member Jumaane D. Williams (D-Brooklyn), Deputy Leader and Chair of the Council's Housing and Buildings Committee.
Mayor Bill de Blasio's budget, revealed in May, more than doubles the City's investment in sidewalk repairs, from $20 million to $46 million annually over the next four years. This provides additional resources to the DOT to address sidewalks outside of 1, 2, and 3 family homes and make additional repairs to City properties, such as NYCHA.
"As progressive leaders, we serve all New Yorkers– no matter where they live or their socio-economic status," said NYC Council Transportation Chairman Ydanis Rodriguez. "This initiative brings deeper equity to our city's repair funding and will assuredly make travel easier for the elderly and disabled alike. Congratulations to the residents of NYCHA throughout our city, Mayor De Blasio, Speaker Mark-Viverito and Commissioner Polly Trottenberg on this new initiative to make much needed repairs to NYCHA sidewalks."
For NYCHA properties, the DOT will be tripling its annual commitment from $1 million to $3 million over four years. Working closely with NYCHA, which identifies a priority list of properties that need to be address, DOT makes repairs to sidewalks. The DOT recently began sidewalk repair work on Morris Houses in the Bronx.
In recent years, the City has repaired sidewalks on 37 NYCHA properties, including at the Sotomayor Houses in the Bronx, Jefferson Houses in Manhattan, Astoria Houses in Queens, and South Beach Houses in Staten Island.
Improved and smoother sidewalks without defects provide a much safer passageway to all New Yorkers, whether they are walking or using a wheelchair. The DOT oversees over 12,000 lane miles of sidewalks citywide.
For more information about DOT's work, please visit www.nyc.gov/dot.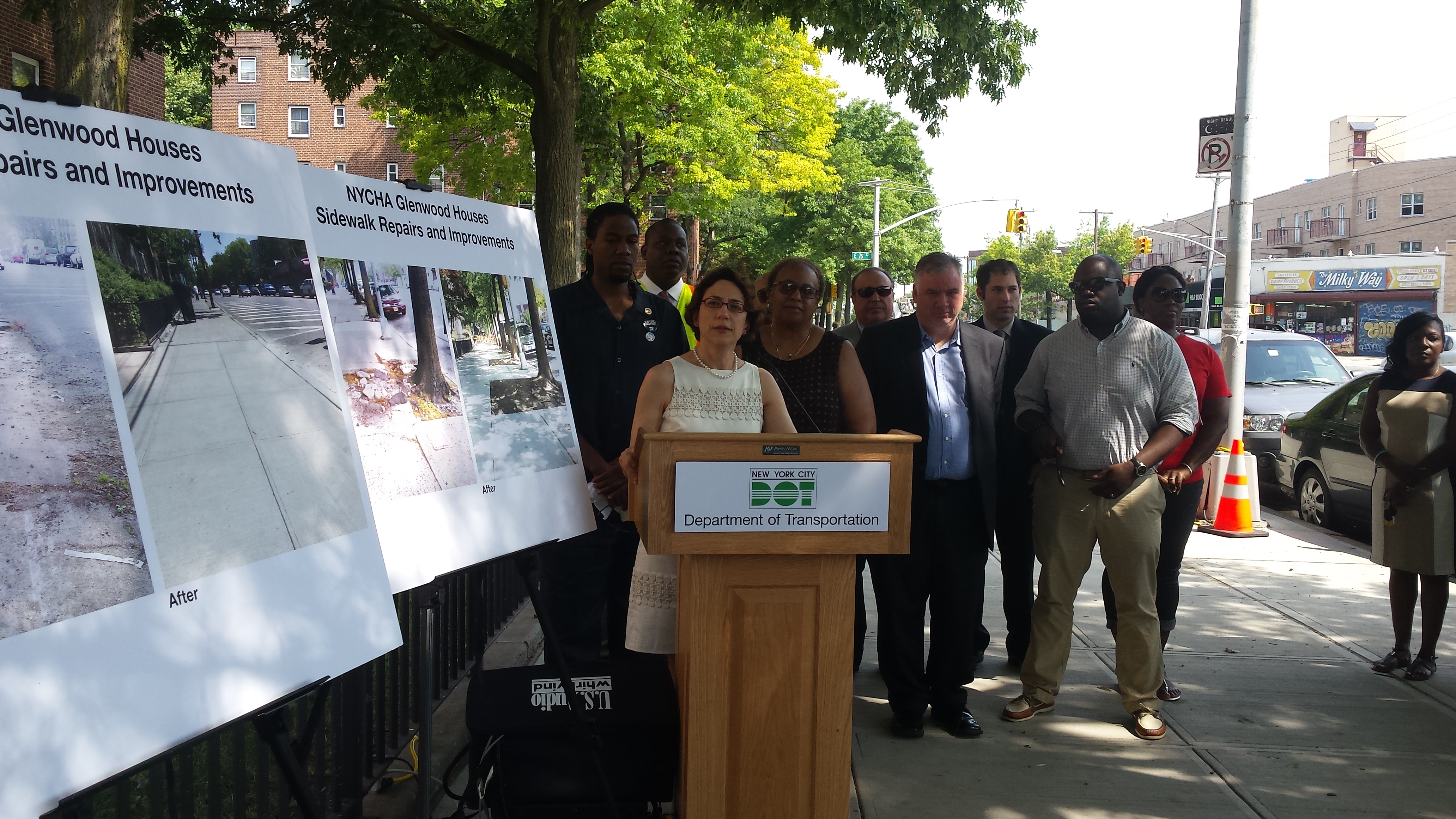 —30—