Pedestrians & Sidewalks
Urban Art
Art is integral to DOT's goal of world class streets. Artists help to transform the landscape from ordinary to extraordinary with temporary, unexpected interventions - colorful murals, dynamic light projections, thought-provoking sculptures.
Public plazas, fences, barriers, footbridges, and sidewalks serve as canvases for temporary art in all five boroughs. DOT's Urban Art initiatives rely on partnerships with community organizations and the creativity of artists to present site-responsive artwork. DOT Urban Art has presented over 100 inspiring projects since October 2008. Download a list of current Urban Art projects (pdf) Download a list of permanent Urban Art projects (pdf)
Organizations or organization-artist teams are invited to apply to one of the three Urban Art Program tracks: pARTners Barrier Beautification Arterventions
Barrier Beautification Designs Announced
DOT is excited to announce that Melissa Godoy Nieto and Brittany Falussy were selected to implement their Barrier Beautification designs on Saturday, October 19th as part of New York Cares Day. With the help of NY Cares volunteers, Nieto will beautify barriers at East 161st Street & Grand Concourse in the Bronx and Falussy will beautify barriers at Bruckner Boulevard between Bryant and Longfellow Avenues in the Bronx.
DUMBO WALLS
The DUMBO Improvement District and Two Trees Management Co. in partnership with DOT and the Jonathan LeVine Gallery, present DUMBO WALLS, a series of eight outdoor murals within a four-block stretch of DUMBO along the BQE. Participating artists include CAM, DALeast, Eltono, Shepard Fairey, Faith47, MOMO, Stefan Sagmeister and Yuko Shizimu. This project is presented through the Arterventions program track with funding provided by the DUMBO Improvement District and Two Trees Management Co.
Recent Installations
The DOT Urban Art Program launched the first outdoor gallery in the new art display cases installed at Willoughby Plaza in Downtown Brooklyn. The exhibit titled, "There is no US without U, featured artwork by a group of intergenerational veterans participating in an art therapy program at the VA New York Harbor Healthcare System in Bay Ridge, Brooklyn. The project was presented in partnership with the Downtown Brooklyn Partnership.
The Downtown Alliance, artist Jennifer Cecere and the DOT Urban Art Program installed a decorative bench, Double Doily, at Water and Whitehall Plaza in Manhattan. The artwork is on display for 11 months starting June 2013.
2013 Summer Streets Interventions
Congratulations to Chat Travieso, Risa Puno and Bundith Phunsombatlert on their winning proposals for interventions at this year's Summer Streets. Learn more about art at Summer Streets
Voice Tunnel
by Rafael Lozano-Hemmer
Saturday, August 3, 10 & 17
An interactive art installation featuring 300 spotlights and 150 loudspeakers controlled by the voices of the public. As they walked through the tunnel, participants heard hundreds of the voices, each controlling the intensity of the lights. New voice, recorded at an intercom at the center of the tunnel, pushes the previous recordings one position down towards the ends of the tunnel. Learn more about Voice Tunnel
Urban Art Program Tracks
pARTners
DOT commissions artists to produce site-responsive art in collaboration with community-based organizations. Twice a year, DOT announces a list of Priority Sites owned and maintained by the agency for artists to respond to with proposals. In addition to Priority Sites, applicants are invited to propose alternate sites not included on this list. A list of current Priority Sites and Site Selection Tips are included in the application packet available for download below. If proposing an alternate site, applicants are required to submit ideas for review and approval by DOT prior to completing an application.
Interested organizations and artists are required to submit a joint application. The DOT Urban Art Advisory Committee reviews proposals each fall and spring. DOT works closely with selected partner organizations to produce and install artwork within 6 months of notification. Partners are responsible for artwork maintenance and site remediation. Artwork may be installed for up to 11 months. Not-for-profit organizations are eligible to receive up to $5,000 toward direct project costs.
Current Deadline: Friday, November 15, 2013 Download pARTners Application packet (zip) pARTners projects on Flickr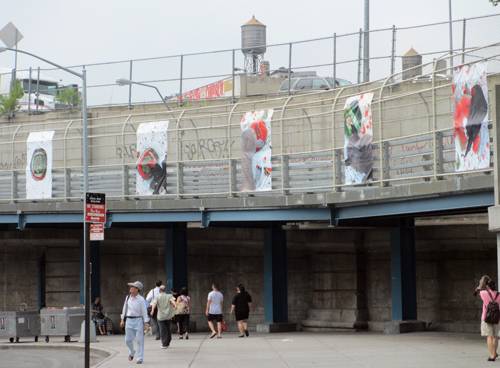 Barrier Beautification
DOT, in collaboration with New York Cares, commissions artists and designers to produce murals for concrete barriers that typically separate bicycle lanes from lanes of vehicular traffic. Hundreds of New York Cares volunteers assist the selected artists with painting their designs onto assigned barrier sites.
Each spring DOT announces an open call for Barrier Beautification proposals. Individual artists are invited to apply. DOT selects project sites and, together with New York Cares, provides all project materials. DOT oversees design and project implementation. Artists are responsible for translating their designs onto the barrier sites. All artists and volunteers are required to sign a waiver prior to participating. Murals remain installed for 11 months. Artists are eligible to receive up to $2,500 toward direct project costs.
Current Deadline: Friday, September 13, 2013 Download the Barrier Beautification Request for Proposals (pdf) Download the Barrier Beautification Application Form (pdf) Download the Barrier Beautification Application Attachments (pdf) Barrier Beautification projects on Flickr
Arterventions
DOT collaborates with organization-artist teams to present short-term projects, such as digital projections on bridge archways and anchorages, sculptural relocation in public plazas, and performances at ferry terminals lasting for only a single day or up to 6 months.
Applicants are invited to select a DOT-owned and -maintained site within the five boroughs. Site Selection Tips are included in the application packet. Applicants are asked to submit alternate sites for review and approval by DOT prior to completing an application. DOT oversees projects' logistics and installation. Organization-artist teams are responsible for programming, site maintenance, and site remediation. Projects that remain installed for at least 3 months are eligible to receive up to $1,000 toward costs to cover installation and removal of the artwork.
Applications accepted on a rolling basis. Download Arterventions application packet (zip) Arterventions projects on Flickr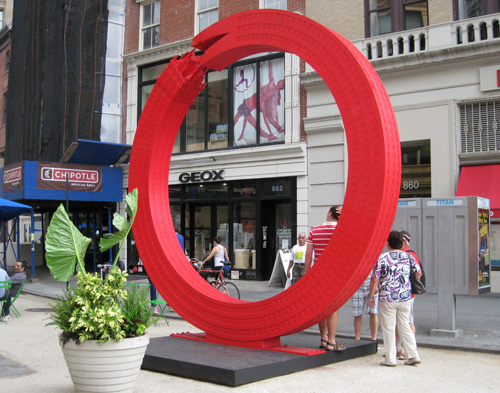 Urban Art Advisory Committee for 2012-2013
Rocio Aranda-Alvarado, Curator, Museo del Barrio
Charlotte Cohen, Fine Arts Officer, U.S. General Services Administration
Tamara Greenfield, Executive Director, Fourth Arts Block
Heng-Gil Han, Curator Visual Arts, Jamaica Center for Arts & Learning
Sara Reisman, Director, Percent for Art Program, NYC Department of Cultural Affairs