Pedestrians
Safe Routes to Transit
Every transit trip requires the passenger to get to the subway station or bus stop. But in many cases across the city, that can be almost as difficult as the journey itself. To address this problem, DOT has created the Safe Routes to Transit program. DOT's goal is to improve pedestrian and motor vehicle movement around subway entrances and bus stops to make accessing mass transit easier and more convenient. This will help encourage more walking and transit use, less traffic and cleaner air.
There are three parts to the Safe Routes to Transit program:
Bus Stops under the Els projects improve pedestrian and driver safety and circulation at bus stops located underneath elevated subway structures.
Subway-Sidewalk Interface projects improve safety and relieve congestion on sidewalks and intersections next to subway entrances.
Sidewalks to Buses projects create or improve sidewalks, crosswalks and other parts of the walking environment around bus stops where walking is difficult today.
Bus Stops under the Els
The streets underneath elevated subway structures pose unique challenges. At most of these locations, buses are unable to get to the curb and pedestrians are forced to wait, enter and leave the bus in the middle of the street. The situation is even worse when turning vehicles weave through the bus stop to make turns or get around a bus. Through the BSE initiative, DOT will make changes to the road geometry to improve pedestrian visibility and enhance bus operations by improving their ability to navigate in traffic despite the columns. The bus stops will be raised behind a new curb line and traffic navigation will be improved using signage. One of two alternative configurations will be implemented at identified sites. There are 42 BSE locations across the Bronx, Brooklyn and Queens. As of August 2007, six of these locations have been completed. Download the map for details (pdf)
86th and Bay Parkway in Brooklyn: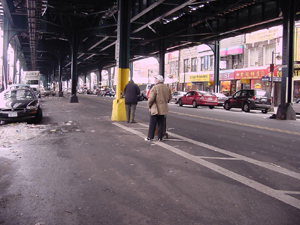 before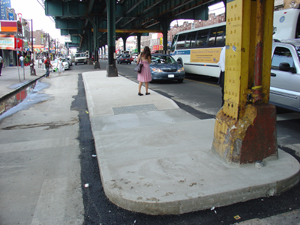 after
Subway-Sidewalk Interface
Safe and convenient access to subway stations is essential to the mobility of New Yorkers. In 2000 DOT/City Planning conducted a study and identified 23 priority subway locations for improvements. These locations were selected based on a variety of factors including: safety, ridership, geography. We examined the physical conditions around stations and identified problems including narrow sidewalks and corners near subway entrances/exits, signal timing that did not allow pedestrians enough time to cross the street, and traffic congestion near the station where people are dropping off passengers going to the train. Under the Safe Routes to Transit program, DOT will complete the necessary civil and traffic engineering studies of these 23 stations; modify the recommendations as necessary and implement all feasible improvements at each station. As of August 2007, two of the 23 locations have been completed and an additional site planned for implementation in fall 2007. See map for details.
40th Street station on the 7 train, Queens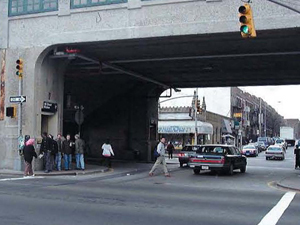 before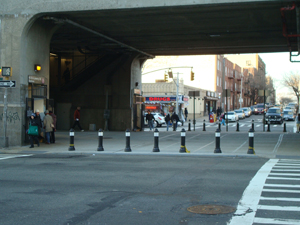 after
Sidewalks to Buses
Sidewalks to Buses is a new initiative to provide sidewalks and other pedestrian safety improvements to improve access to bus stops, especially where sidewalks do not currently exist. The initiative will include installation of new sidewalks, crosswalks, and bus waiting areas to facilitate walking and transit use. Priority will be given to areas where pedestrians face high-speed or high-volume traffic on their way to and from bus stops. The DOT will install up to 1/4 mile of new sidewalk and pedestrian improvements at up to 15 bus stops per year through 2030. DOT has already completed one pilot location at the southeast corner of the intersection between West Mosholu Parkway South and Paul Avenue in the Bronx.
Mosholu Parkway and Paul Avenue in the Bronx: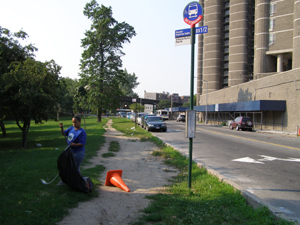 before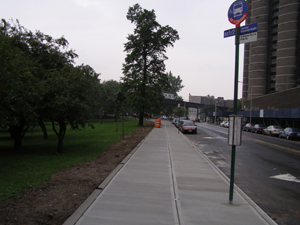 after