Pedestrians
Safe Routes to Schools
DOT introduced the Safe Routes to School initiative to focus safety improvements at city schools with the highest accident rates. DOT examined accident histories around the city's 1,471 elementary and middle schools and established an initial list of 135 priority schools to be considered for traffic safety improvements. The methodology used to establish this list is explained in this detailed report (pdf) from 2003. Of the 135 schools, 25 were in the Bronx, 46 in Brooklyn, 23 in Manhattan, 33 in Queens and 8 in Staten Island. Each priority school underwent thorough study that included outreach to each principal, meetings with parents and other interested parties, collection and analysis of data concerning traffic conditions and student travel patterns and development, evaluation and approval of comprehensive short-and long-term pedestrian safety improvement measures.
In addition to the improvements at the 135 priority schools, DOT upgraded school crosswalk signs around all 1,471 school locations and created and distributed traffic safety maps for each school.
All of the short term safety improvements at the first 135 priority schools in the Safe Routes to Schools Initiative are complete. This work includes new traffic and pedestrian signals, the addition of exclusive pedestrian crossing time, speed bumps, speed boards, high visibility crosswalks and new parking regulations. Capital construction on long term improvements has begun at many of the 135 first round schools.
Speeding Near Schools Shows Need for Speed Cameras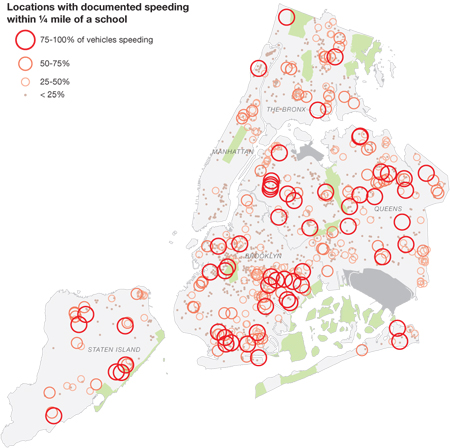 DOT has documented speeding near schools throughout the city, and released list of the schools with the worst rates of nearby speeding. There are 100 schools on the list, all with over three-quarters of vehicles speeding nearby. Download the list (pdf)
Capital Construction Projects
These projects may include roadway reconstruction, realignment of the curbs and sidewalks, curb extensions, installation of raised or extended medians, and bus pads, in addition to infrastructure or utility work. Some projects also include installation of speed humps and new traffic signals, as well as signal timing modifications.
DOT is working on final designs with the Department of Design and Construction on the following schools:
the Bronx
P.S. 21, Philip H. Sheridan School
M.S 399/M.S. 319
C.E.S. 55, Benjamin Franklin School
P.S. 53, Basheer Quisim School
J.H.S. 22, Jordan l. Mott Junior High School
C.I.S. 303 (The Leadership and Community Service Academy)/C.I.S. 232
St. Angela Merici School
Immaculate Conception School
P.S. 33, Timothy Dwight School -2424 Jerome Avenue
St. Anselm School
P.S. 306, The Arts Village Complex
St. Margaret Mary
P.S. 279, Captain Manuel Rivera Jr. School
Brooklyn
P.S. 59, William Floyd School
P.S. 106, Edward E. Hale School
P.S. 155, Nicholas Herkimer School
K 518, Kappa V (formerly J.H.S. 275) -985 Rockaway Avenue
P.S. 329, Surfside School
P.S. 375, Jackie Robinson
J.H.S. 291, Roland Hayes School
I.S. 383 Phillipa Schuyler School
Oholei Torah Elementary School
Yeshiva Torah Temimah
Arista Prep School
P.S. 299, Thomas Warren Field School
Manhattan
Collegiate School
M.S. 54, Booker T. Washington School
Ascension School
Incarnation School
St. Charles Borromeo
P.S. 8, Luis Belliard School
Mesivtha Tifereth Jerusalem
P.S. 132, Juan Pablo Duarte School
Queens
P.S. 82, The Hammond School
P.S. 108, Captain Vincent G. Fowler School
P.S. 199, Maurice A. Fitzgerald School
St. Stanislaus Kostka School
I.S. 77
Joan of Arc School
P.S. 17, Henry David Thoreau School
St. Matthias School
Q. 333, Goldie Maple Academy
Learning Tree Multicultural School
St. Michael's School
Presentation of the Blessed Virgin Mary
I.S. 238, Susan B. Anthony School
Staten Island
P.S. 18, John Greenleaf Whittier School
P.S. 22, Graniteville School
St. Charles School
Saint Teresa School
Sacred Heart School
Second Round Priority Schools Listing
DOT has analyzed the latest citywide crash data and school data in order to identify a new group of 135 public, private and parochial elementary and middle schools Priority Schools. Each of DOT's Priority Schools receives an individualized planning study which determines both short-term and long-term measures to improve safety.
A report prepared for the DOT Office of School Safety Engineering describes the mitigation measures (pdf) that can be used to advance the goals of this project.
First Round Priority School Reports
As we move forward implementing the recommendations of these reports, the measures we implement will evolve. Engineering and infrastructure constraints will render some suggestions infeasible. Nevertheless, we will work to find alternate solutions to all the issues and concerns the reports present.
Portions of these reports have been removed due to safety and security concerns by the Department of Education. The reports are in pdf format.
Bronx
Brooklyn
Manhattan
Queens
Staten Island