Put yourself in pedestrians' shoes:
When making a turn, look for both traffic and pedestrians. Remember: cars are easier to see than people walking. Always look for pedestrians and yield to them when making a turn.
Watch out for pedestrians before backing up. Continue to look for pedestrians while you are backing up.
Although older adults make up only 13% of New York City's population, they make up 33% of New York City's pedestrian deaths. If older adults or others with special needs are crossing at an intersection, be patient and give them a break.
Be especially alert for sudden dart-outs in areas where children play or walk to school.
Give pedestrians some extra space. Stop before the crosswalk, not in it.
Observe the speed limit.
One-third of all pedestrian injuries happen after dark. Be sure to use your headlights beginning at dusk and during foul weather.
Use Seat Belts and Car Seats
Last year in New York City 2 out of 3 people killed in traffic crashes were not wearing their safety belts. When used correctly, safety belts double your chances of surviving a serious car crash. To reduce risks of serious injury, always wear your safety belt and keep about 10 inches between yourself and the airbag compartment. Never place a rear-facing infant seat in the front passenger seat if there is an air bag. The back seat is the safest place for children to sit. Make sure they are properly restrained, either buckled into a safety belt if they are under age 8 in a car seat or booster seat.
It's the law in New York State:
All front seat occupants must buckle up
All children under 16 years of age, in the front and back seat, must buckle up
All children under the age of 8 must be restrained in an appropriate child restraint system while riding in a motor vehicle
Drivers can receive a fine of up to $100 and three points against their license if a passenger under age 16 is not properly restrained
A child restraint system may be a child safety seat, harness, vest or a booster seat. The vehicle's safety belt alone is NOT a child restraint system. Kids come in all shapes and sizes, and not all boosters will fit all children the same way. Parents must find the right fit for their child. Get more information from Safe Kids USA. Visit the Governor's Traffic Safety Committee for detailed information on the child seat law. For more tips, visit the National Highway Traffic Safety Administration's Child Passenger Safety site or the National Safe Kids Campaign.
Make sure your Child's Car Seat is Installed Correctly
Is your child car seat installed properly? 9 out of 10 car seats are not. DOT offers free car seat fittings throughout the city. Check the Events Calendar for upcoming fittings, or call 212-839-4750 to arrange a free inspection at a DOT Child Car Seat Fitting Station. A trained car seat technician will check your seat and demonstrate correct installation. Please note that we cannot accept walk-ins.
Free bicycle helmet fittings are also available at these locations.
Borough
Address

the Bronx

Bronx Safety City
837 Brush Avenue

Brooklyn

Canarsie Municipal Parking Field
Rockaway Pkwy between Farragut and Glenwood Rds.

Manhattan (Downtown)

Harrison Street
between West Street & Greenwich Street

Manhattan (Uptown)

Manhattan Safety City
672 West 158th Street

Queens

Rosedale Municipal Parking Field
East Francis Lewis Boulevard
between Sunrise Highway and North Conduit Boulevard
(near Rosedale LIRR Station)

Staten Island

Richmond University Medical Center
355 Bard Avenue
Staten Island, 10310
If your car does not have lap and shoulder belts in the back seat, you may be able to retrofit your car with shoulder belts using a kit from the automaker. Other options include travel vests or higher weight car safety seats that may be used with lap belts only. Information on travel vests and car seats is found in the 2007 Buyer's Guide.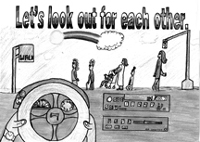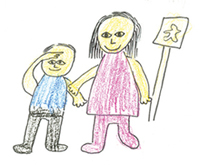 Don't Drive While Intoxicated
It's the law in New York:
Your license will be immediately suspended if your BAC (the measured amount of alcohol in your blood) is .08 or higher
Refusal to submit to a chemical test is a separate administrative proceeding that will result in revocation of your driver's license and an administrative fine in addition to any penalty for DWI
Conviction for driving while intoxicated while your license is suspended or revoked for a DWI or DWAI (Driving With Ability Impaired) violation or a chemical test refusal results in a mandatory jail term of 7 to 180 days or probation and a mandatory fine of $500–1000 a day
Don't Use a Cell Phone While Driving
New York State law prohibits the use of hand-held cell phones while driving on all public roads, except in the case of an emergency. This law was designed to reduce traffic accidents and save lives. The law allows the use of hands-free equipment that allows drivers to operate the vehicle without picking up the phone.
Yield to Pedestrians
Over one-half of pedestrian fatalities occur at intersections with traffic signals. It's the law in New York
When making a turn, drivers must yield to pedestrians in the crosswalk
At a red light or stop sign, drivers must come to complete stop before you get to the crosswalk
Violation of these laws could cost you a $100 fine and 3 points on your license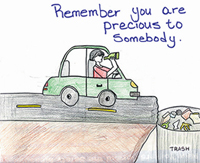 DOT's Safety Education team reaches out to pregnant moms and new parents to help them keep their kids safe starting from the first ride home from the hospital. At our "Safety from the Start" parent workshops in hospitals and clinics, we talk to parents about walking safely with their babies in strollers and riding safely in cars with their babies, toddlers and young children correctly buckled up in the right type of car seat.
Nearly 90% of infants and toddlers are in car seats, but only 66% of 6 and 7 year olds are using car seats or booster seats as recommended, and the percentage gets lower as kids get older.
Child Passenger Safety Week, September 17 – 22, reinforces the importance of always using the right type of car safety restraints for kids under age 8 and of using safety belts correctly for older children, teens and adults.
Five Ways to Get Your Preteen Buckled Up
Remind them: Multi-tasking preteens can forget to buckle up. Check that everyone, every time, has his or her seat belt on before the car starts to roll.
Make it a rule: Make buckling up, and using the back seat, in every car, a rule for your preteen. Then stick to it. They might test you – but not forever. Kids up to age 13 are safest sitting in the back seat.
Make it fun: Reward them for doing the right thing – not just wearing a belt, or for sitting in a back seat, but for getting others to do it, too. Let your child pick the radio station, or stash electronic games, books, and drawing supplies that can only be used in a back seat.
Mention the cops: Wearing a seat belt isn't an option – it's the law. Let your preteen know you can get a ticket if they don't buckle up. In New York State, children up to age 8 must sit in a car seat or booster seat, and must wear a safety belt up to age 16, wherever they sit in the car.
Be a role model: Your preteen is watching you. They are more likely to buckle up if the driver does.