Infrastructure
Brooklyn Bridge
Rebuilding the Bridge
The Brooklyn Bridge opened in 1883. At the time, it was the longest suspension bridge. It has been designated a National Historic Landmark by the National Park Service, and a New York City Landmark by the Landmarks Preservation Commission.
As with any element of the city's transportation infrastructure, the bridge requires periodic repairs and upgrades. The current round of construction and repainting of the bridge, partially funded by the American Recovery and Reinvestment Act, will run until 2014. There will be overnight diversions of Manhattan-bound traffic, with traffic diverted to other East River crossings: the Manhattan Bridge, the Brooklyn Battery Tunnel and the Williamsburg Bridge. Brooklyn-bound traffic will be maintained over the Brooklyn Bridge. There are no scheduled closures for pedestrians and cyclists.
Contract #6
Contract #6 provides for the rehabilitation, repair and re-striping of the ramps and approaches to the Brooklyn Bridge, to improve safety and reduce congestion along both the Brooklyn-side and Manhattan-side approaches, particularly from the FDR Drive. In addition, the entire bridge will be repainted to prevent steel corrosion.
Improving Roadway Access and Safety
Under this contract, DOT will replace the existing roadway pavement, and rehabilitate historic arch blocks, railings, and masonry structures. At the exit onto Cadman Plaza, and on the FDR southbound roadway, DOT will re-stripe the existing ramps from one to two lanes to reduce bottlenecks and eliminate pinch points in traffic flow. DOT will increase the overhead clearance at the York Street arch over the BQE, which is currently lower than industry standards. DOT will perform seismic retrofitting at the Franklin Square arch over Pearl Street. On all the bridge approach structures on both the Manhattan and Brooklyn sides, the existing deck will be removed by lifting out sections and replacing them panel by panel with precast concrete-filled steel grid deck panels. This approach will greatly reduce noise from drilling and jackhammers, and will also increase the reliability of the start and end times of construction activities every night.
The first phase of Contract #6 is painting, which will take place in negative-pressure containment units that travel along the bridge structure. Painting will take approximately four years, and will prevent steel corrosion and improve aesthetics. Equipment has been placed on land abutting the Brooklyn tower, and will be placed on barges anchored to the Manhattan tower. All painting work is being conducted in accordance to the US Environmental Protection Act and New York State Department of Environmental Conservation requirements. Dust collection, vacuum and recycling units are being employed to minimize environmental air quality risks, and there is continuous air monitoring during operations. Noise generated by these units conforms to the NYC Noise Code standards adopted in 2007. Learn more from the Department of Environmental Protection
On the Brooklyn side, DOT will
create two lanes of free-flowing traffic at the Cadman Plaza exit
create additional overhead clearance at the York Street arch over the BQE
replace the road surface on all approach roadways
On the Manhattan side, DOT will
perform seismic retrofitting on the Franklin Square arch over Pearl Street
replace rusted railings and safety barriers
create two lanes of free-flowing traffic from the southbound FDR Drive onto the Brooklyn Bridge
replace the road surface on all approach roadways
Traffic Changes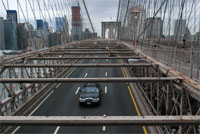 More than 120,000 vehicles, 4,000 pedestrians and 3,100 bicyclists cross the Brooklyn Bridge every day. DOT aims to minimize the disruption that rehabilitation work will cause for everyone who uses the Bridge. Download the Brooklyn Bridge brochure for detailed entrance and exit changes Download the brochure in Bengali Download in Chinese (Traditional) 繁體字 Download in Chinese (Simplified) 简体字 Download in French Download in Haitian Creole Download in Hindi Download in Russian Download in Spanish Download in Urdu
Overnight Detours
During overnight closures, the ramp from eastbound Wagner Place onto the southbound FDR Drive will be closed. It will remain open at other times, such as during peak travel periods, special events, or inclement weather. A signed detour route will be available along Pearl Street.
Full Manhattan-bound Closures
Continuing until the project completion in January of 2017, Manhattan-bound traffic on the Brooklyn Bridge may be detoured to the Manhattan Bridge as needed to accommodate construction. The bridge will always remain open to Brooklyn-bound traffic. When work is underway on the Brooklyn-bound side of the bridge (south roadway), a "contraflow" operation will be in effect. Please contact DOT to be notified of Manhattan-bound closures. Check the Weekend Traffic Advisory for upcoming traffic changes
Unless otherwise notified of specific occurrences, nighttime closures are as follows:
Overnight Detours for Manhattan-Bound Traffic
Fri night/Sat morn (7/15): No closure
Sat night/Sun morn (7/16): No closure
Sun night/Mon morn (7/17): No closure
Mon - Thurs night (7/18 - 7/23): No closure
* To allow traffic to clear before the reversal begins, the eastbound BQE exit onto the bridge closes 30 minutes earlier, the northbound FDR Drive exits close up to an hour earlier, and other Brooklyn ramps onto the bridge shut down 5-15 minutes earlier.
As of March 26th, 2015 and lasting through December 2015 the Brooklyn Bridge promenade will be reduced in width for pedestrians and cyclists at various locations. At the towers, the work zone will be in effect continuously during this period. On the Brooklyn approach work will be conducted only during overnight hours. Pedestrians and cyclists will be directed to cautiously share the narrowed pathway.
Manhattan-Bound Traffic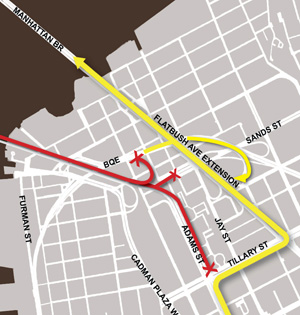 During full Manhattan-bound closures, DOT anticipates heavy usage of the adjacent Manhattan Bridge. To reduce congestion, Manhattan-bound travelers are encouraged to:
Depending on the phase of work, a Manhattan-bound closure may not be in effect every night. On nights without a full Manhattan-bound closure, a partial two-lane closure on the Manhattan-bound lanes of the Brooklyn Bridge may in place instead. Please contact DOT to be notified of Manhattan-bound closures.
Brooklyn-Bound Traffic
During the rehabilitation work, drivers will always be able to reach Brooklyn via the Brooklyn Bridge. When work is in progress on the Brooklyn-bound lanes (south roadway), a "contraflow" operation will be in effect. Traffic will be detoured to the north roadway toward Brooklyn. Signage and barriers will direct motorists to safely enter and exit the bridge.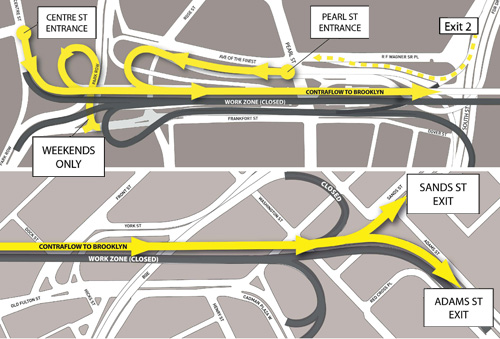 Single Lane Closures

To survey sites for upcoming work, the contractor may close one lane of traffic in each direction during these times:
Manhattan-bound lanes:
Sunday - 1:00 am to 9:00 am
Saturday - 1:00 am to 7:00 am
Monday night to Friday 11:00 pm to 6:00 am

Brooklyn-bound lanes:
Weekdays - 10:00 am to 3:00 pm
Saturday - 2:00 am to 2:00 pm
Sunday - 2:00 am to 2:00 pm
Pedestrian and Bicycling Promenade
The promenade will remain open throughout all phases of construction. However, in order to fully enclose railings and other components, the paint removal containment units will reduce the width of the path by 1.5 feet on each side. The narrowed area will be from 600 to 1000 feet long. For the safety of all bridge users, cyclists must yield to pedestrians in this restricted work zone. Cyclists may also use the nearby Manhattan Bridge bike path, which is separated from the pedestrian path and often less congested. As work progresses the units will move across the bridge until the project is complete.
Project Updates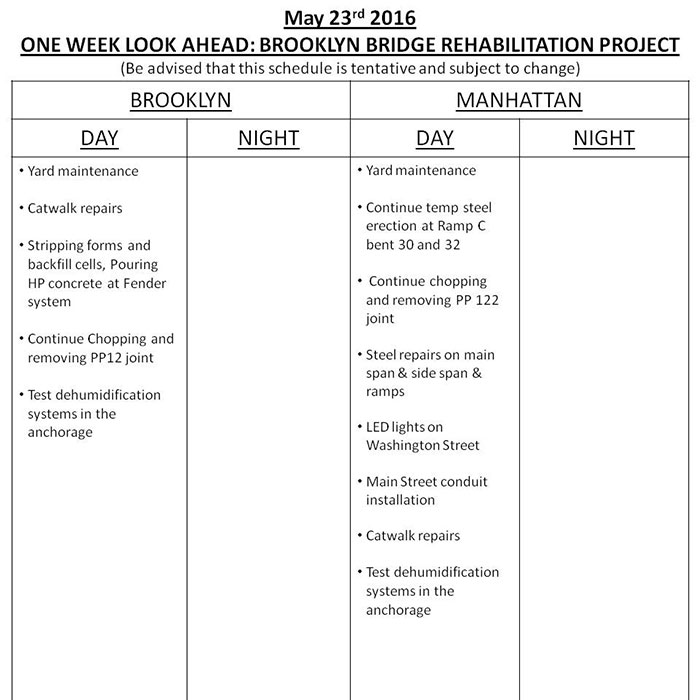 DOT and its consultants will make every effort to post specific notifications about major traffic changes or other potentially disruptive events at least 7 days in advance via e-mail, Facebook, Twitter and Notify NYC. Please contact David Deberry, the Brooklyn Bridge Community Liaison at 347-647-0876 or brooklynbridgeoutreach@gmail.com with your questions. Download the latest project newsletter for more updates (Spring 2015) Download the latest project newsletter for more updates (Fall 2014) Download the latest project newsletter for more updates (Spring 2014)
Sign up for email updates about the project.